In this step-by-step guide, we'll show you how to add new users and customize their permissions so that each employee can access only relevant information. You'll also learn how to arrange users into groups to automate reporting, filtering and allocate roles to enable role-based service fees.
Manage permission sets
With granular permission management, you can ensure that everyone can access only the information and functionality relevant to their work. This simplifies the user experience and enhances information management and data security for administrators.
Navigate to Settings > Administration > Permission sets to manage team member access to site information and features.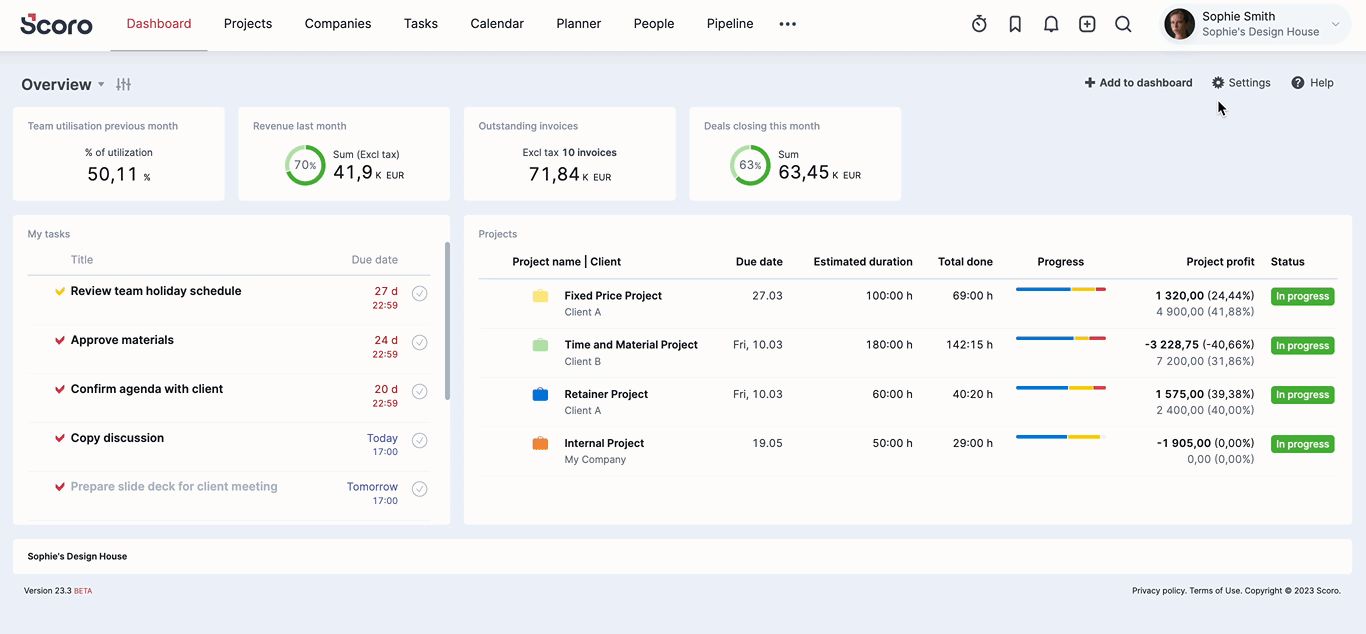 In this view, you can create permission sets that will determine the access rights for users added to them. For example, you could predefine these based on teams or departments, such as sales consultants, project managers or specialists.
We recommend using existing permission sets and customizing these to your needs. This way, you don't have to start from scratch and figure out what's needed, but rather tailor the most common selection to your needs. You can simply copy already existing set and update accordingly.
If you prefer to start from scratch, just click on Add permission set to get going. Give the new permission set a name. You can assign a default dashboard for the users added to the specific permission set at this step. This way, each teammate has the most critical metrics and data at their fingertips as they open Scoro. We will cover how to personalize dashboards in the later steps of the Getting started section.
Once the new permission set is saved, you'll see the Modules and actions menu. Click on it and use the tick boxes to decide what features and actions users added to this permission set can access.
For example, sales consultants would need to be able to access quotes. At the same time, the Quotes module would clutter the view for such specialists as designers or copywriters, who use Scoro only to view their tasks and log time.
You can also set up Calendar and tasks access rights at this step. Scoro offers a granular approach to managing how users with a particular permission set can view and modify the events and tasks of users with other permission sets.
For example, although it may be acceptable for specialists to have complete access to their team members' tasks, you might want to restrict their permissions when it comes to viewing the activities of users with the Finance permission set. In such a case, they may only be authorized to create new tasks for those users and monitor their progress.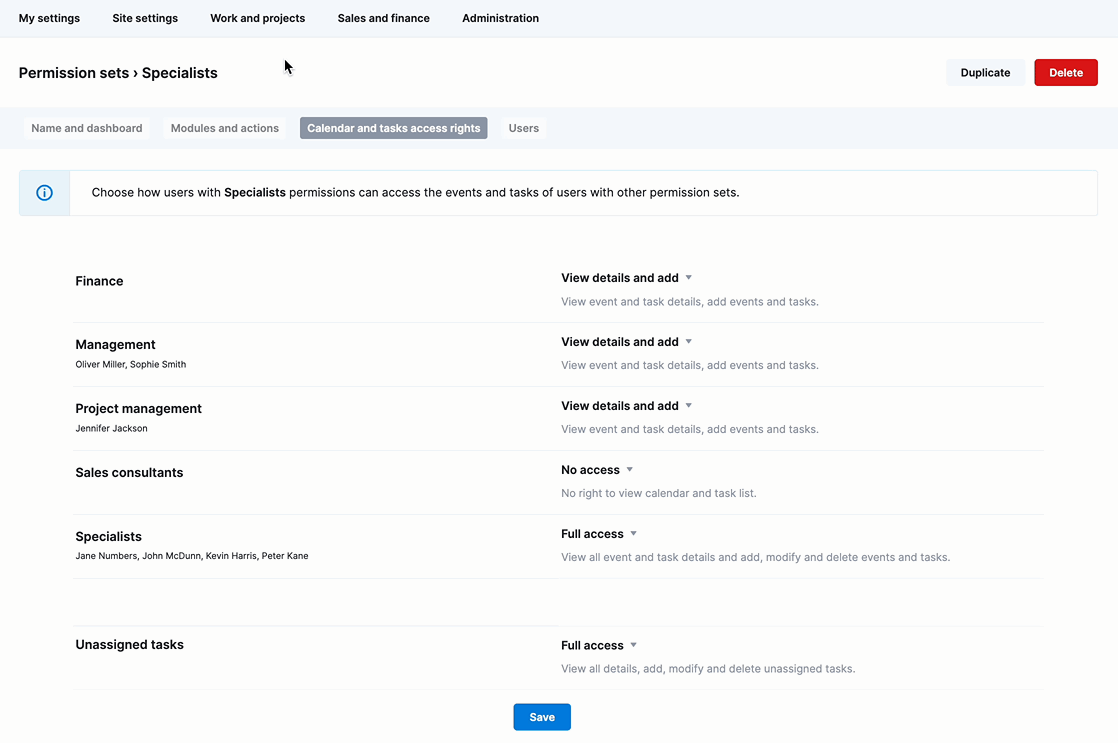 The final step is selecting the users you want to add to the new permission set and saving the page for the changes to take effect. As you add new users, you'll be able to assign permission sets without returning to this view.

Group your team members
Besides permission sets, you can create user groups to organize your employees based on their skills, functions, locations or other aspects.
While the permission sets help differentiate various access levels, user groups are used to structure the team for efficient work organization. For example, user groups can be used to easily organize meetings and assign tasks or projects to a specific group of people.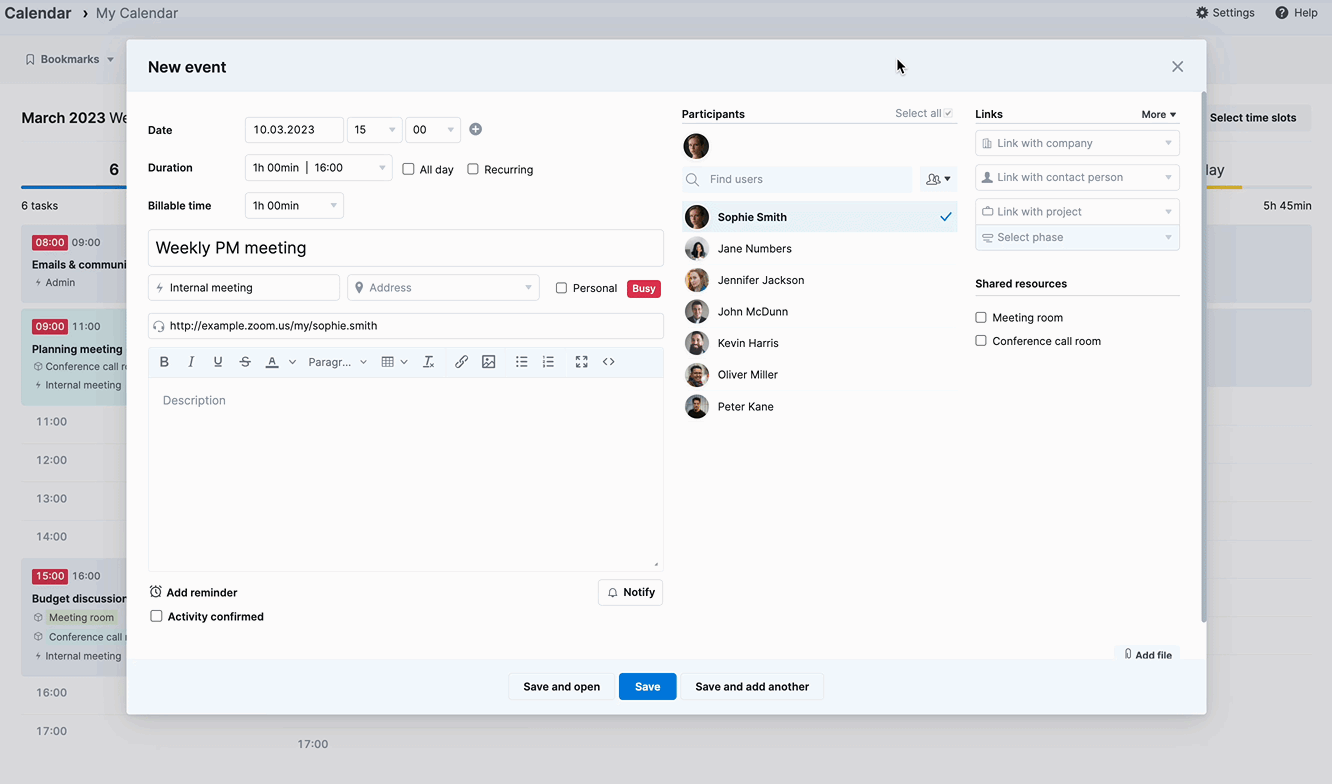 You can add, modify and deactivate user accounts and groups under Settings > Administration > Users and groups. Navigate to the Groups tab in the view.
Click on Add group, give it a name and description and tick the users you want to add. One person can be a part of several groups. For example, it may help you to delegate and organize quicker if you assign a London-based salesperson to the Sales team and London office groups.
You can also assign user groups to each new user as you add them, without returning to this view.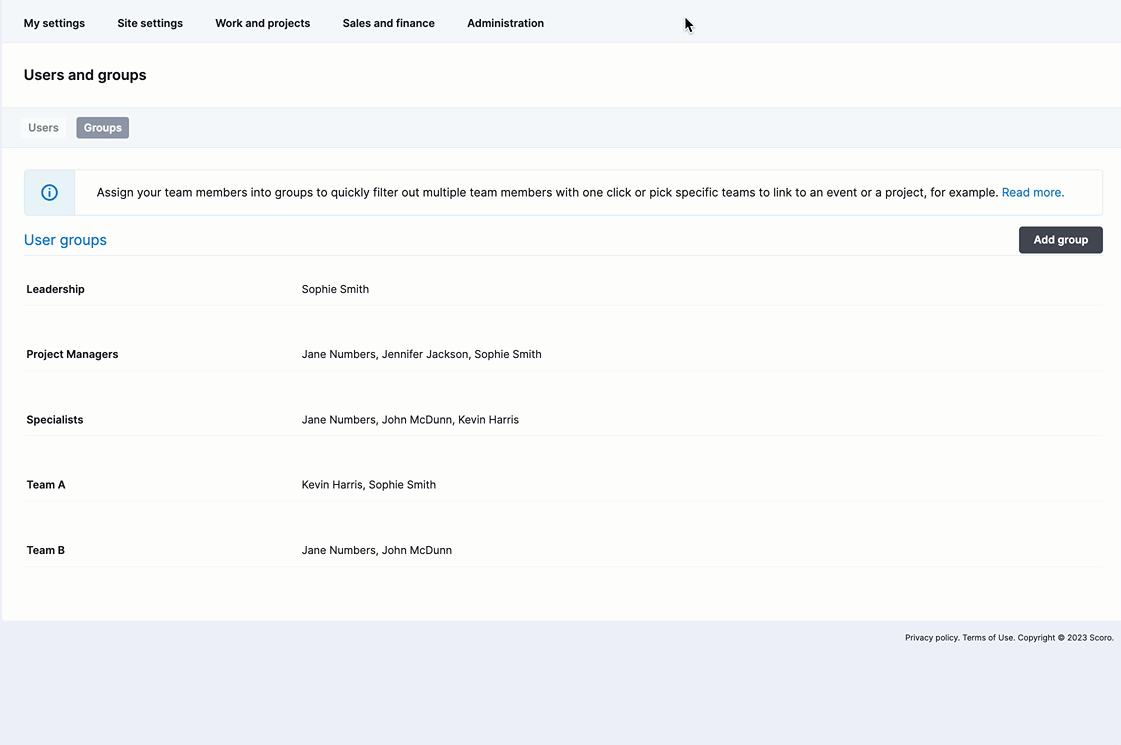 Enable and define roles
Roles in Scoro are used for defining the selling rate of different team members. For example, you may charge €150 per hour if a Senior Designer delivers the work or €100 if a Junior Designer works on the same service. If this is how you price your services, you should enable and define these roles in Scoro before adding users.
In case you use a different pricing approach, skip setting up the roles and move on to add users—other pricing options are covered in the products and services article.
To set up roles, head to Settings > Sales and finance > Roles to enable role rates. You can later use the role rates for quoting, tracking project revenue (based on completed work) and time-billing.

You can manage the list of roles in the same view. Click +New to add a new role. Define the hourly selling rates for your team members based on their skill set, level of seniority, experience, responsibilities, or any other criteria. Delete the Placeholder role or update its details to match your needs.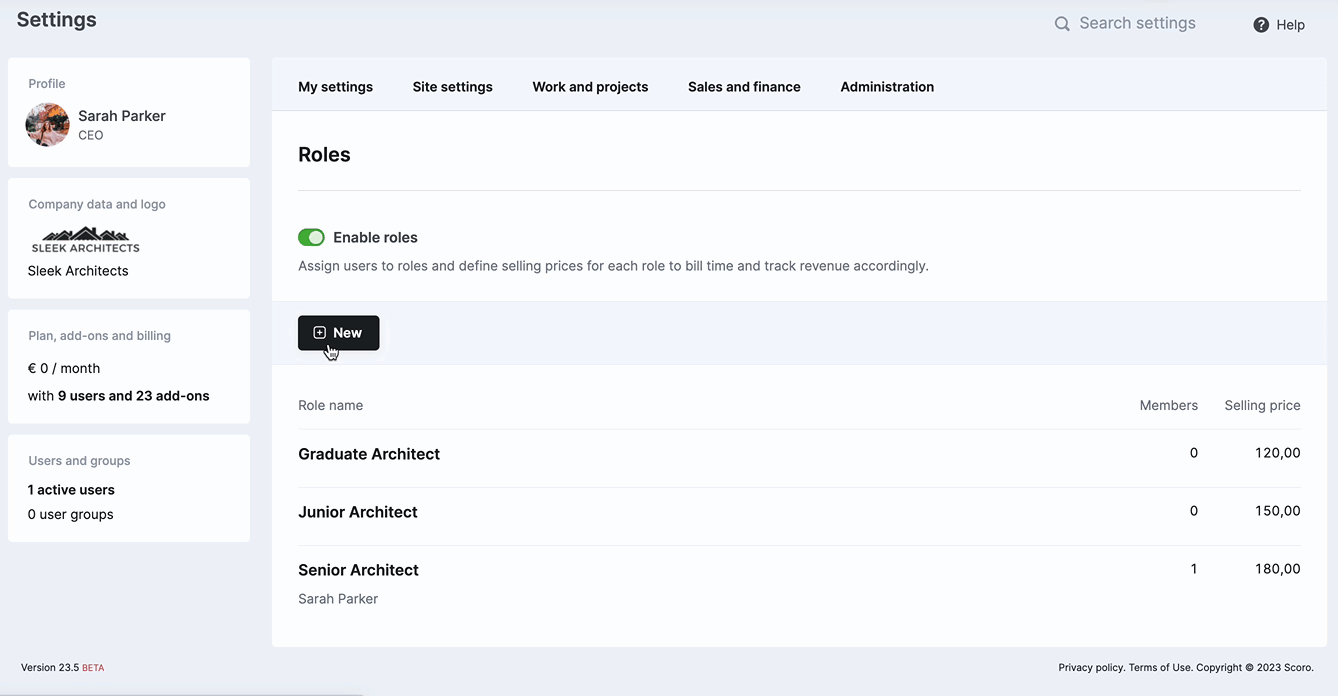 Once you've created a list of roles you need to price services within your business, move on to the final step.
Add new users
AAfter creating the necessary permission sets, user groups and roles, it's time to add your team members. To do so, go to Settings > Administration > Users and groups. Click on Add user to get started.
In the next view, you can fill in your teammate's name and the initials you'd like to use alongside their avatar.
Choose a business function and position that reflect their responsibilities in the company. This ensures they receive only product updates that benefit their workflows. Users can edit these details later.
Next, choose the relevant permission set. Then, decide if you want to grant administrative rights to the new user. This would let them to add other users, change site settings and subscriptions.
Lastly, assign the relevant role to the new user and select the corresponding user groups.
If you don't want to invite the new users to Scoro as you add them, untick the Send an invitation e-mail checkbox before creating the account. You can return to this view and send the invite later.
To summarize – you've learned how to add your team to Scoro and organize the users so that you can manage work more efficiently and ensure everyone has a great UX experience from the get-go. Next, you'll learn how to set up labor cost for each employee to ensure you can accurately track internal project delivery costs.