Activity types will help you categorize employee work and monitor team productivity. By linking all events and tasks with respective activity types, your business will benefit from automatic real-time reports so you can analyze how well your team's time is spent and compare results across different projects.
For example, managers can track internal vs client work split, identify which activities are taking more or less time than expected, and assess their profitability to the business.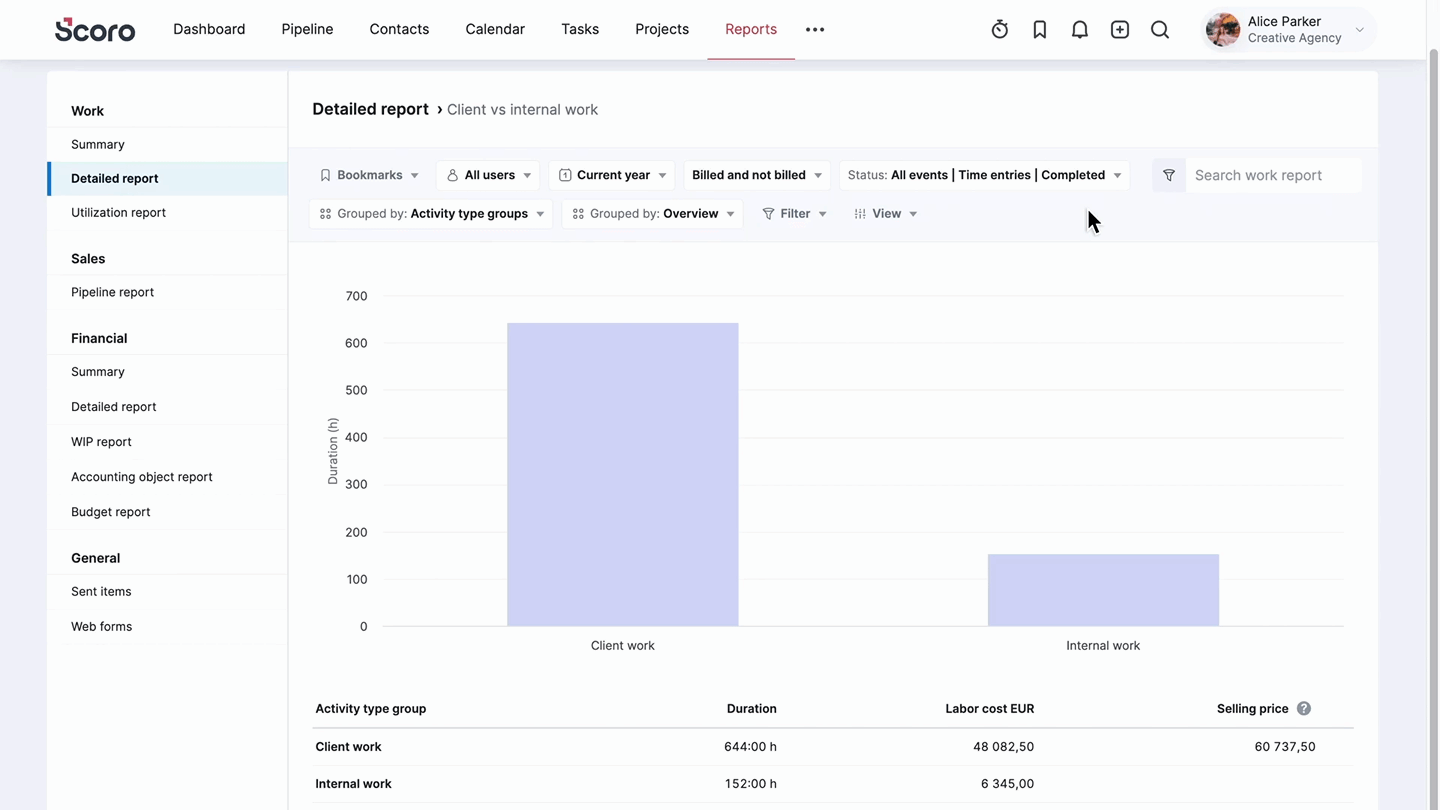 In this article, we'll look at two approaches for setting up activity types for your business. Head to Settings > Work and projects > Activity types to get started.
Activity types for tracking client vs internal work
One way to use activity types is to track internal and client work. This way, managers can evaluate if their team uses their time and skill set efficiently, spends too much time on non-billable work, or does things below or above their skill level.
To get these insights when using reports, first, create activity type groups to divide your activities into billable (client) and non-billable (internal) work.

Next, add activity types under each of the groups. Internal work, for example, could include activities like team meetings, vacations or administrative work that's not billable to clients, such as company website maintenance.

The activity types you add under the client work (billable) group depends on the type of services you provide. For example, if you run a creative agency these can include anything from research to design to copywriting to consulting. You can add as many corresponding activities to each group as needed.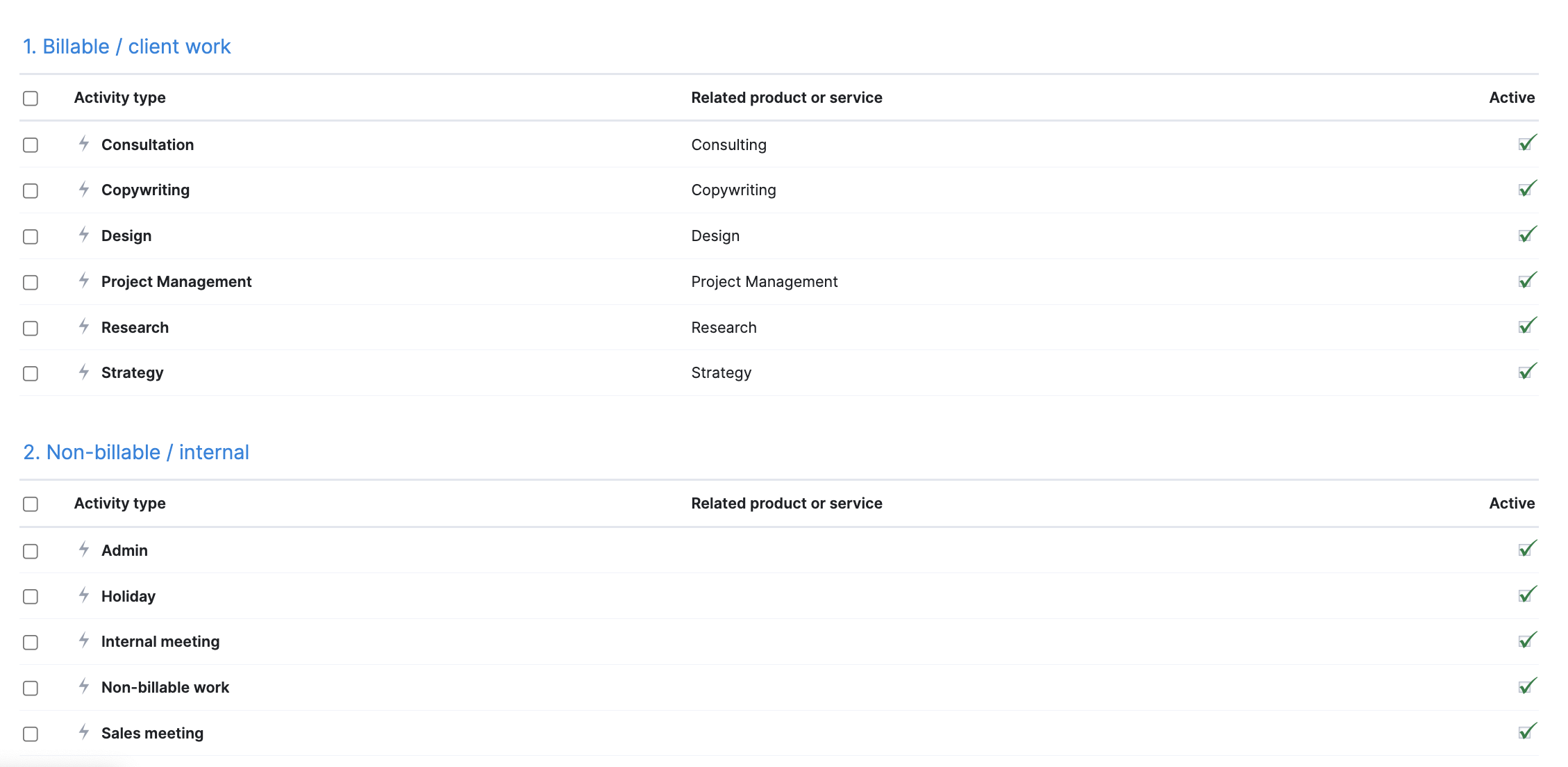 Activity types by teams or departments
Another helpful strategy is categorizing activity types by team or department. This way, business leaders can easily monitor performance across different business areas.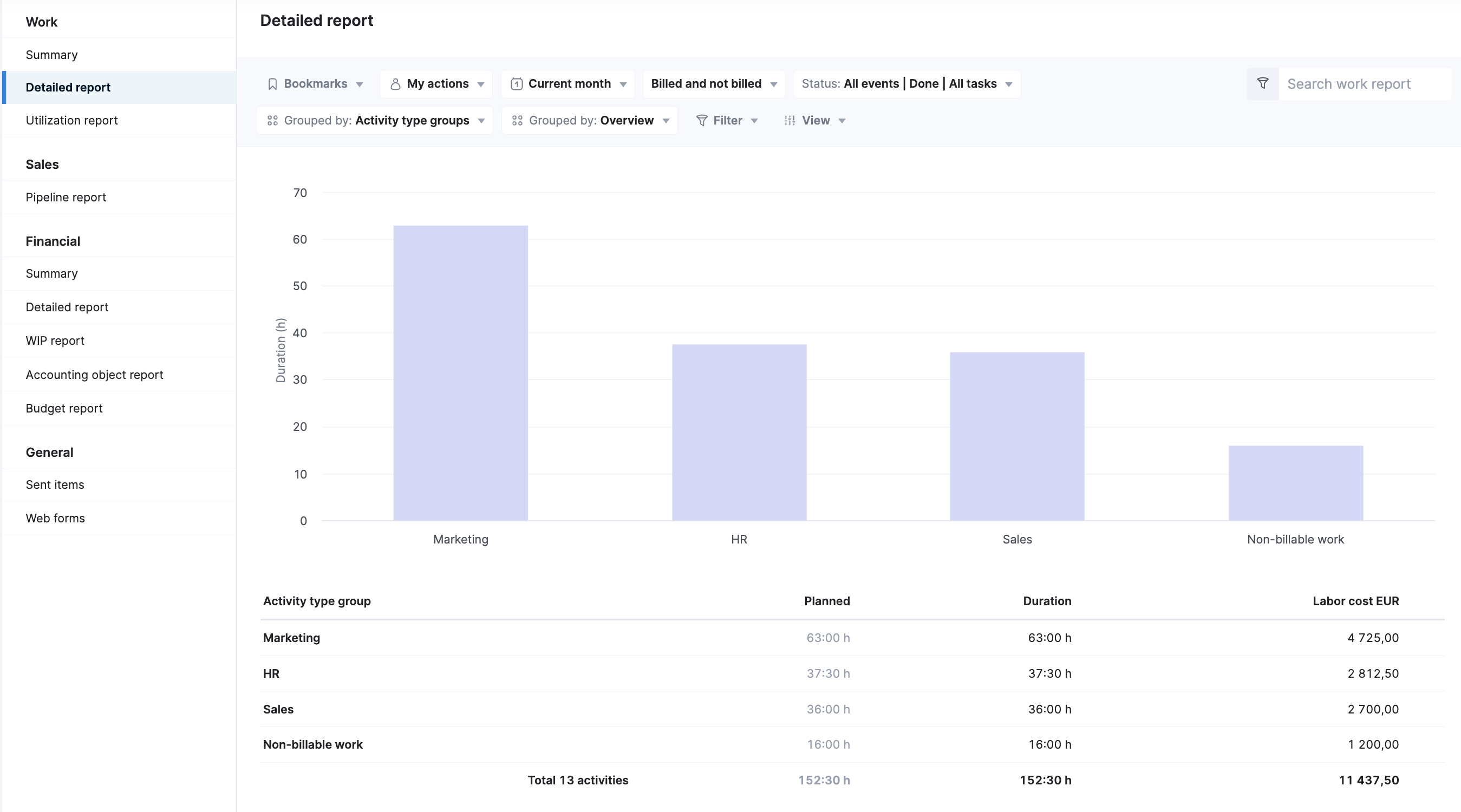 To create this setup, first, create activity type groups to reflect your business structure. This may include the Finance, HR, Marketing and Sales.
Even when splitting up the activity types by teams, we recommend adding a section for Internal (non-billable) work that all teams can use. This way, you can still get insights to reflect the internal vs client work split by teams.
Next, add corresponding activity types to reflect each team's workflow. You can be as granular as needed, as users can decide which activity types they'd like to see first in their dropdowns to focus on only what's important.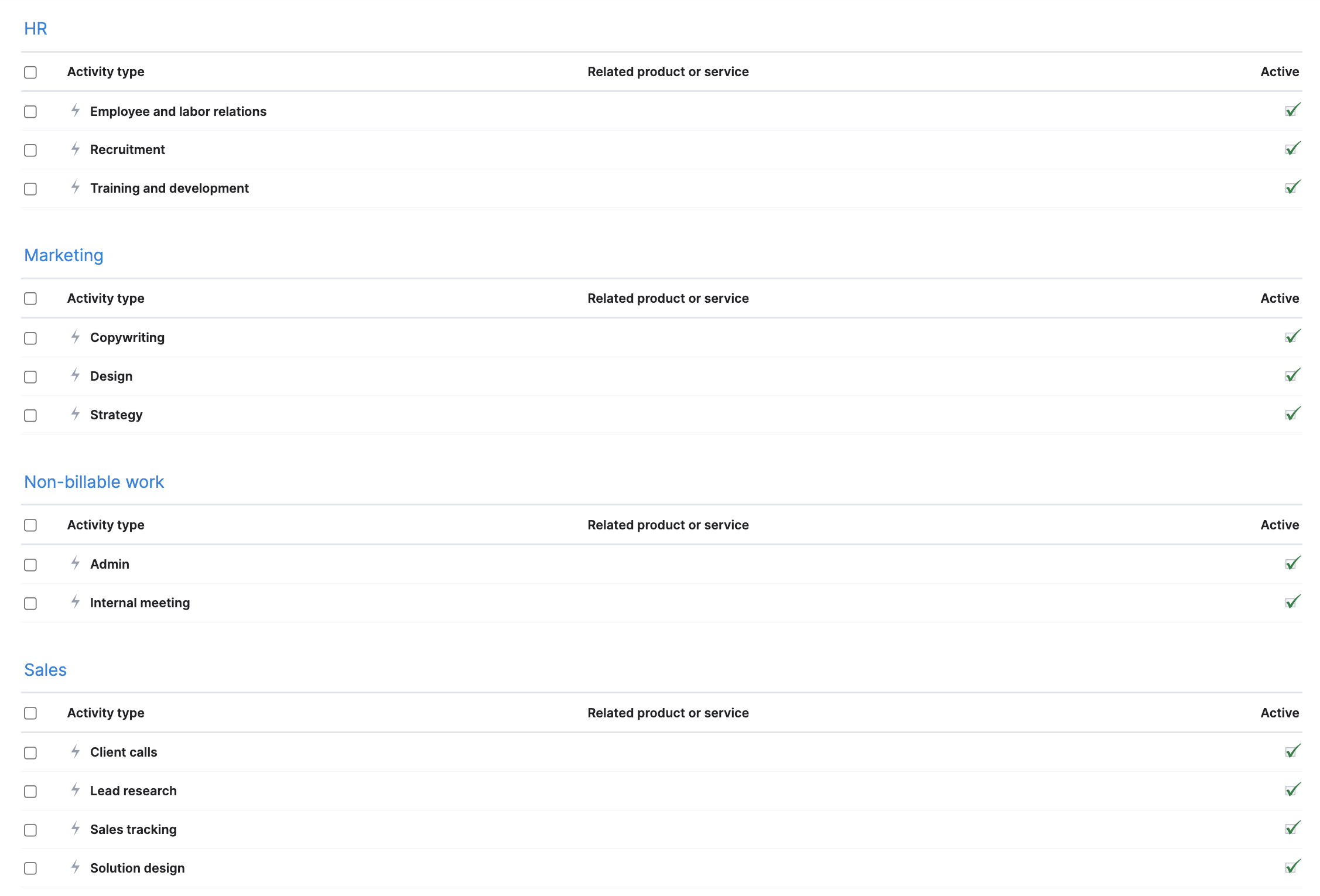 Instruct teams to use activity types
Once you've set up the activity types, you must ensure your team is on board. Instruct all employees to link all tasks, events and time entries with the predefined activity types and explain the value of this effort.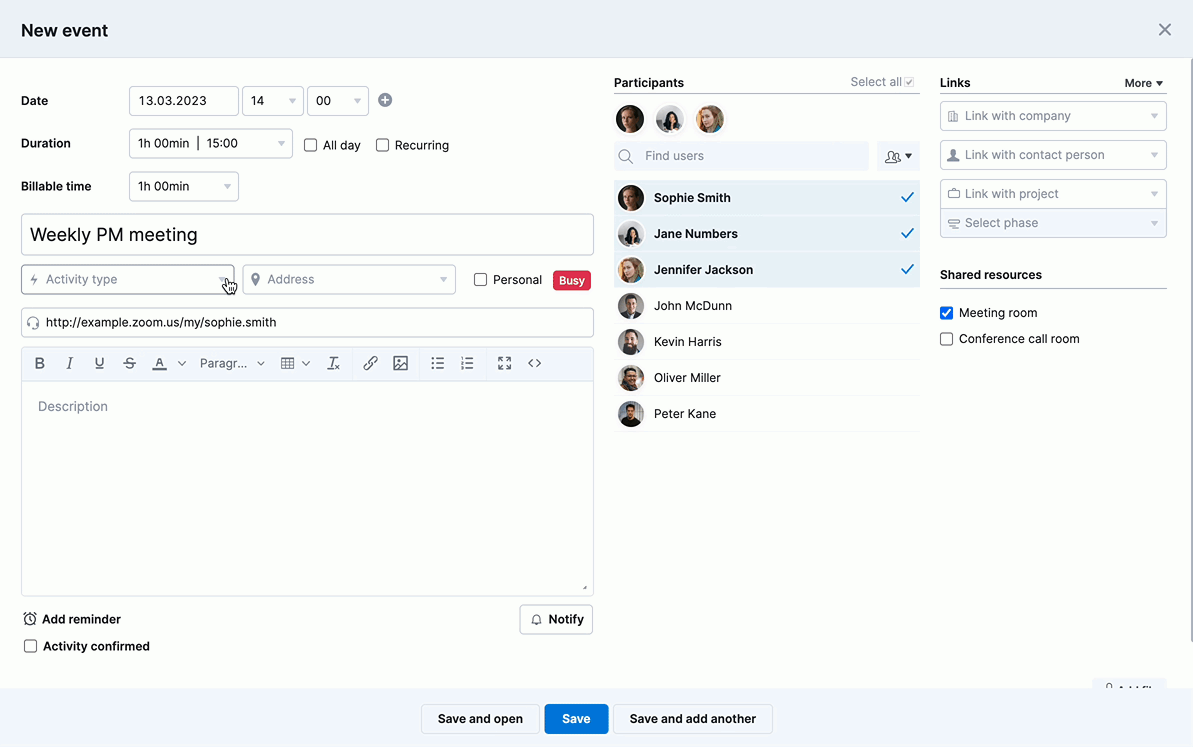 You can also make the activity type mandatory to fill in to ensure accurate data is always just a click away and keep your site's data hygiene under control. The data feeds into Scoro's reports automatically, so you can easily evaluate how effective your team's time usage is in real time.
Now that you've learned how to set up activity types, you can move on to the next step in the Getting started guide and learn how to personalize PDF documents that are sent from Scoro. If you're still unsure what activity types you might need, explore the article below for inspiration.
See also: