How to create a user account in Scoro Help Center?
You can create an account in Scoro Help Center to track your support tickets and keep all ongoing communication with the Scoro Support team in one easily accessible place.
Note that you cannot log into the Scoro Help Center by default with the same credentials as you use for your Scoro site. You need to sign up for Help Center separately. So let's see how!
Open our Help Center and click on the Sign in button on the right side of the page.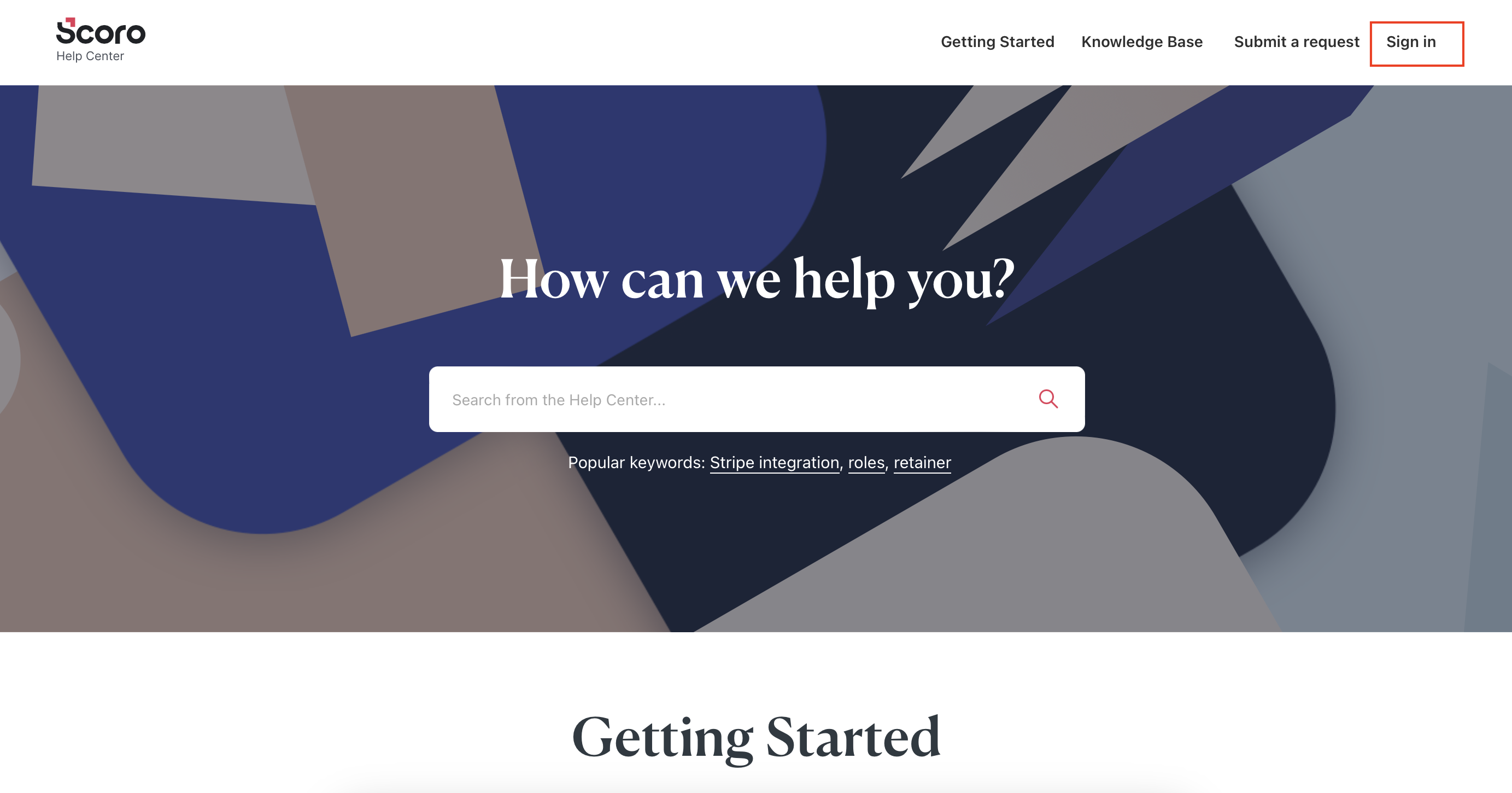 Click the Sign up button under the login fields.
Fill in the sign-up form using your work email address. We advise you to use your work email address because this will ensure that all subsequent requests you send to Scoro Support are associated with your company in Scoro and all relevant data is interlinked. And most importantly, it will help us help you more efficiently!
Once you've filled in all the requested information, you'll receive an email to confirm your registration and create a password.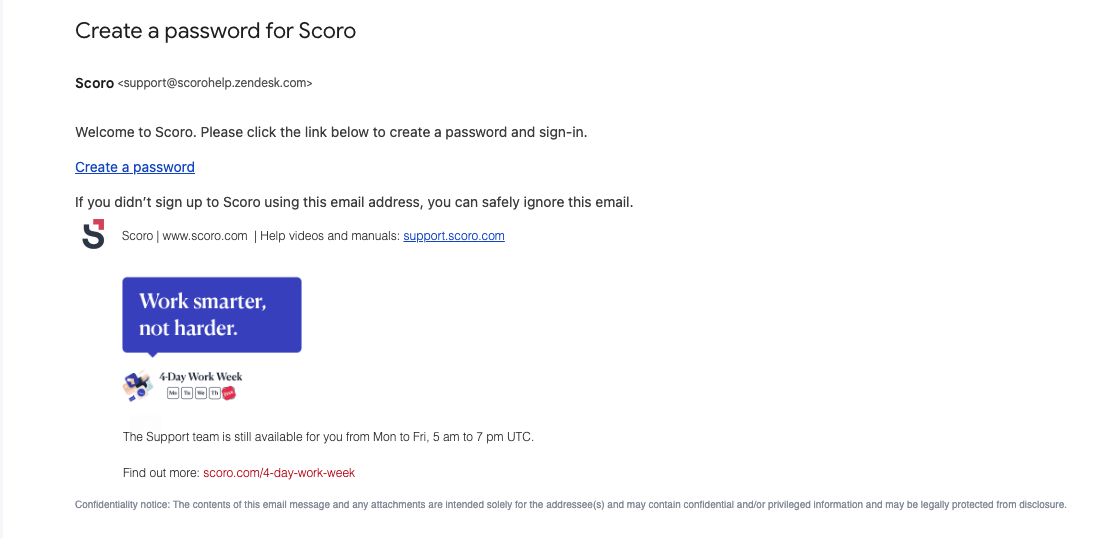 Tip! If you've recently sent an email to our Scoro Support team, you've most likely received an automated email response with your ticket's ID number. Clicking on the ticket ID will also take you directly to our Help Center, where you can create the account as per the instructions above.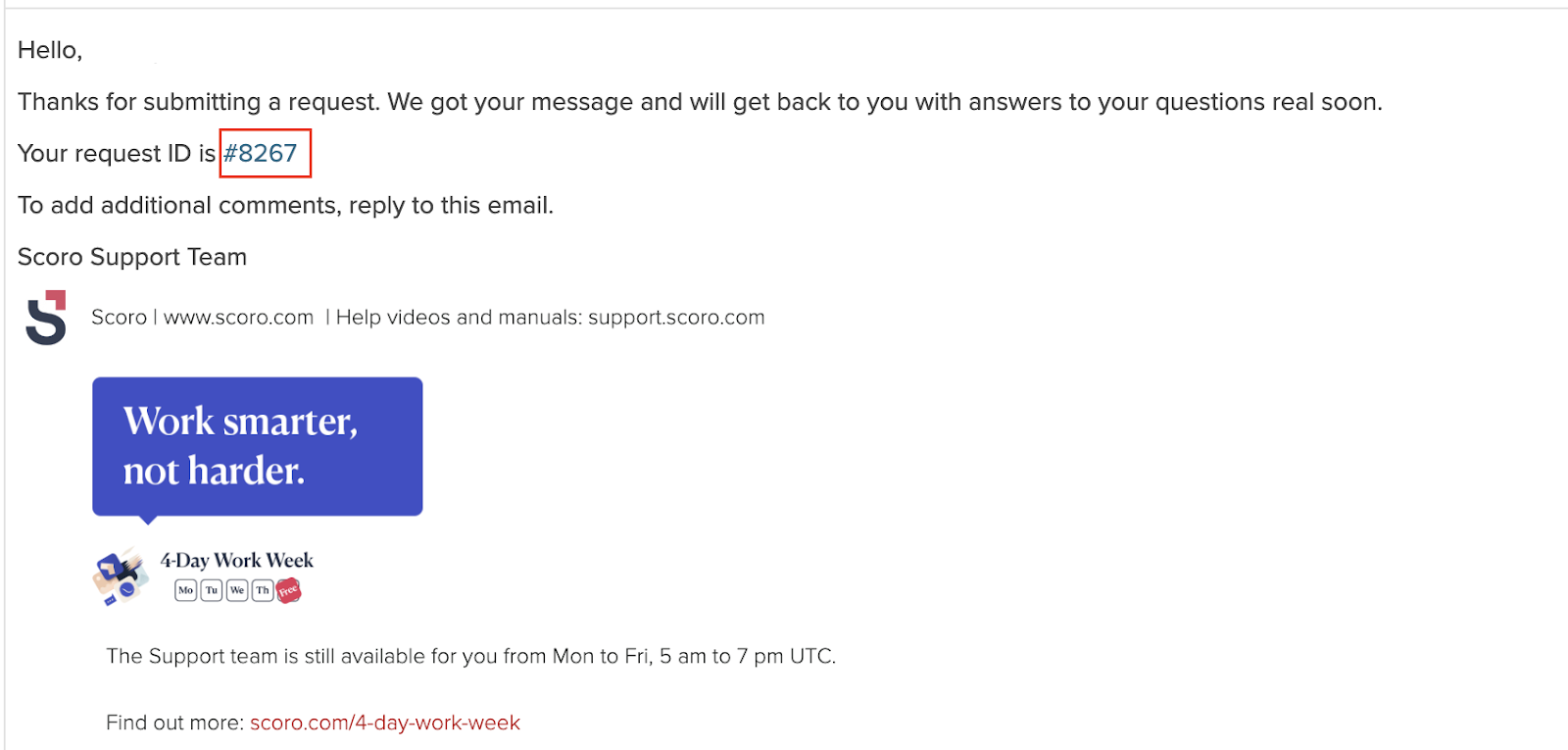 How to restore the password for the Help Center account?
To restore your password, please navigate to Help Center and click on the Sign in button in the top right corner. Under the login fields, click on Get a password.
Enter your registered email address and click Submit.
An email will be sent to your email address from Scoro Support. In this email, you will find a hyperlink to set up a new password for your account.

After you change the password, you will be redirected to your Help Center account right away. You will also receive a confirmation email about the password change.
How to submit a request to Scoro Support?
To submit a request, you should open our Help Center and click on the Submit a request button in the top right corner.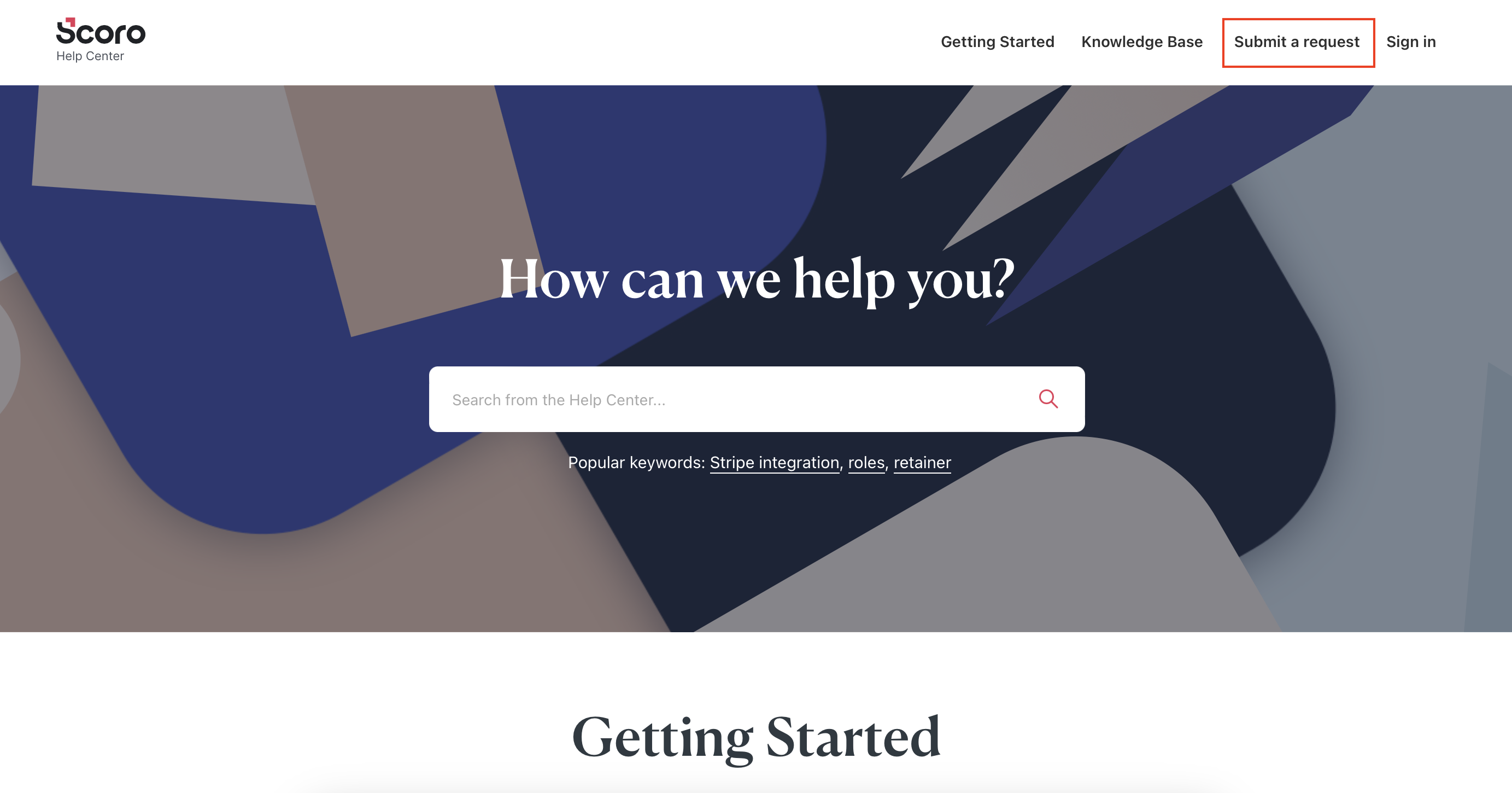 From there, you should first specify what topic your request concerns. For example, if you wish to know more about 'Triggers and actions', select Setup and Automation.
Once you've specified the general topic, name your request by summarizing the issue in one short sentence. Depending on the subject you'll enter, we will automatically suggest the Help Center articles we already have on this topic, so you can see if any of those solve your problem.
Note! All Help Center articles are available to you at any time, and there is no need to submit a request if you just want to see articles on any Scoro features or workflows. You can simply enter a keyword(s) into the search bar, and the system will propose the most relevant articles.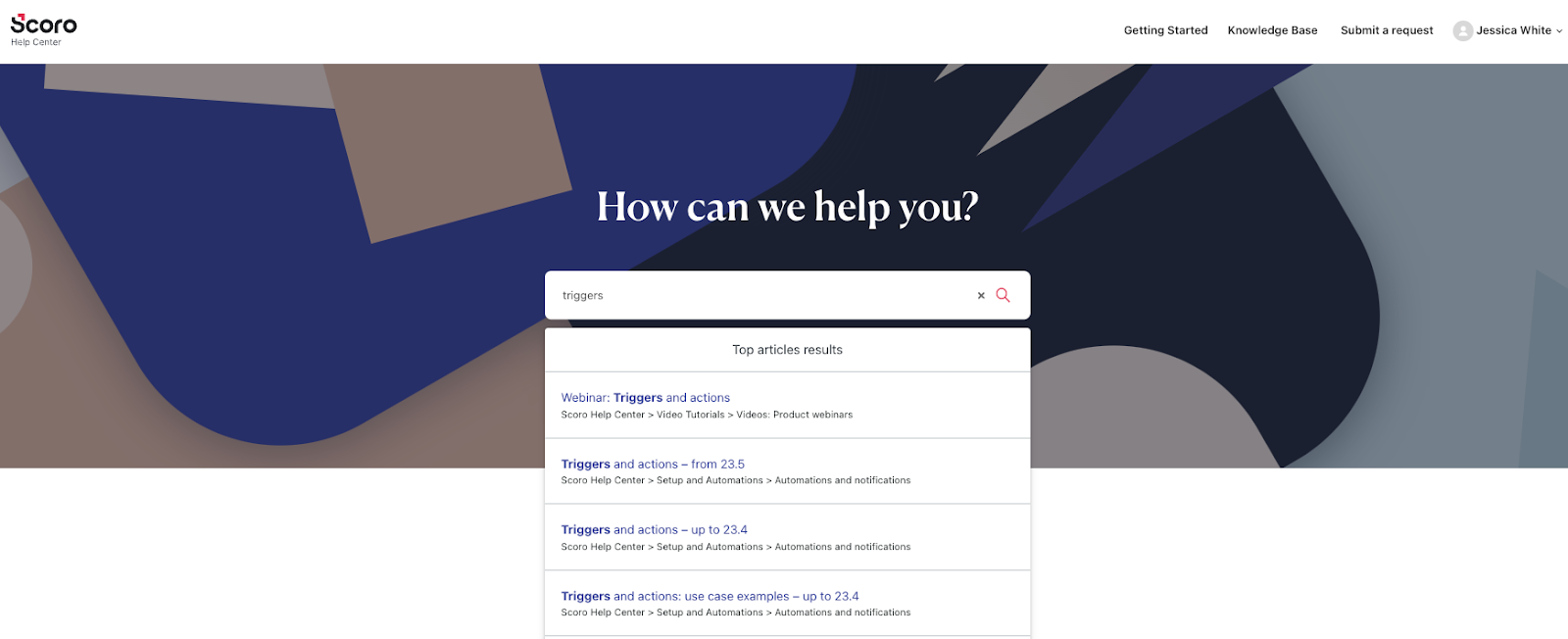 If you want to see more detailed results for your search, click the Enter button or the magnifying glass icon on the search bar. This will take you to the detailed search view, where you can browse all articles that include this keyword.
If none of the suggested articles helps to resolve the matter, please don't hesitate to complete your request by adding a short description of the issue. If you have any screenshots or screen recordings that help to illustrate or describe the issue, upload them under the Attachments section before you submit your request.
Once the request has been submitted, you will be redirected to the ticket view under your Help Center account, where you can see its current status, submission date and time, the time of the last activity, and the ticket ID.
From this view, you can submit additional information, view the whole conversation with the Support team, and mark the ticket as solved.
Every time you submit a request, you will also get an automatic email notification that confirms that our Support team has received your request.
Support ticket statuses
Your tickets can have four statuses:
Open – the ticket is either received and waiting to be assigned, or the Support Agent is working on it.
Awaiting your reply – the Support Agent has requested additional information about the ticket and is waiting for your reply.
Investigating – the ticket is being investigated.
Solved – the ticket has been resolved or marked as solved.
From the drop-down on the right-hand side, you can check all your requests.
My requests show you all the tickets you've submitted to the Scoro Support team.
Requests I'm CC'd on display all the tickets you've been added in CC to.
Both of these views allow you to filter by status. So if you wish to check only your open tickets, choose the status Open from the drop-down.

Scoro switched to a new ticketing system in February 2023. If you create a Help Center account with the same email address that you've previously used to send in support requests via email, our ticketing system will automatically recognize your email address and match it with old requests. This means you will automatically see all the tickets you've submitted since February 2023 under your account.
NB! Admin users can also ask to have access to all the tickets that the people from their organization have created. Contact us at help@scoro.com or via the request form if you want to grant this right to the Scoro champion in your company.