We recommend using Scoro's calendar for planning and managing your team's annual leave. To keep all vacation data in a single place, create a new project called Vacations.
All team members should be added to the project and each vacation event added to the calendar should be linked with the Vacations project.
When creating the Vacations project, you can decide whether to include team vacations when reviewing work and distributing tasks or hide the data. The steps for both options are outlined below.
Option 1: Consider vacations in capacity planning
1. If you'd like to see vacations when distributing your team's work in the Planner or reviewing their activities in work reports, set the Vacations project's category to Work.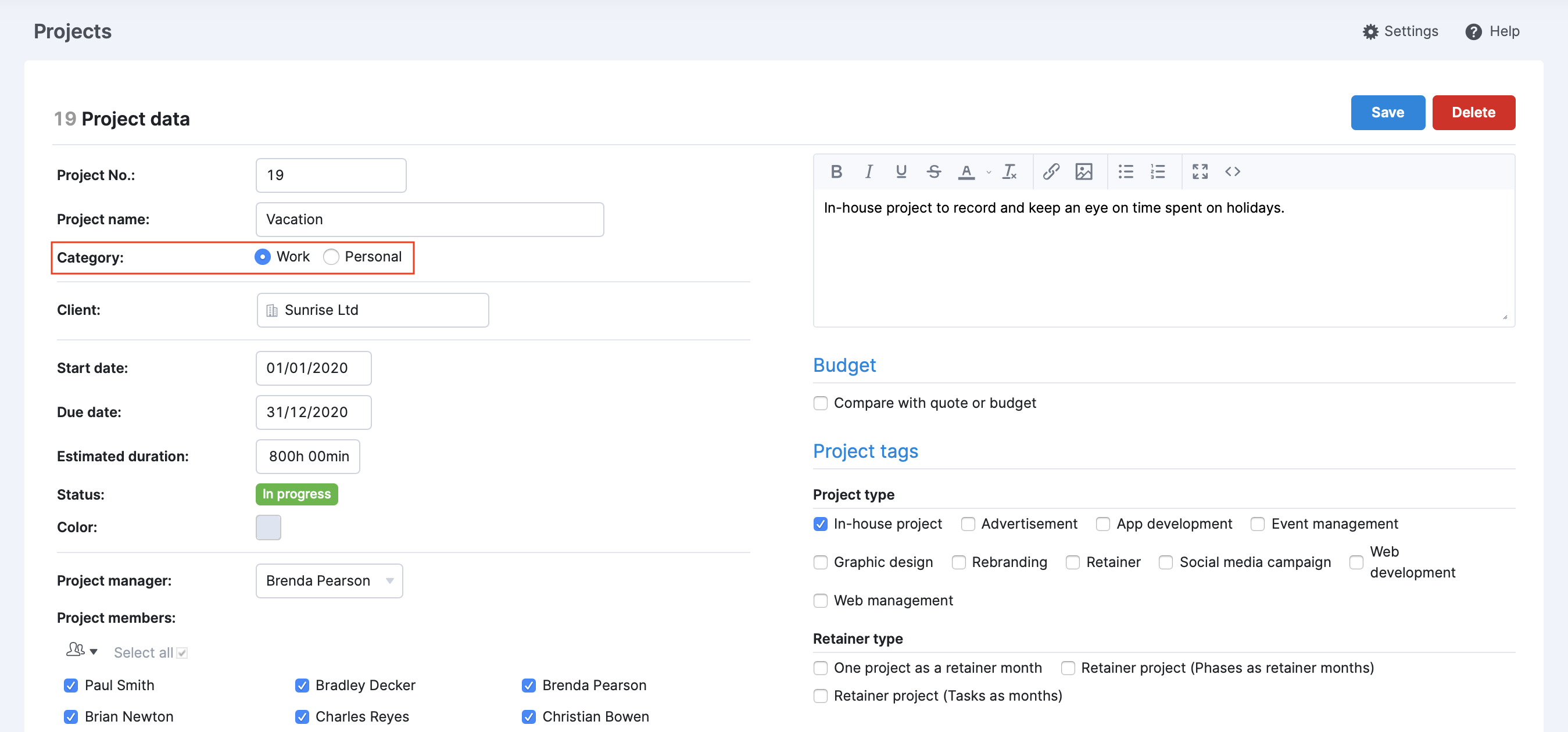 2. Next, head to Settings > Work and projects > Activity types and create an activity type called Vacations.
3. Whenever creating a new vacation event, link it to the vacation project, and select the relevant activity type. If your team members add vacations to the calendar themselves, instruct them to follow the same practice.
!Although the vacation events will be visible in the Planner and the work report, you can easily exclude them by applying the status, activity type, or project filter.
What to consider for reporting with vacation days is that if you use a Work-related project, these activities will be included in the reporting and Planner, which will help you to plan your team's activities in the future. However, when you will create reports, you will need to exclude the Vacation project, to make sure not to calculate the vacation hours.
If you set up your vacation as All day event, in the system, the All day event is full 24 hours, so you'll see a 24-hour long event in the Planner and Utilization report: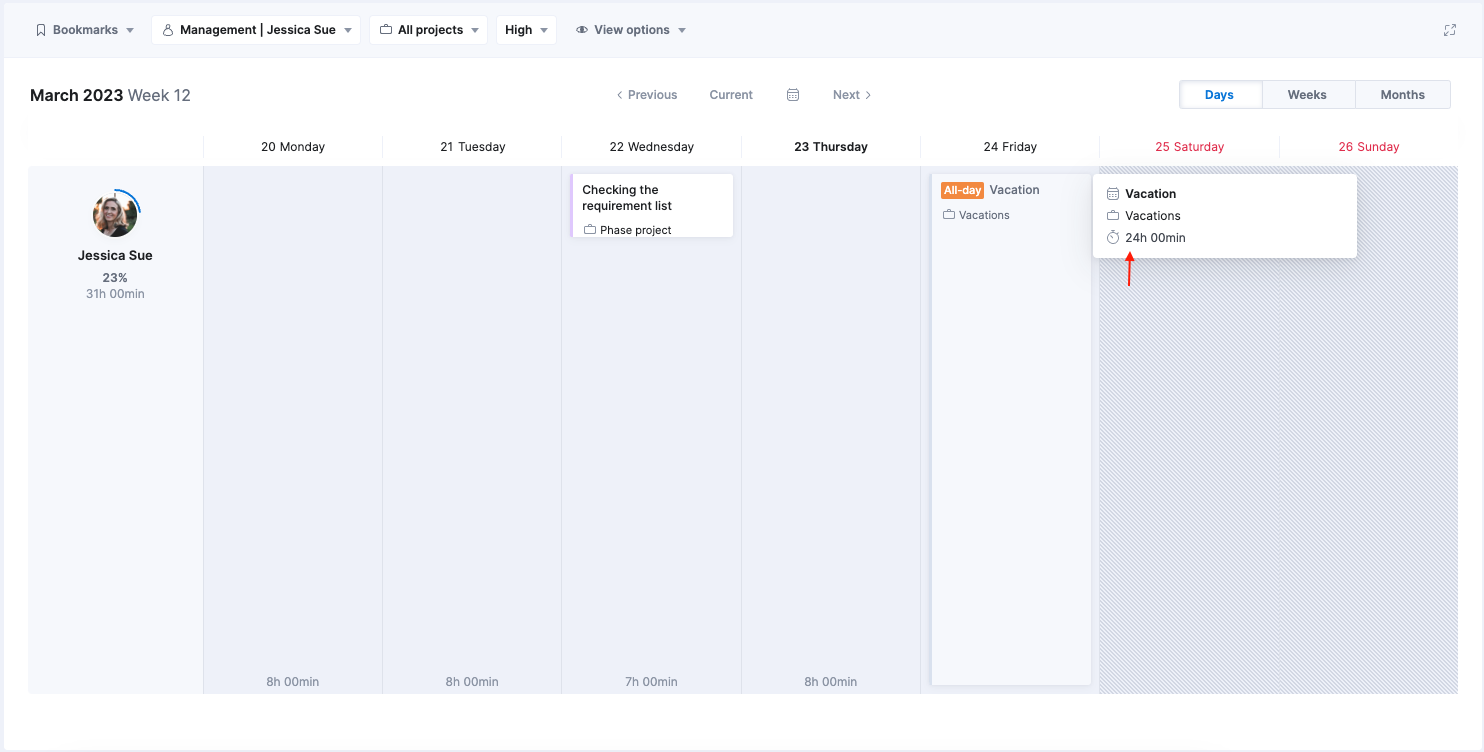 However, if you block the vacation days according to your availability hours, then the time blockers will be set according to those settings. So the Utilization report will display the remaining and utilized time accordingly:

And when you're creating reports, e.g., in the Detailed Work report, make sure to filter out the Vacation project not to include these 'activities':

Option 2: Dismiss vacations when planning team capacity
1. If you'd like to keep your team's vacations out of sight during the planning or review process, set the Vacations project category as Personal. 2. Similar to the above, ensure that every vacation added to the calendar is linked to this project.
2. The annual leave added to projects that are categorized as Personal won't be visible in the Planner nor added to the work report. Therefore this data won't be reflected in their availability.

Note! Regardless of how you set up your vacation management in terms of capacity planning, the best way to see who's on vacation is using the project filter in the Calendar view or work report (dates in yellow).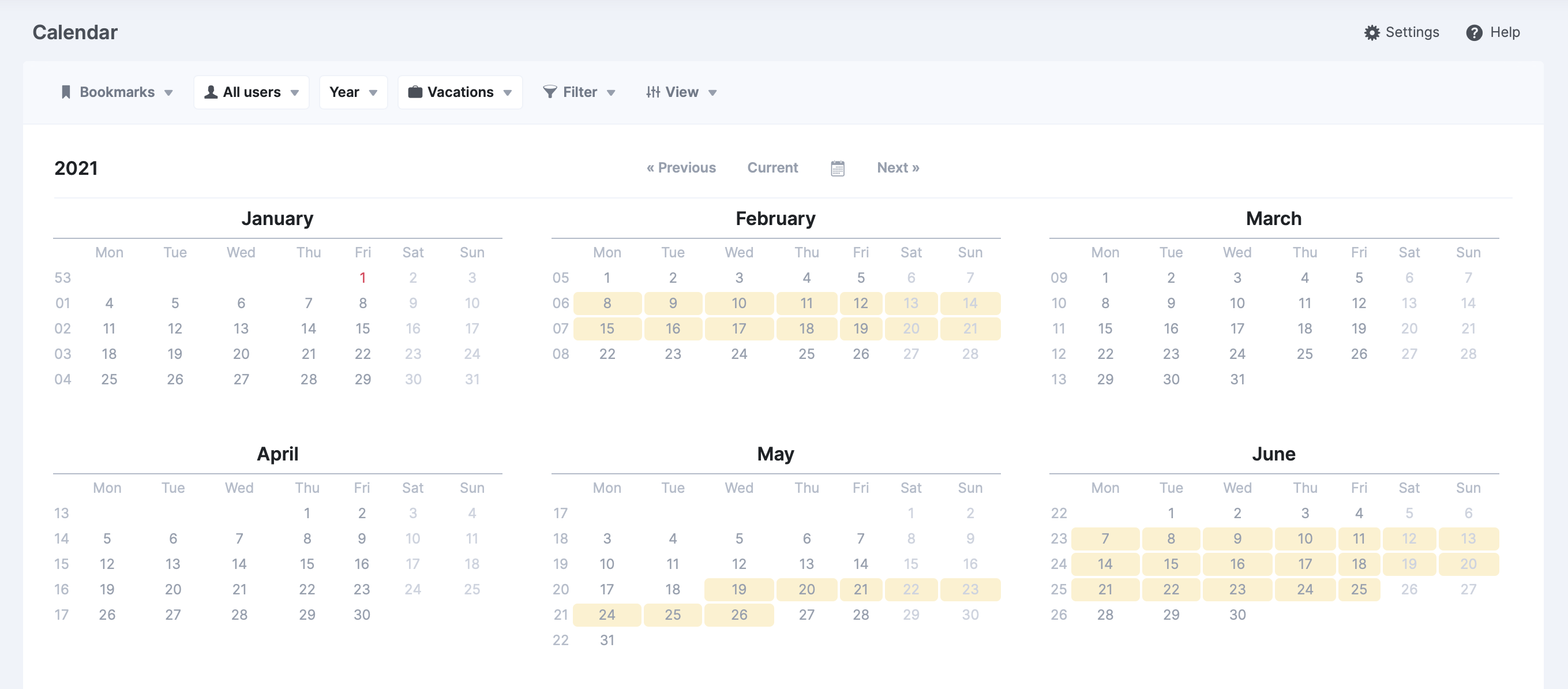 See also: