Bookmarks help you quickly find information that's valuable for you – an easy way to save time and clicks by bookmarking a filtered view for quick access whenever you want to see that specific data set again.
First use the filters to customize your view. You can find filters on top of any list view in Scoro
Save your view by clicking the Bookmarks

button and selecting

Save as bookmark

. You can also save any view as your

default view

, in which case your chosen view will be displayed every time you open that particular list or, for example, your calendar.
After you click the Save as bookmark button, a bookmark modify window will pop up.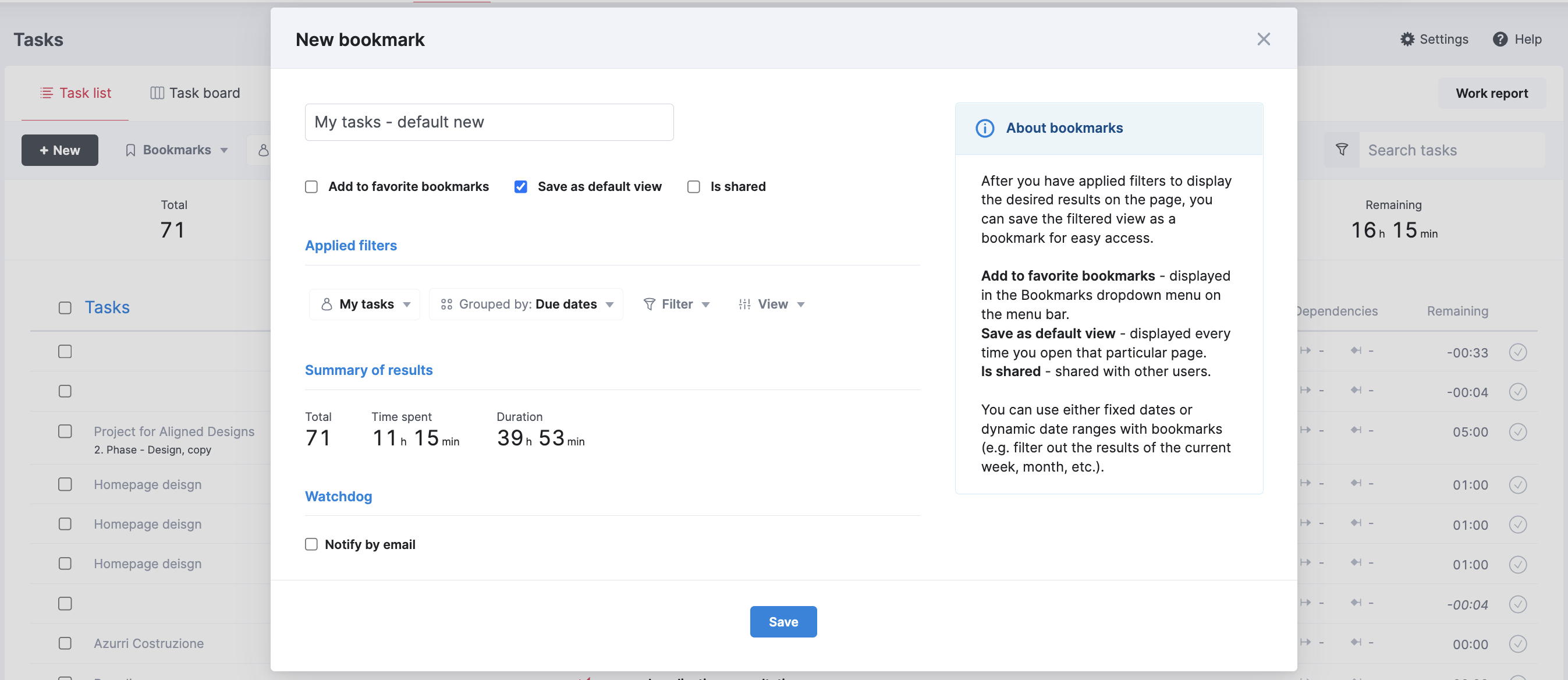 Here you can name to your bookmark, change the filters futherr, choose whether to share your bookmark with other site users, or even add a Watchdog to your bookmark.
A Watchdog will notify you when some conditions (that you have set up) are met. For example, the Watchdog will let you know via email if there are more than 3 overdue tasks in your task list or accounts overdue exceed a certain amount. Read more about watchdogs.
The bookmarks that you have created will appear under My bookmarks. If you share them, they will also appear in other team members' bookmarks list. Bookmarks that have been created by other team members and shared with you, appear under Other bookmarks.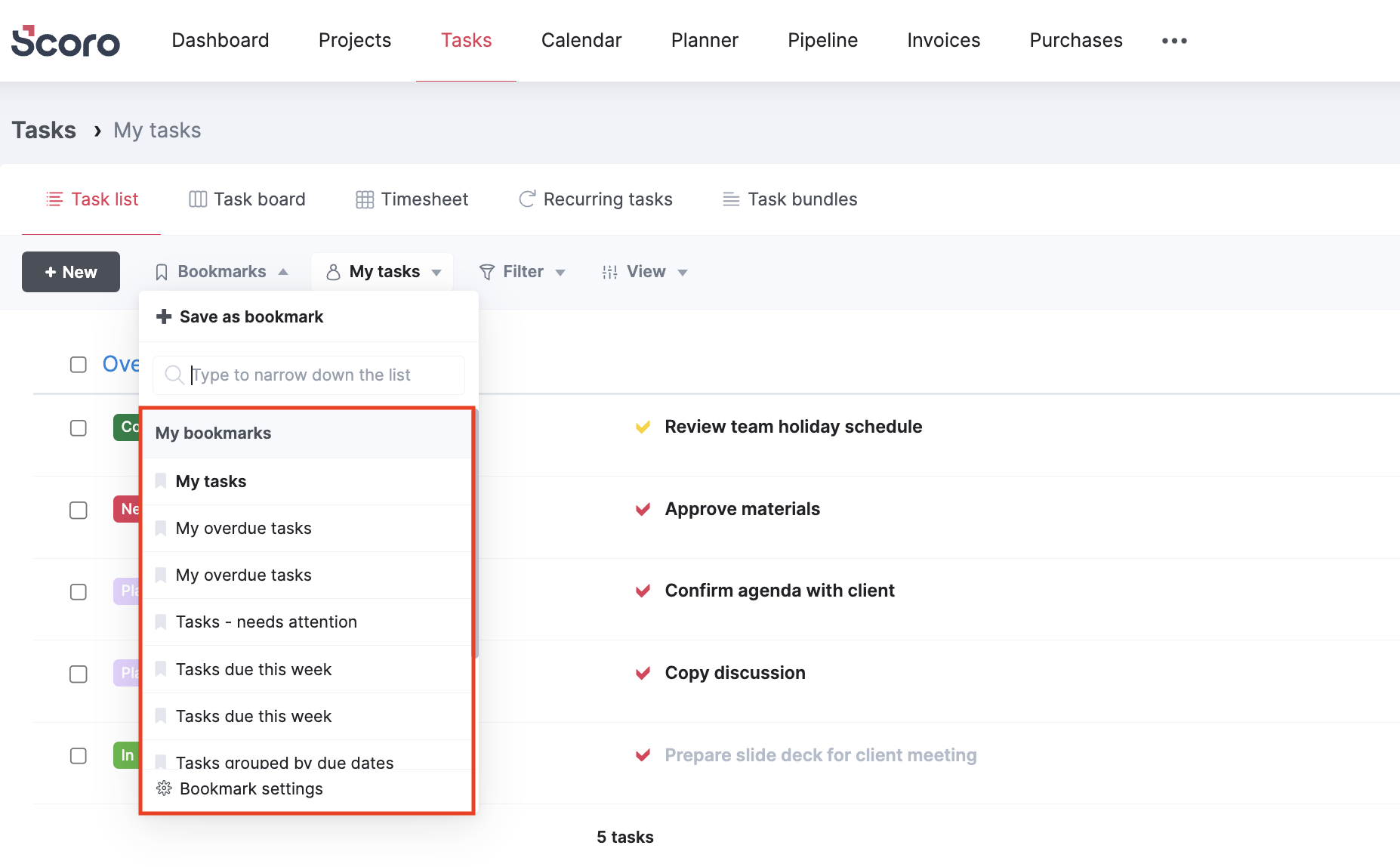 Bookmarks and default views can also be added to the dashboard (to create an overview of what's most important to you and your team) as well as the bookmarks' dropdown menu.

In order to modify or delete bookmarks, click on the Bookmarks button in the relevant view and then on Bookmark settings (you can also access these under My Settings) and then on the name of the bookmark.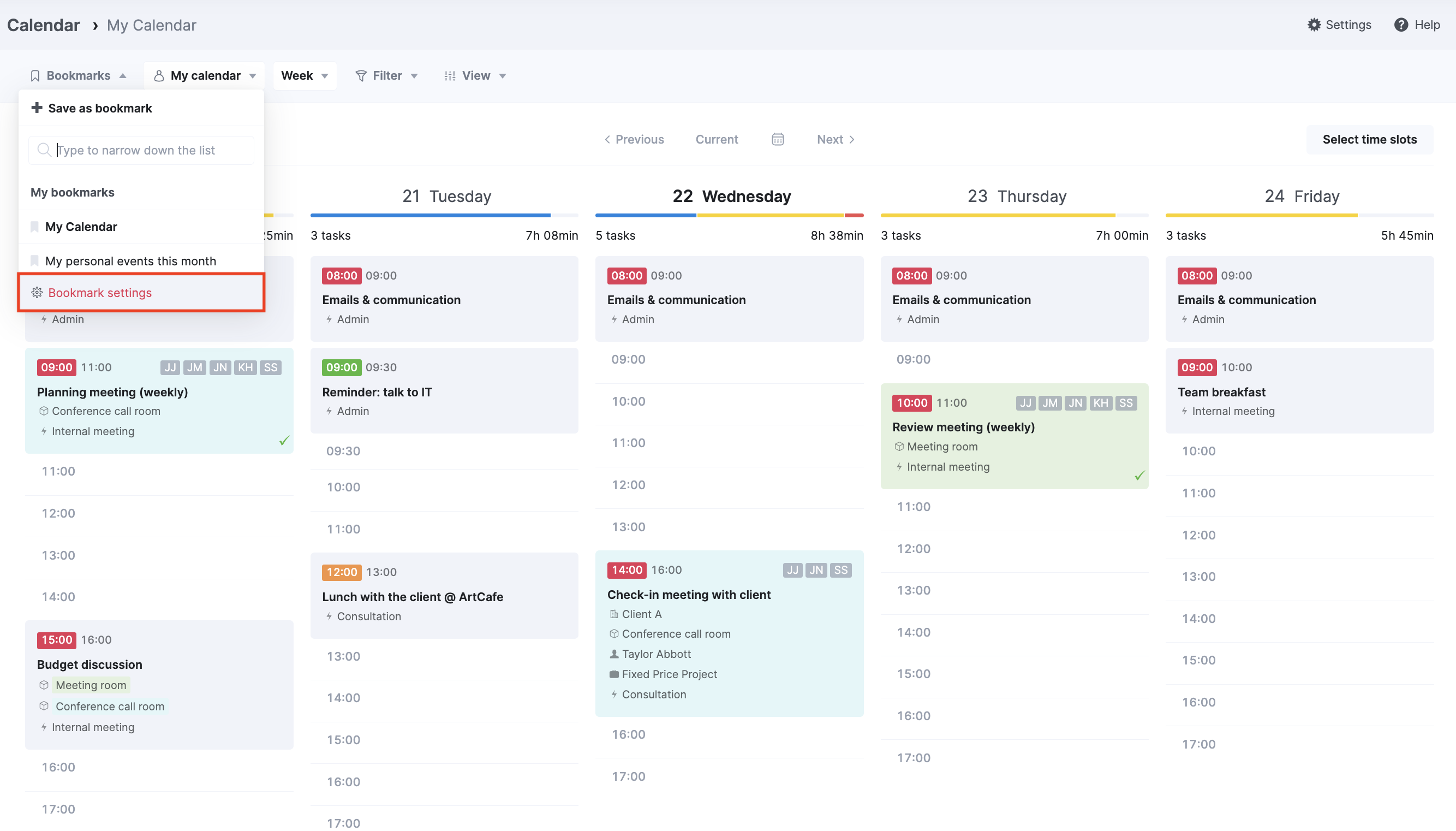 Or click on the Bookmarks icon in the site header to open the Bookmark settings.

All bookmarks created in the site are displayed right there in the list.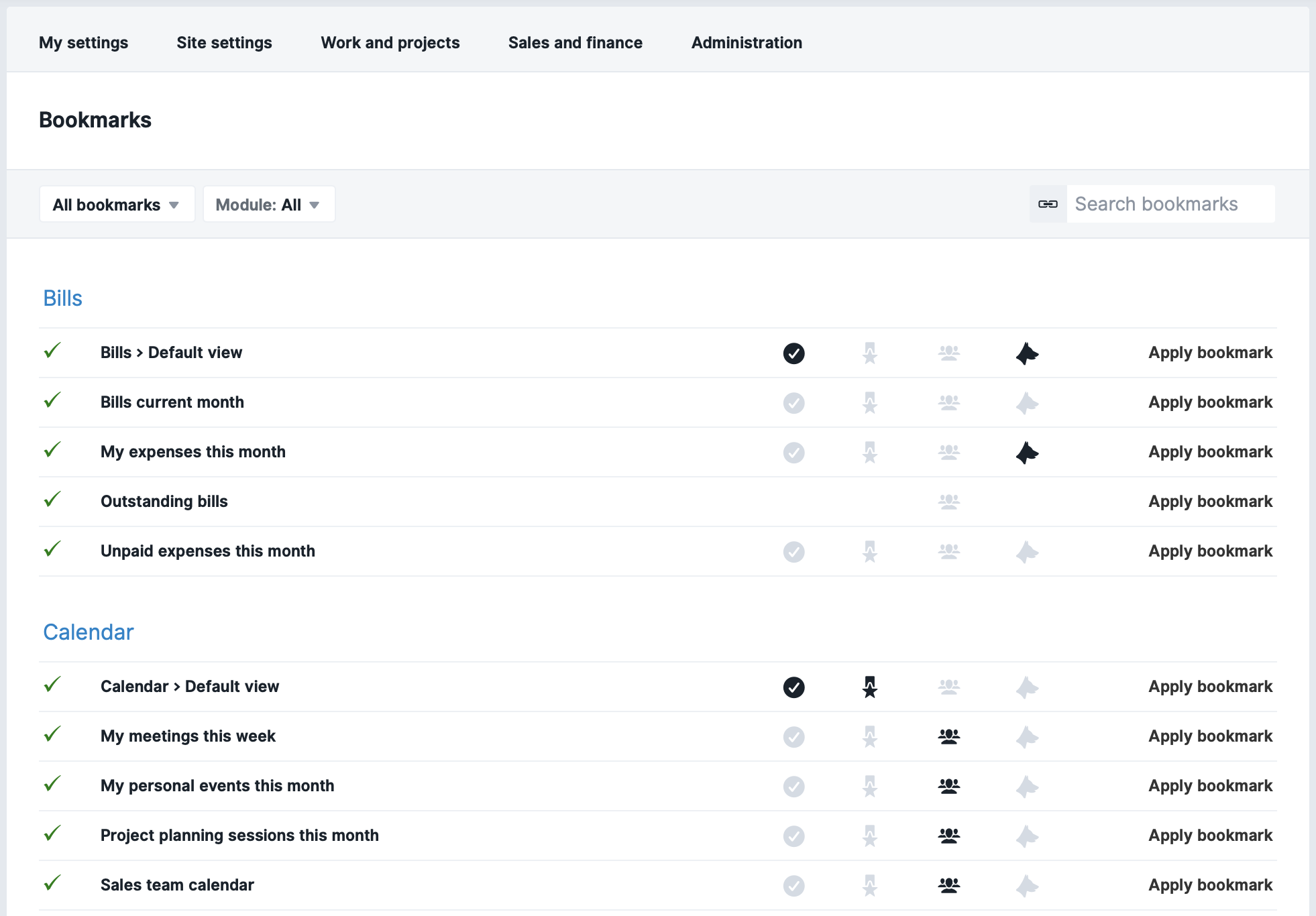 Use the filters to narrow down the list.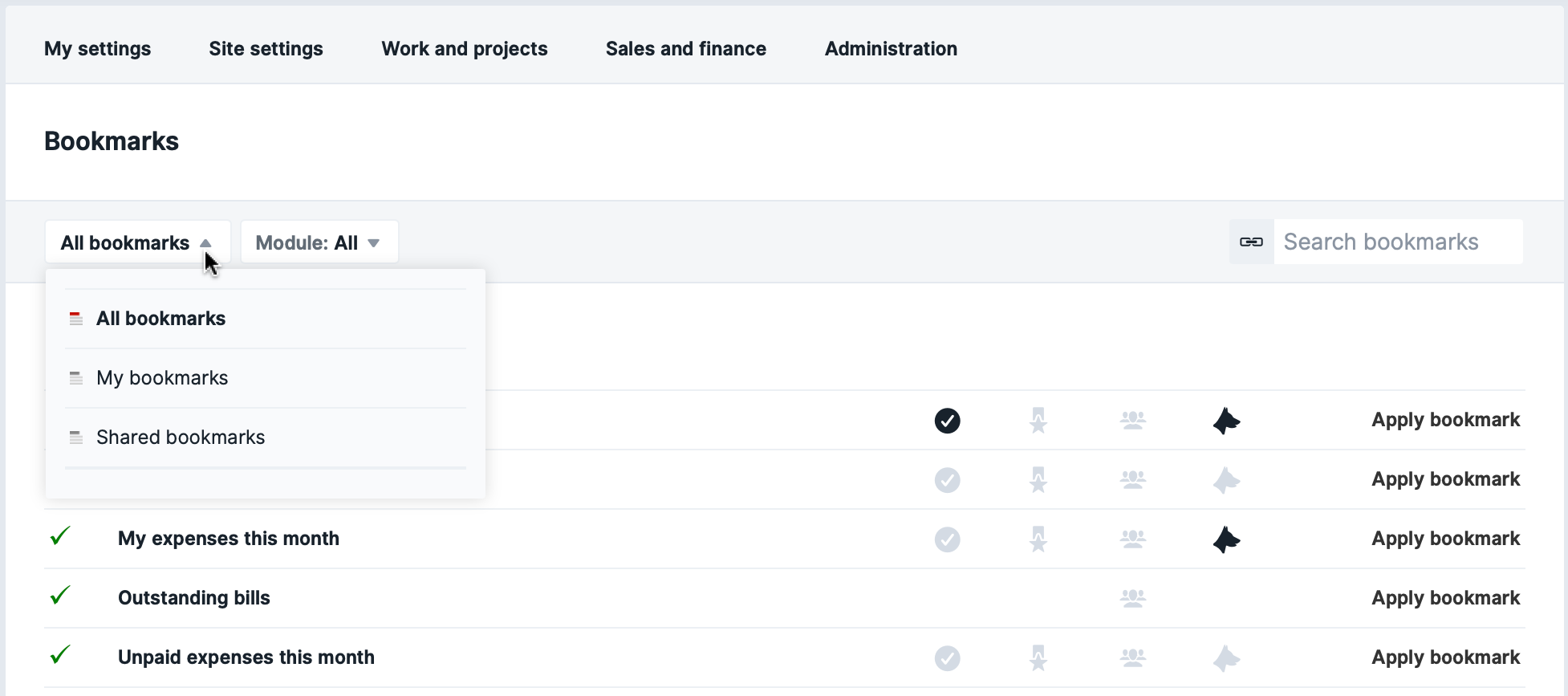 The green checkmark icon indicates that the bookmark is in use.
You can also select if a bookmark is the default view, meaning that a certain view is always filtered by this bookmark. Also, choose, whether the bookmark is displayed on the header menu as a favorite, and shared with others. Just hover over the icons to see what each icon stands for.
You can go directly into the filtered view by clicking on the Apply bookmark button.
You can, for example, create bookmarks such as "My top clients", "All contacts", "Sales team calendar", "All calendars", "Planned training sessions by companies", to name just a few.
To modify or delete a bookmark, click on its name in the list.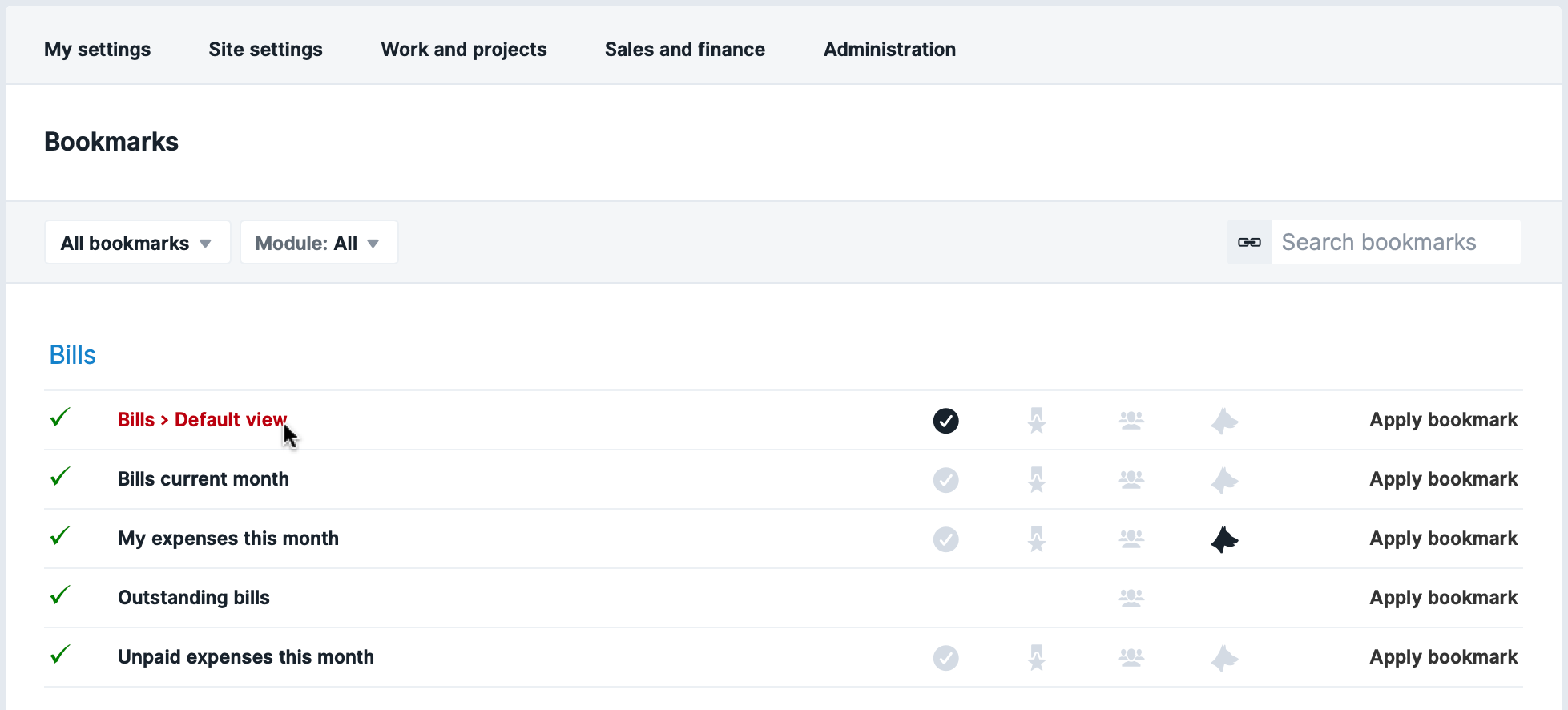 Then make the changes and save, or click on the Delete button in the upper right corner to permanently delete the bookmark.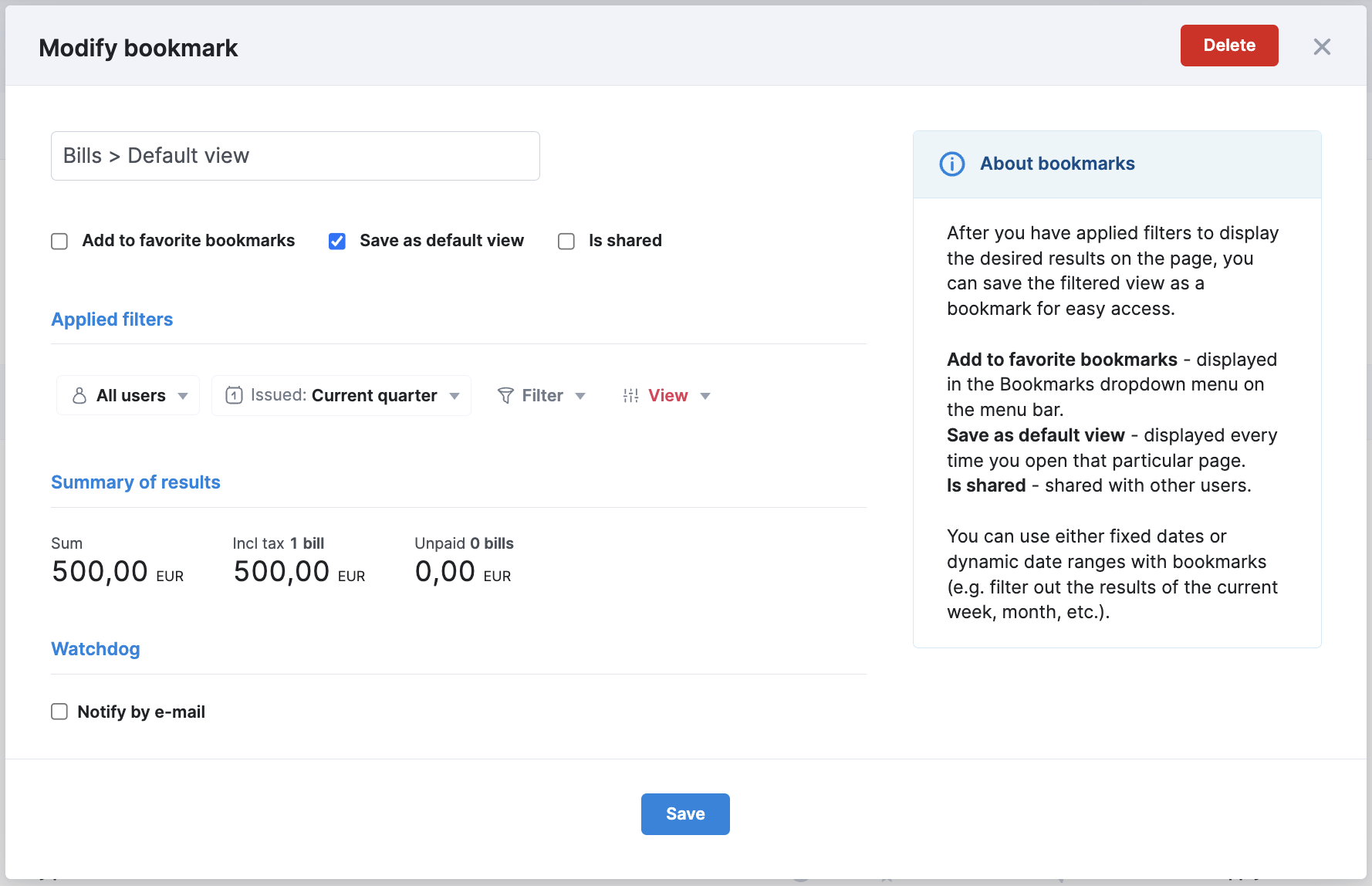 In addition to static filters, with shared bookmarks it's wise to use dynamic user filters. For example, select Me under the dynamic user filter, then all users can use the same bookmark on their dashboard, but each user can see the data relevant to them. With static filters, if you select a specific person in the user filter, the bookmark always shows the data relevant to that person, even if someone else adds this bookmark to their dashboard.


Let's take a look at two examples to give you an idea of how it actually works:
Example 1 – My out-of-office meetings
Open the Calendar.
Make sure you are the only user selected.
Select the status Out of office or a customized status.
Click on the Bookmarks button.
Give the bookmark a suitable name.
You can still change the filters, if needed and select suitable options. Also, add a Watchdog.
Select the date range. For example, always the current week.
Save.
Example 2 – Planned sales activities by companies
Open Tasks.
Select all users or specific users (sales team members).
Choose the activity type First meeting or create the activity types you need.
Group by companies.
Click the Bookmarks button.
Give the bookmark a suitable name and select the options you need, add a Watchdog.
Save.
To identify and filter contacts, projects, products, and files even more easily, learn how to use tags.