Instead of using emails and different communication platforms for team collaboration, and then struggling to find that specific piece of information you need, use comments in Scoro to bring all the necessary information together.
You can look at it as a team chat for sharing valuable information related to a specific project, task, document and so on. Comments can be used all over Scoro.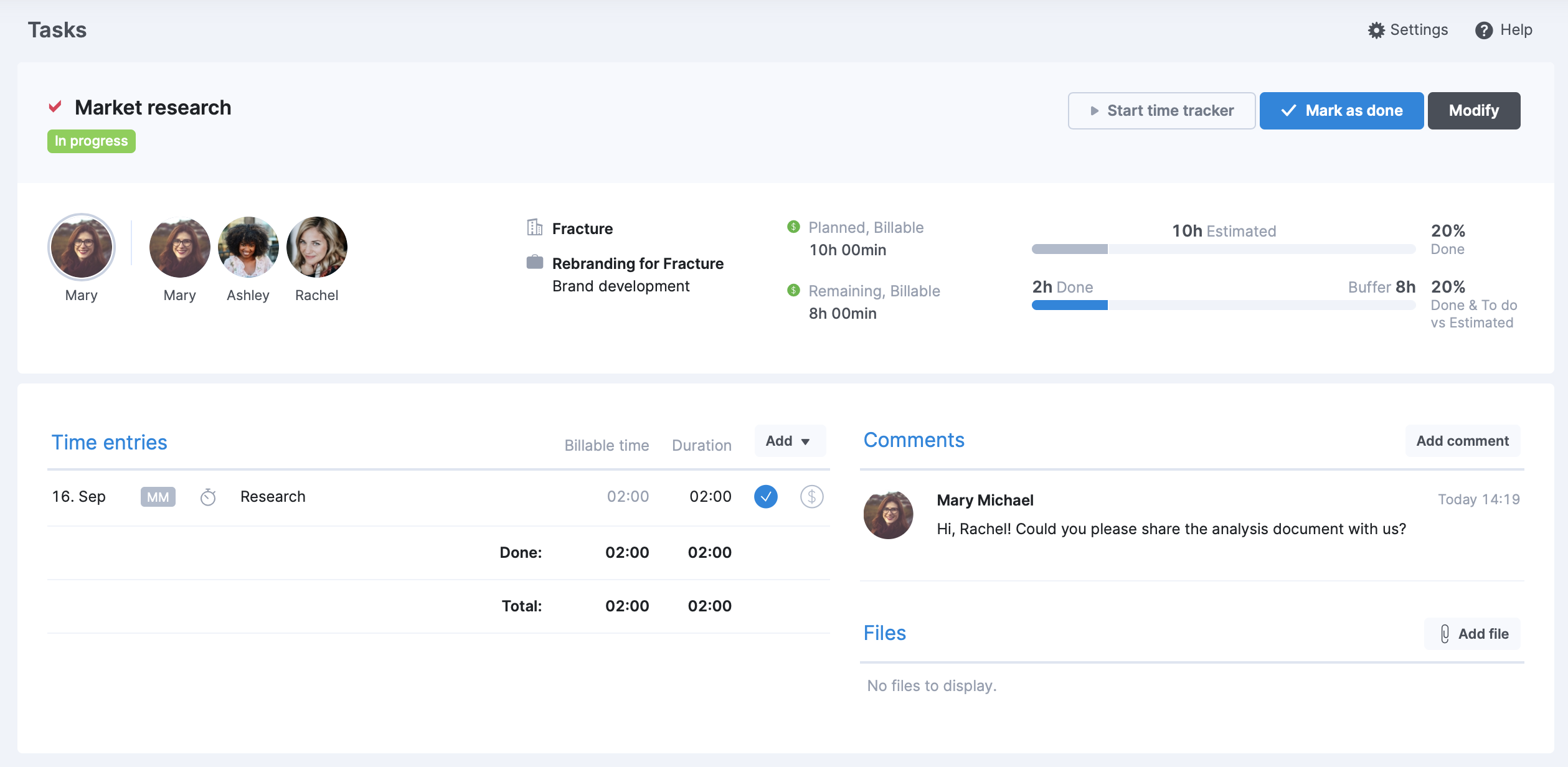 With permission sets, you can decide who can modify or delete other users' comments. Go to Settings > Administration > Permission sets to make changes to user rights.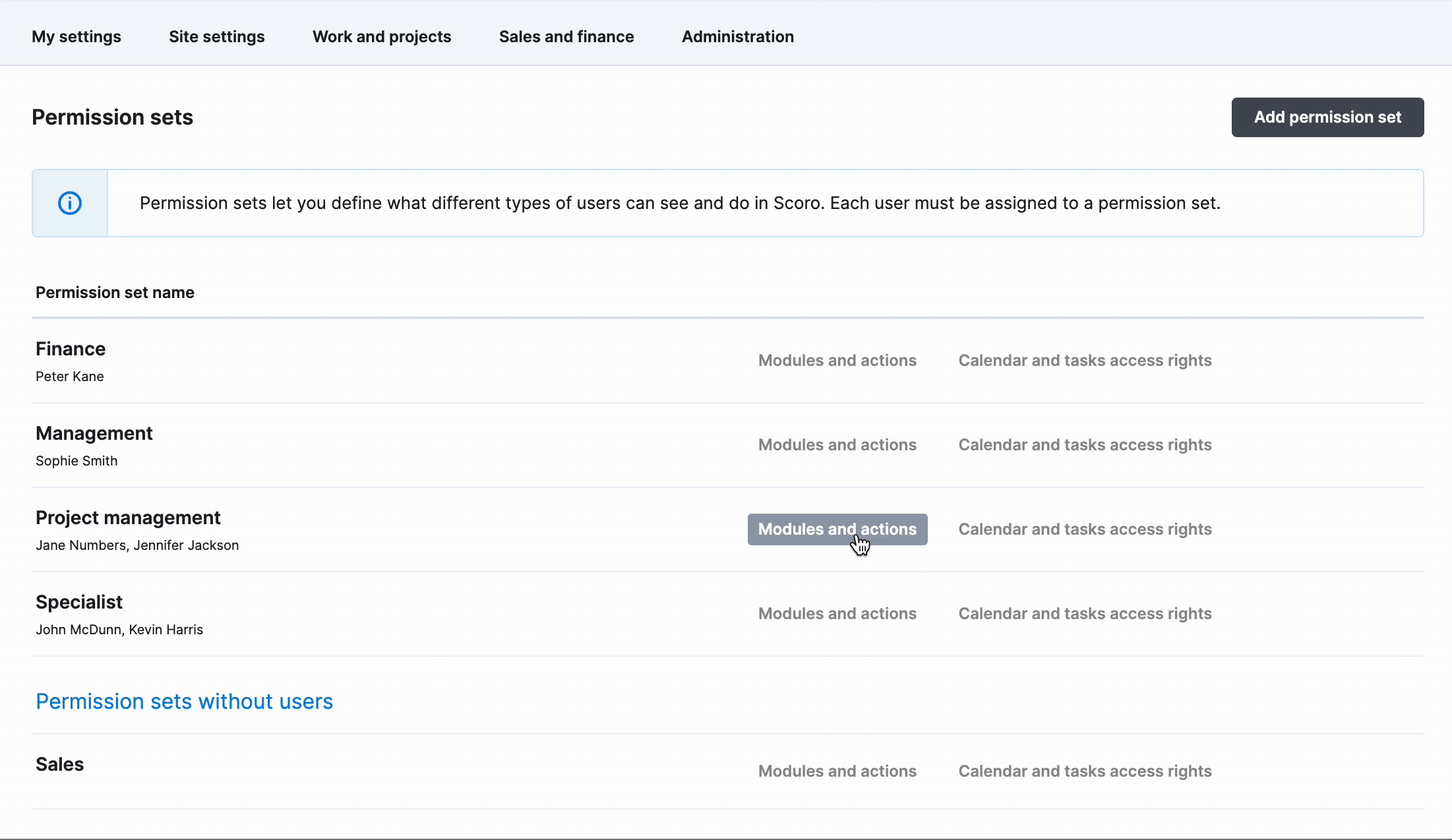 To share your thoughts related to a specific task, for example, open the task detailed view and write a comment. By clicking the Notify button, all the users related to this task are selected by default. Of course, you can also manually pick the users you want to notify. All selected users will be notified in Scoro, and via e-mail if you tick the option By e-mail.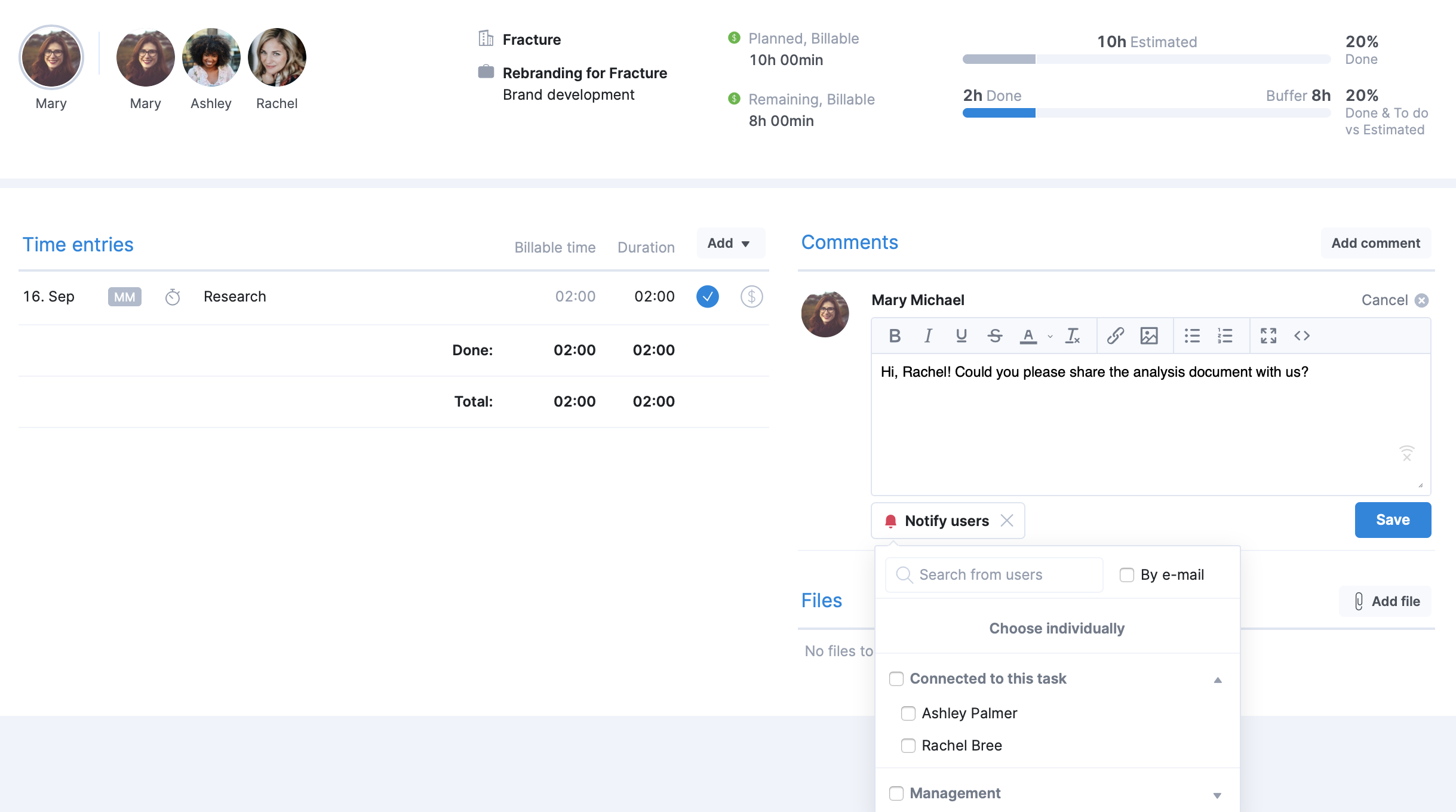 Another option is to simply tag users in the comments by using the @-sign. In that case, the user tagged is notified automatically.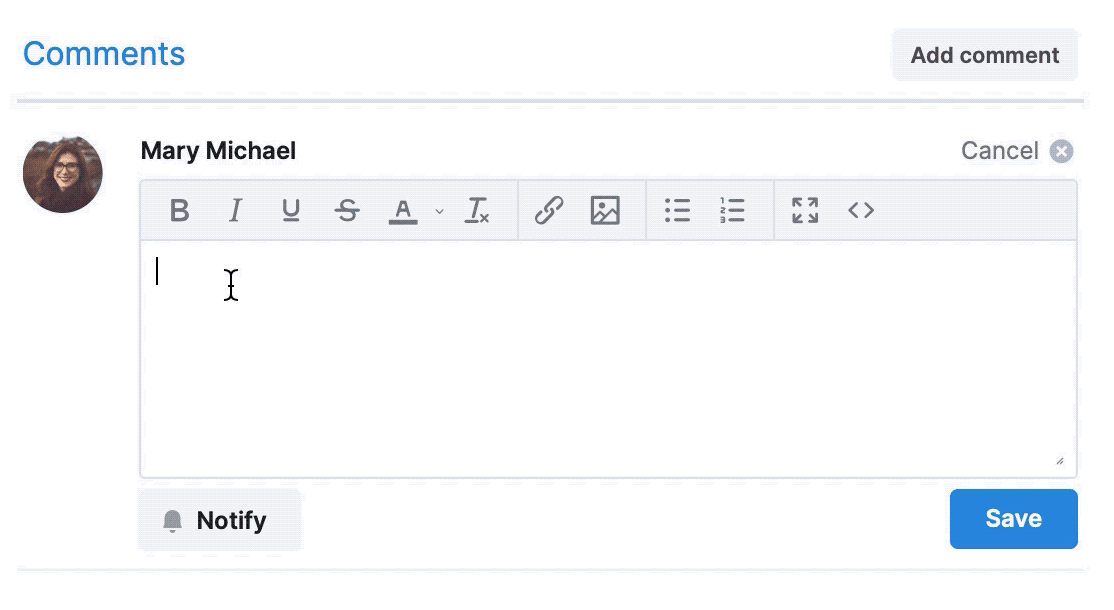 When notifying someone of a calendar event, the user is both notified in Scoro and via e-mail.

Note! To be able to notify others and receive notifications in Scoro, the user must have the notifications permission. Go to Settings > Administration > Permission sets, click on Modules and actions on the relevant permission set line to open the permissions page and tick the Notifications permission.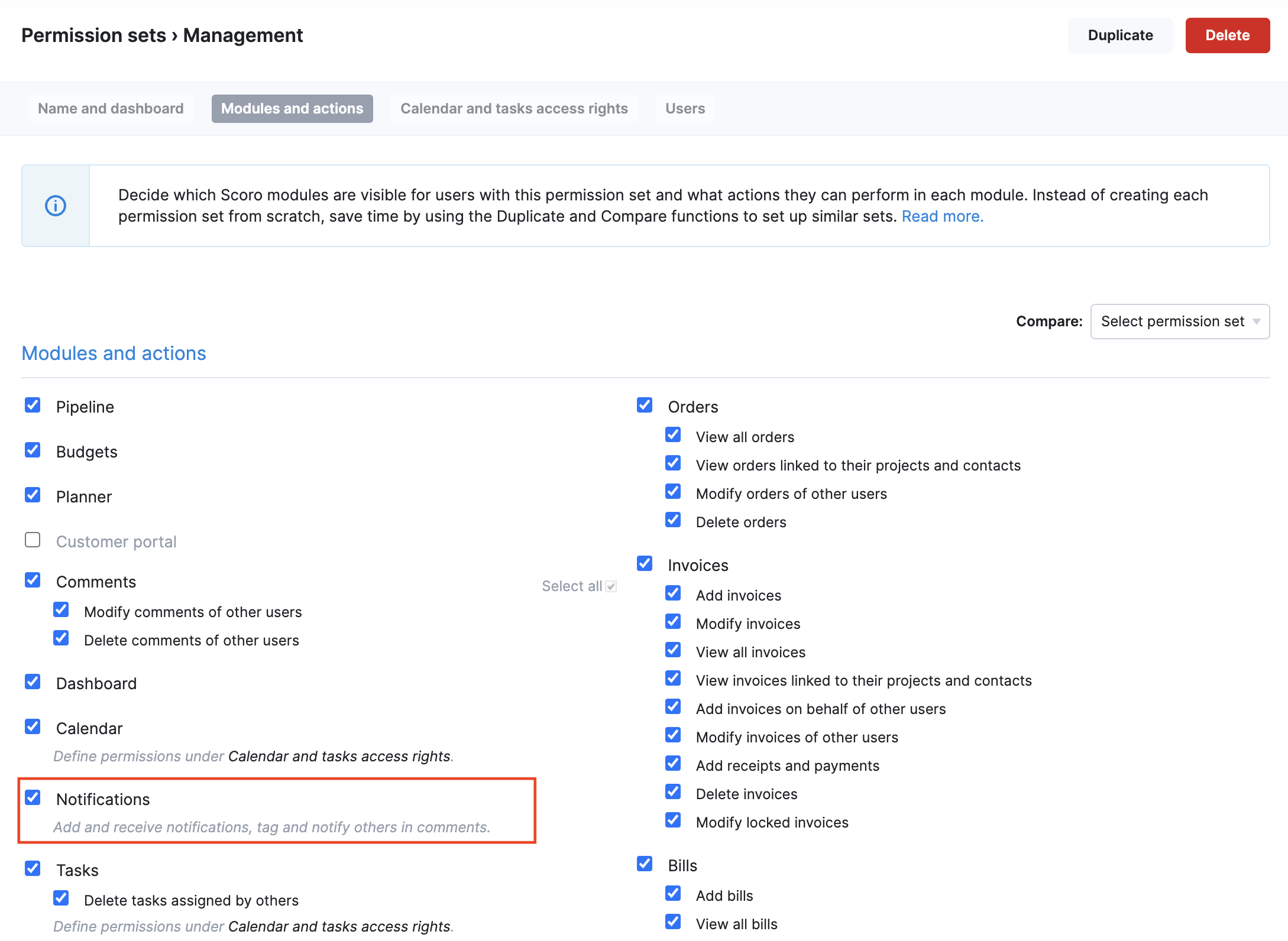 In addition to manually notifying someone of something in Scoro, the system automatically notifies users of various actions.

Notification in Scoro in case of:

adding/modifying a task
task is marked as done
calendar event deleted
completing bulk action jobs (for example, marking multiple tasks as done from the list view)
notified via import (add, delete)
assigning an active time entry to a user
background job completed/failed (in case of making changes to a large number of items, for example)
getting notified via comment (add, edit, delete)
a calendar invite response (accepted/declined)
changing a rental order assignee

Notification via e-mail in case of:

confirming/releasing calendar invite
site quota exceeded
bookmark Watchdog conditions are met
triggers/actions
password is reset
a new user is invited
2-step verification enabled and logging in from a new device
2-step verification turned on/off
task marked as done
task deleted
task converted into a calendar event
calendar event deleted
credit card payment failed/successful
changes made in self-service
integrations disconnected
reminders/notifications
version update
If you're using the Customer Portal (CuPo) feature, you can also leave notifications under projects available to your Customer Portal users. And you can choose if you wish to display the comment for all project members, including CuPo users, or not. For this action, you can enable a toggle Show in Customer Portal once writing the comment.
You can also tag your CuPo users under the projects, tasks, or other modules they have access to. Just use the same actions -- either select them from a user list or tag them with the help of @-sign.
Once the CuPo user is tagged in the comment, their name is in a green color, and a toggle Show in Customer Portal is by default enabled and cannot be disabled without removing the CuPo user's tag from the comment.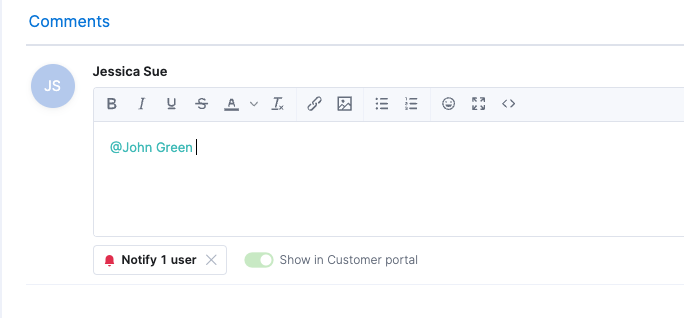 Similar to tagging your colleagues, you can also choose to notify CuPo user via notification in Scoro only, or also send a notification via e-mail. To send a notification via e-mail, make sure to tick the checkbox By e-mail: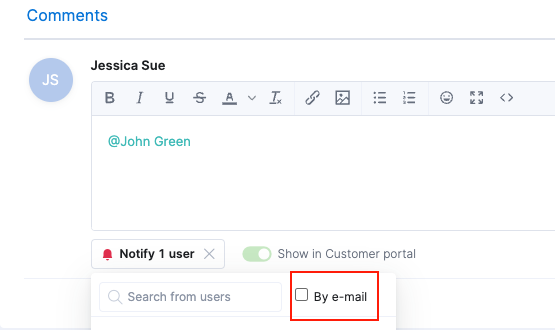 Note! The Customer Portal user will be able to view and leave comments only if they have permission to do this action.