Scoro's project view holds onto everything a project manager needs to collaborate with their team, ensure efficient time usage and keep track of the project budget.
Watch the video for a high-level overview, or use the photo guide below to go through the view at your own pace.

1. General overview

Once you open a project in Scoro, at the top of the view, you'll find your project start and due dates and the team involved.
The progress bar to the right will help you quickly see how far you are with the project and if you are in danger of spending more hours than planned.
Different colors are used to represent the status of tasks and activities. Here's how to interpret progress bars and other availability indicators in Scoro:
Grey signifies the estimated time for completing the project
Blue reflects the total time already spent on activities
Yellow highlights the time for work that has been scheduled or planned
Red indicates if activities take more time than estimated


2. Gantt chart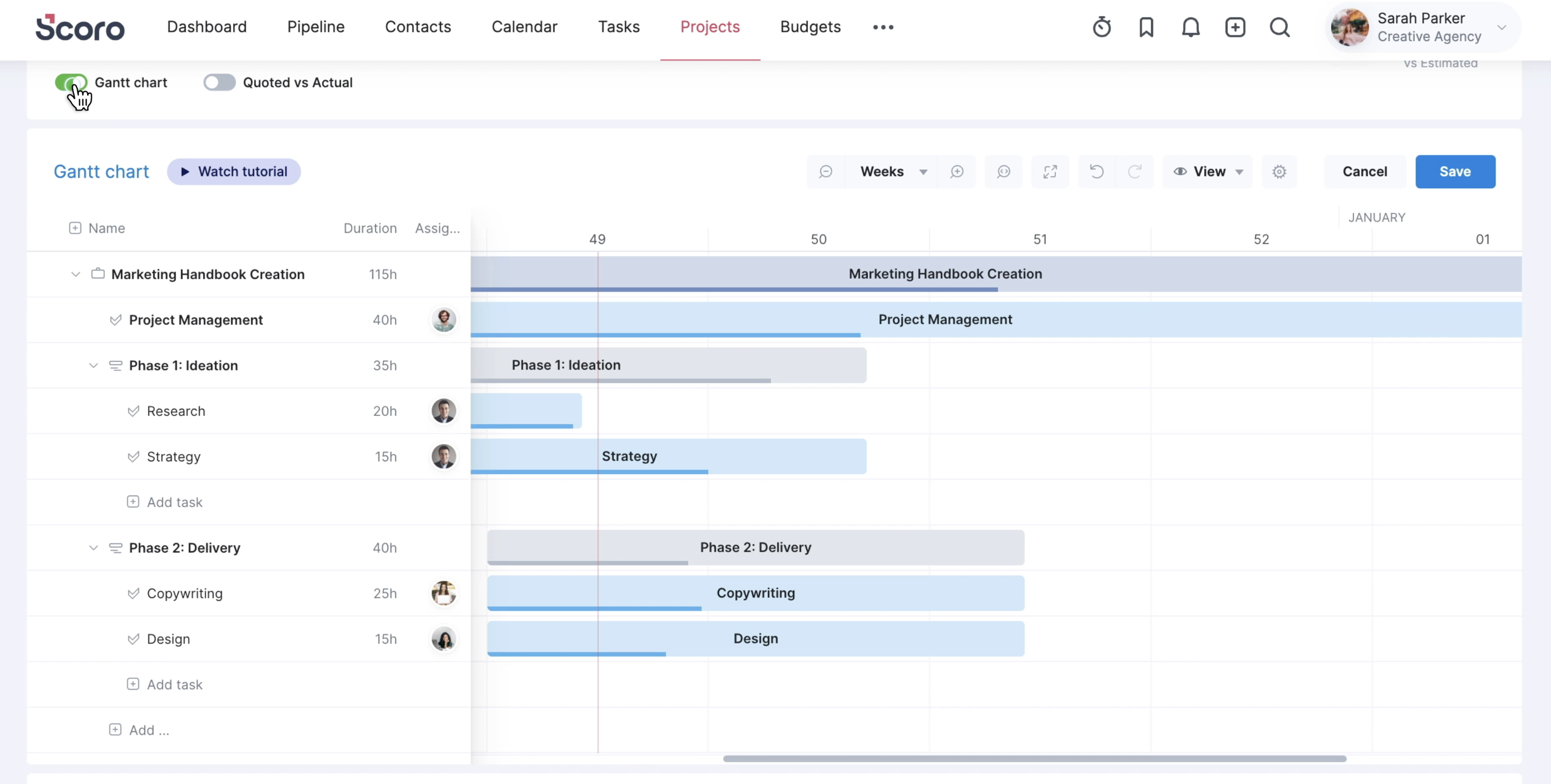 Gantt chart provides a more detailed outline of where everything stands, breaking down the project into phases and tasks. However, it is not just a static reflection of the status quo.
Scoro's Gantt chart is interactive, so you can use it for updating project details. For example, if deliverables or deadlines change, move or pull on the task to change the timeline. Add tasks on the left-hand side and distribute responsibilities using the assignee column.


3. Budget insights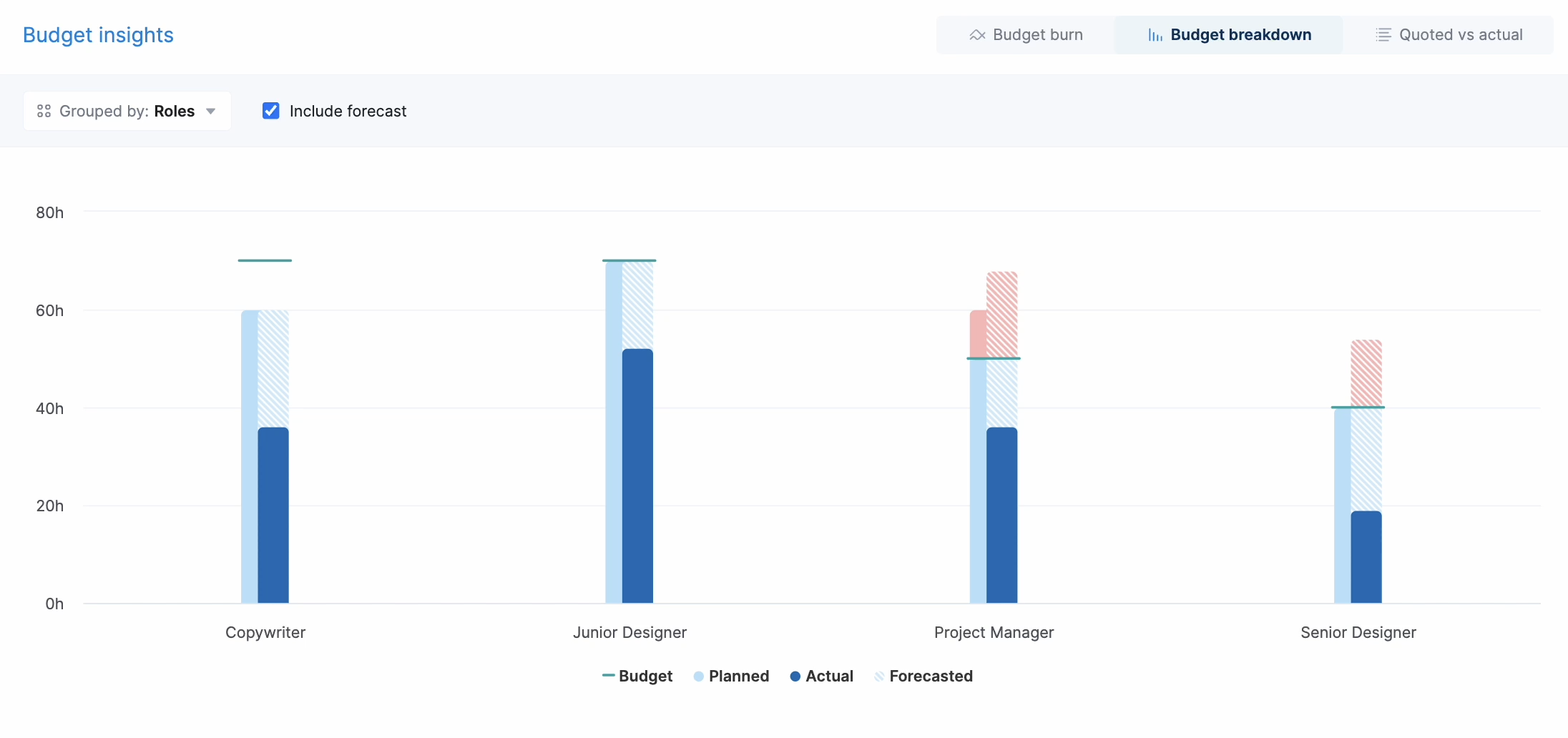 If you enable the Budget insights toggle, you can monitor whether your project is progressing on budget with the help of various charts and tables.
The budget burn chart visualizes the budget progress over time. It helps you detect potential overservicing ahead of time and course correct promptly by replanning or renegotiating the project scope. The budget breakdown chart helps you track the use of time budget across roles. This way, you can easily detect if you're overutilizing certain roles and need to replan the work. Read more on budget charts.
With the help of the Quoted vs actual table, you will be able to see if your project is progressing on budget at a service level. The table provides a complete overview of project financials, from time spent to income generated and costs incurred. Read more on the Quoted vs actual table.
4. Budget summary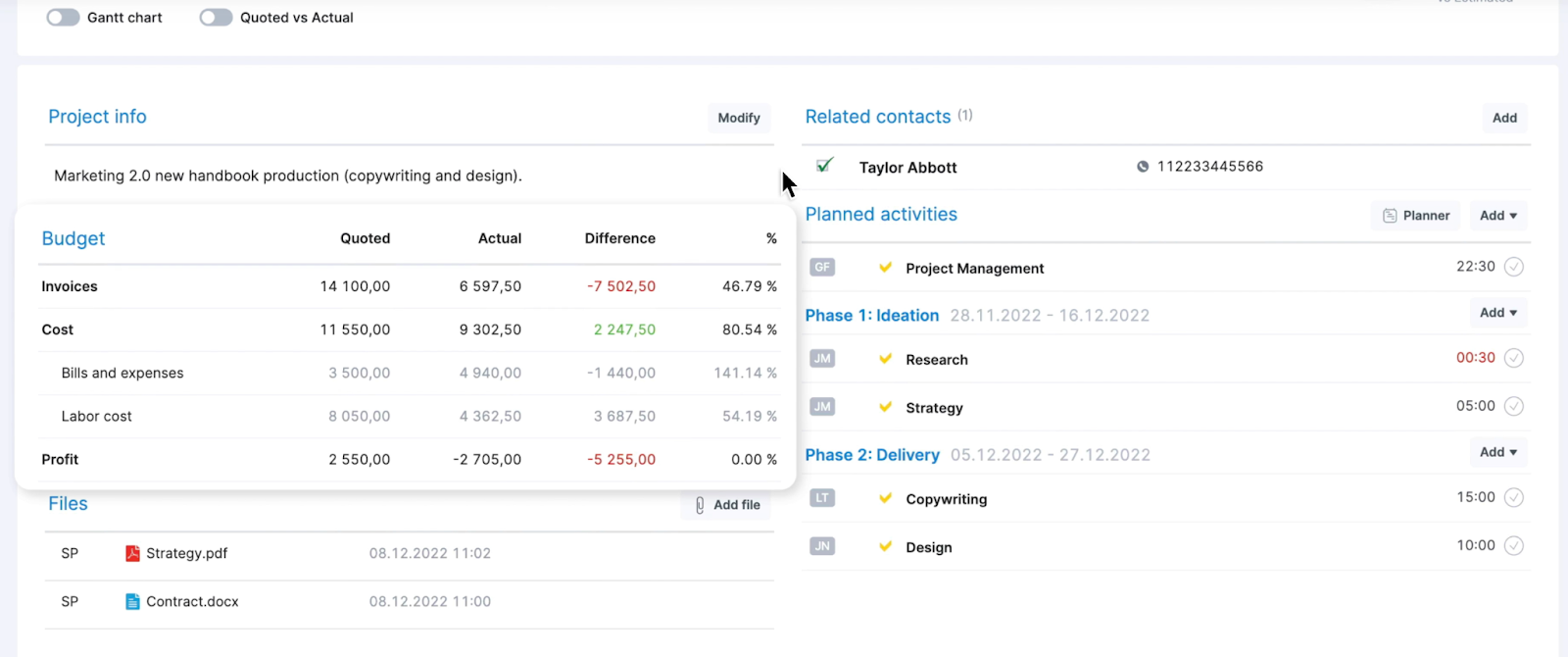 In addition to a detailed overview, you can also use the simple budget summary for a high-level take on project profitability. It summarizes the quoted budget and compares it with the issued invoices, cost documents, and logged time.
In fact, the simple budget may be your first point of reference and help you spot if you need to delve deeper and open the Quoted vs Actual table.


5. Planned activities

Next to the simple budget summary, you'll find a list of the planned activities. This is another section you can use to manage tasks and phases. In addition, your team can log time under relevant activities right from here.


6. Past activities
Each time a team member adds a time entry under a specific task or attends a project-related event, it will be logged under the Past activities section.
Here, you can review how much time various activities take and the cost to your business.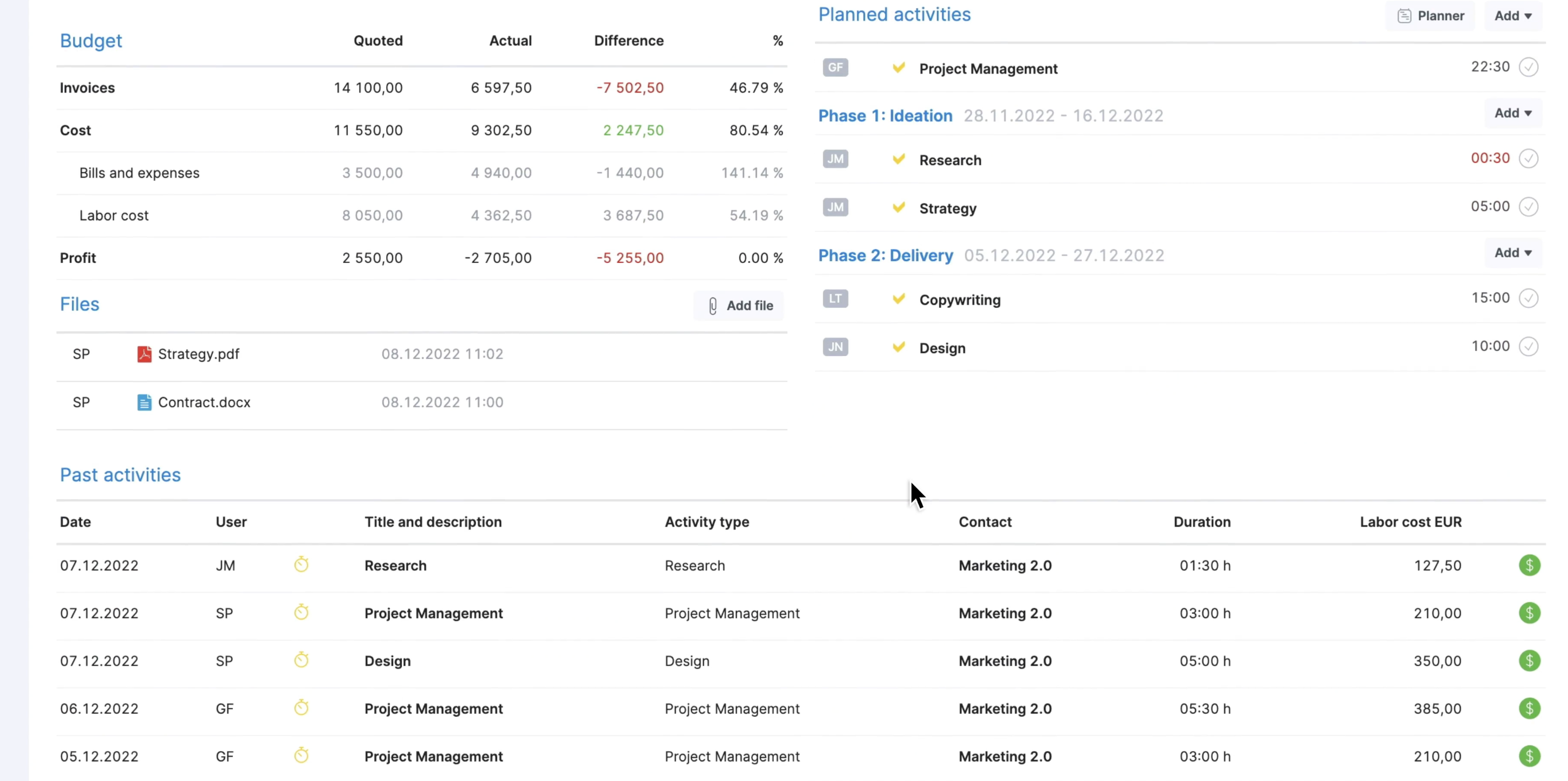 7. Financial documents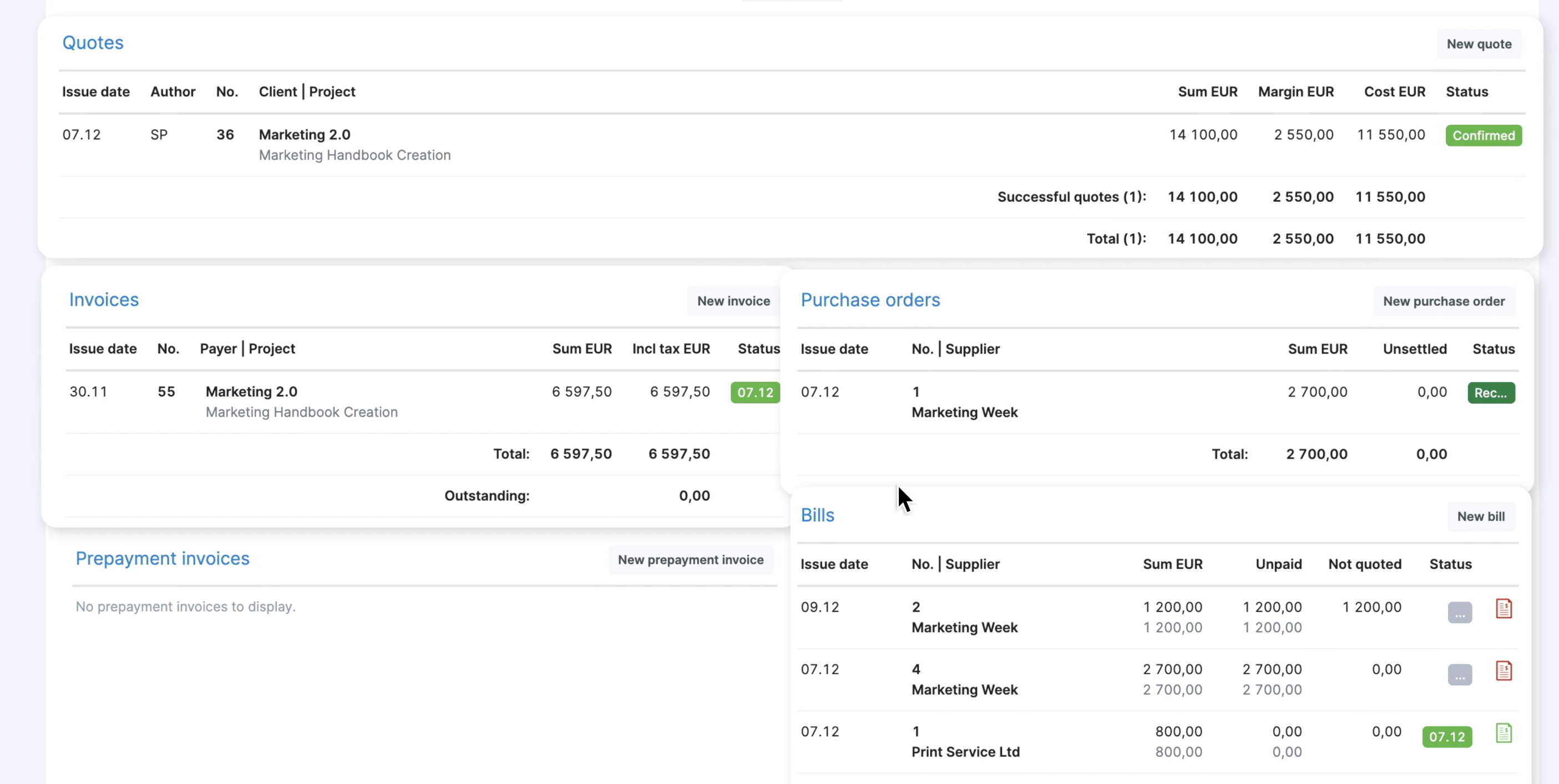 With Scoro, you'll never have to guess what the initial agreement with the client was or where to find it.
Scrolling down the project view, you'll find all related financial documents, from quotes to invoices to bills and expenses. You can hover over the document's name to see more details. Click on it to open a complete overview in a new tab.


8. Communication and relevant files
Lastly, the project view holds onto other useful collaboration tools. We recommend uploading all related project files, such as contracts or supplier agreements to the project view to ensure everyone in your team is on the same page. Similarly, share updates in the comment section to keep all project-related communication in one place.