Timesheet is a valuable tool if you are used to reporting your time manually at the end of each work day or week. It gives you a quick overview of your weekly time-use in a simple grid view and lets you easily add new or modify existing time entries.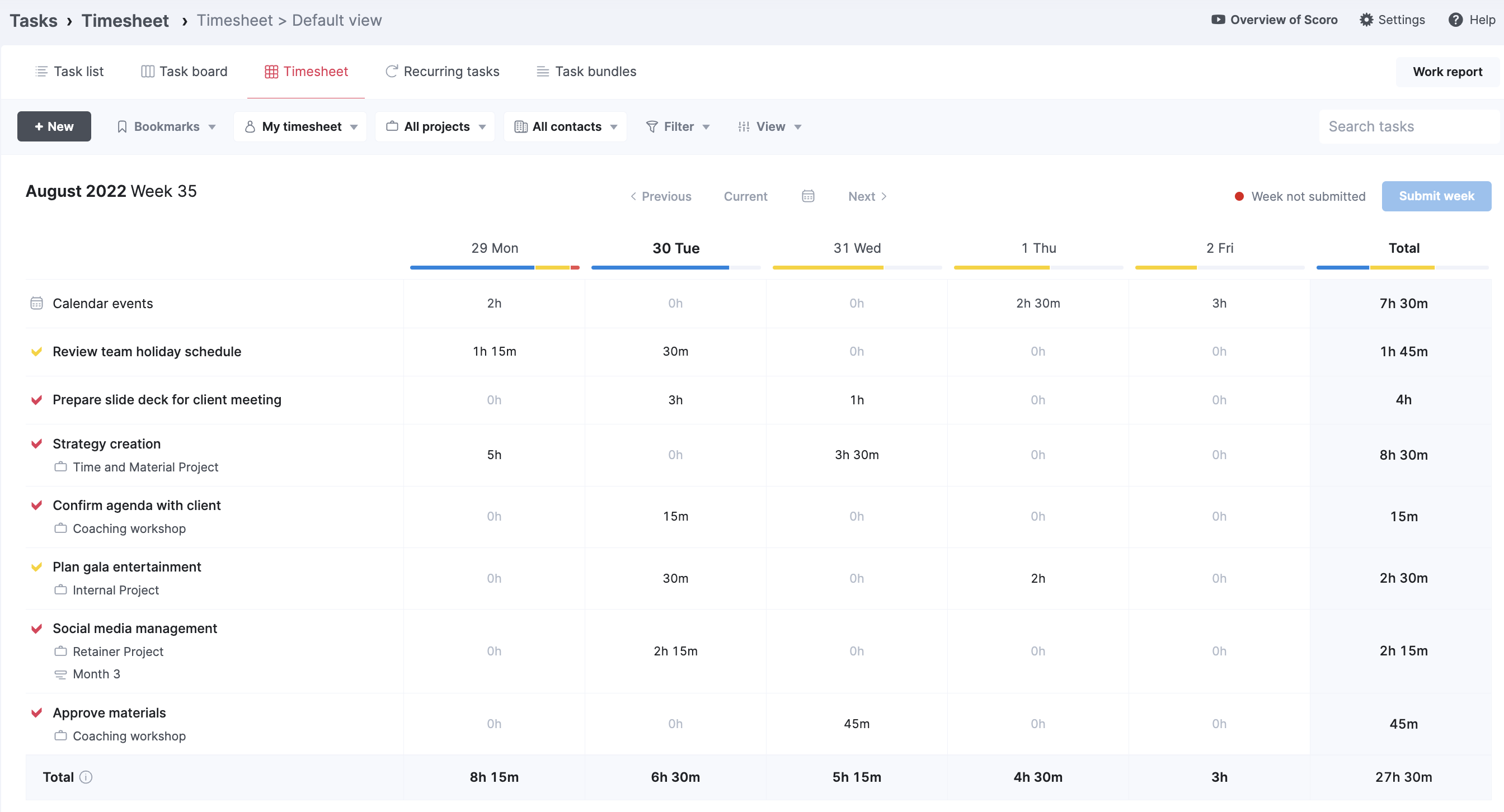 Overview
The progress bar for each day helps you to visualize your workload. It shows you exactly how much time you've already spent on activities, how much you still have left to do, and/or how much of your time has been overscheduled. The bar is striped through if the day is marked as a national holiday in Scoro.
The calendar events row summarizes the total number of hours you've already scheduled or worked according to the events in your calendar.
The total bar always reflects all the hours logged and scheduled for the day, regardless of applied filters. Just like the progress bar, it always moves with you as you scroll through your task list so you can easily keep an eye on your totals as you fill in your timesheet.

Customizing the view
You can easily customize your timesheet view with various filters to make sure that time-logging is as convenient and as fast as possible and you can retrieve relevant information quickly. Once you have found the view that works the best for you, make sure to save it as your default view under bookmarks, so you don't have to start from scratch each time.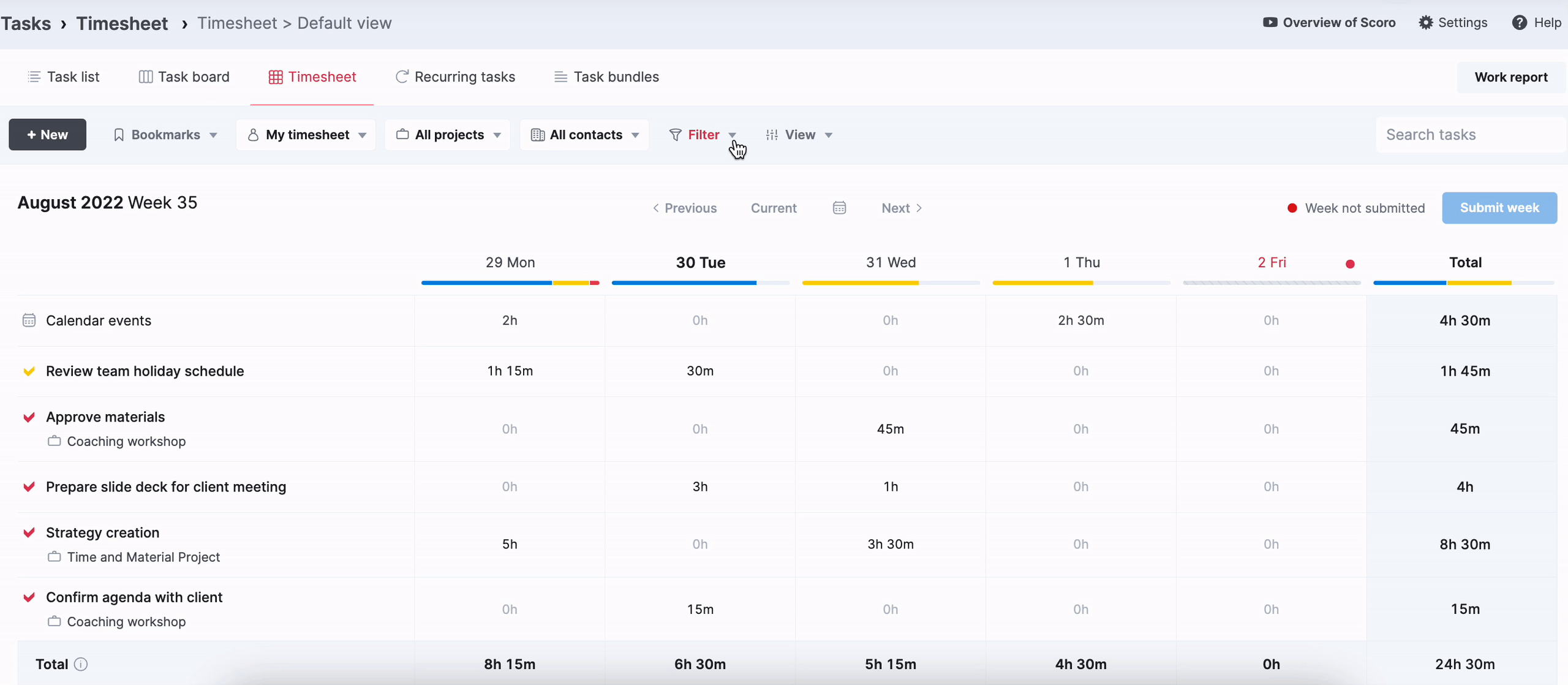 Filters
Filter out tasks by various criteria, such as status, priority, activity types, start and due dates, etc.

View
Group and sort the tasks in your list to find the ones you're looking for faster and address them in the desired order.
Customize the task-related data you'd like to see in your grid view to tell tasks apart quicker and ensure that you always log your time against the correct activities. For example, group them by project and sort them by due dates.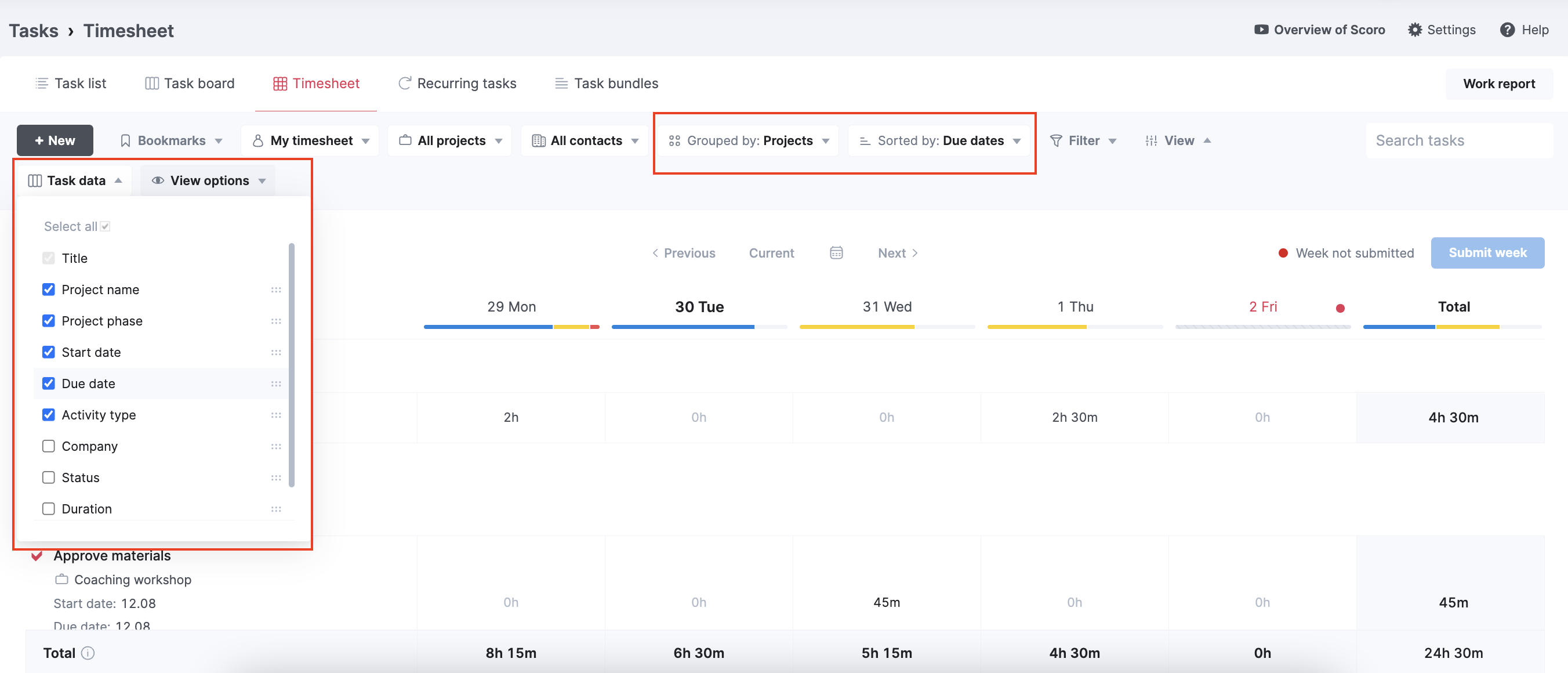 View options
Include weekends and personal activities

in your timesheet if you want the table to cover more than just the work hours.

Show only current week's tasks to easily eliminate any tasks that are not relevant for the current week. This option includes tasks with time entries this week, tasks that overlap with the week based on start and due dates, and tasks without dates.


You can also make use of the search bar to find tasks faster. It also allows you to search tasks by project name, so you can record all project-related hours conveniently in one go.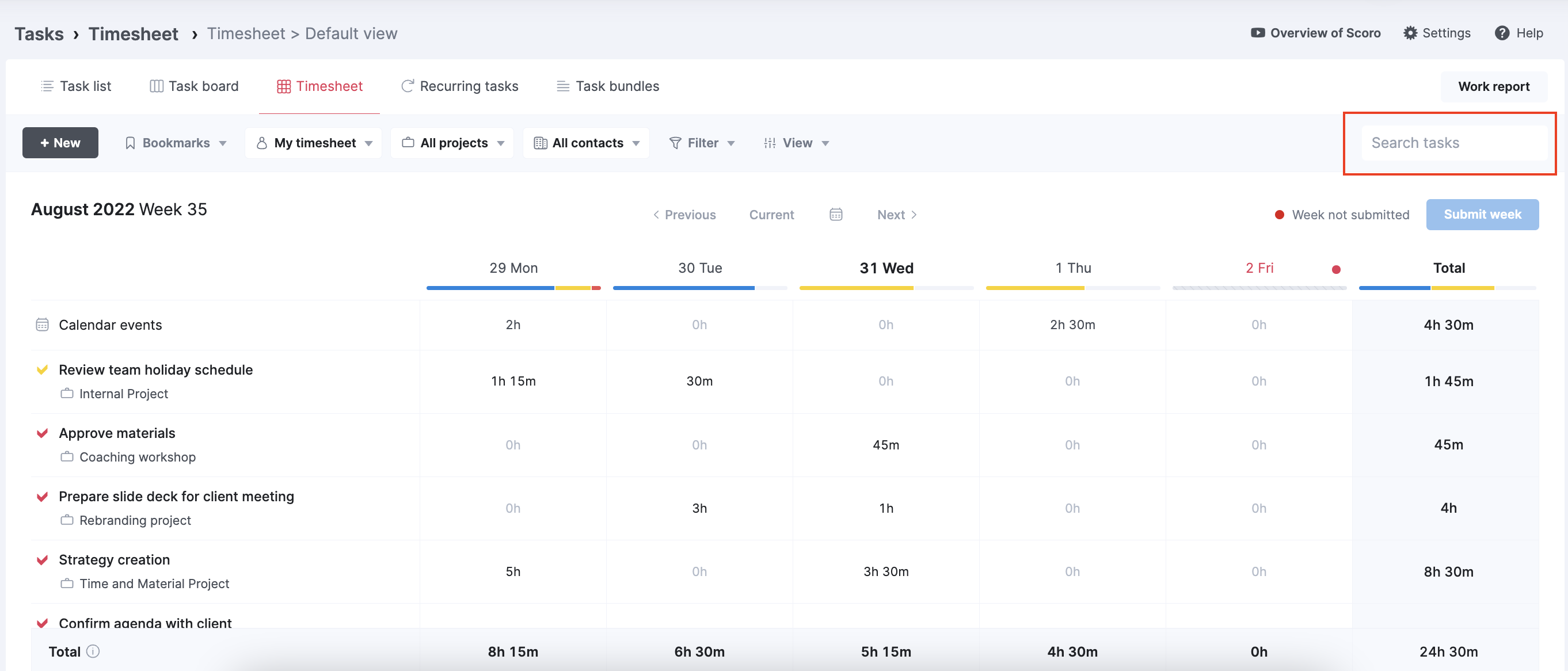 Logging time and tasks
All logged time entries and committed time (not yet done; tasks with deadlines on the current week; tasks with time entries scheduled for the week) is also visible in the table. Simply click on the numbers to see the preview of time entries.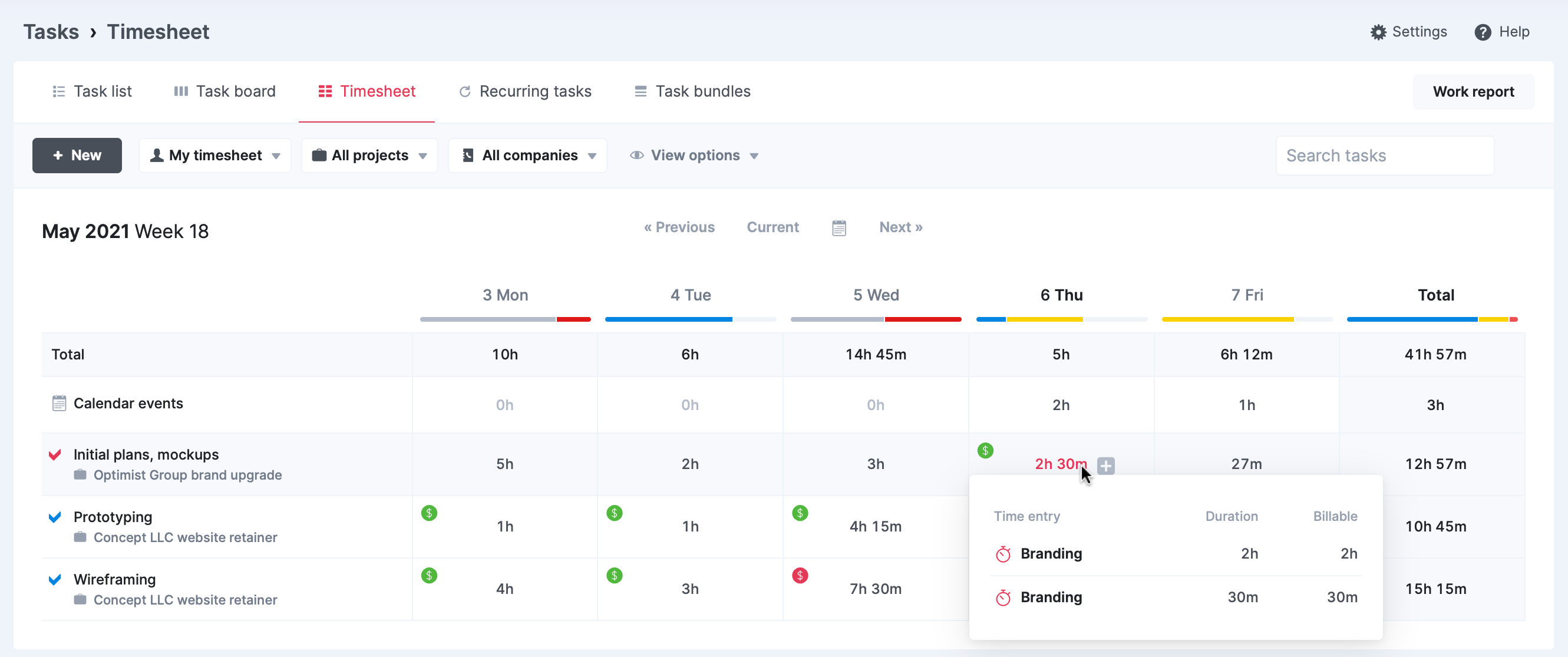 Click on the name of the time entry to modify it.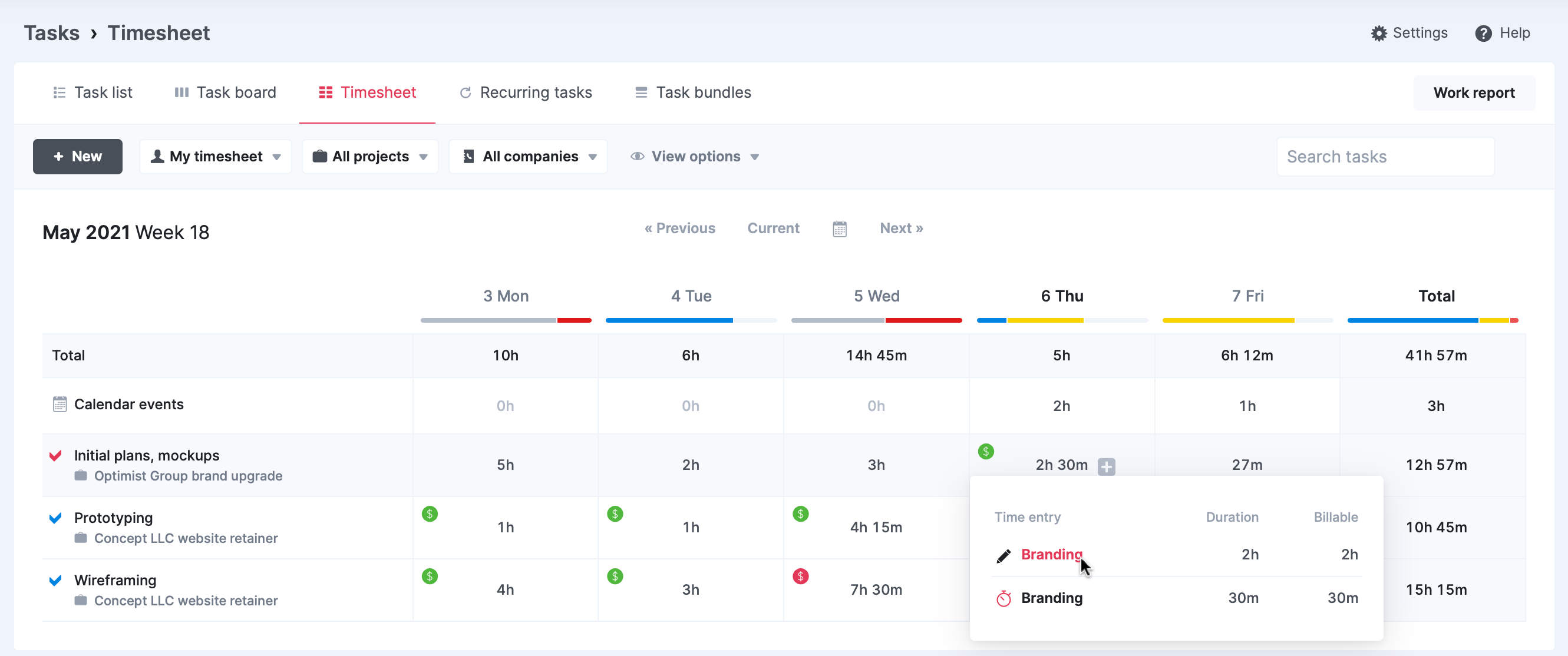 If there is just one time entry under one time slot, the modify view of the time entry opens up when clicking on the number in the table.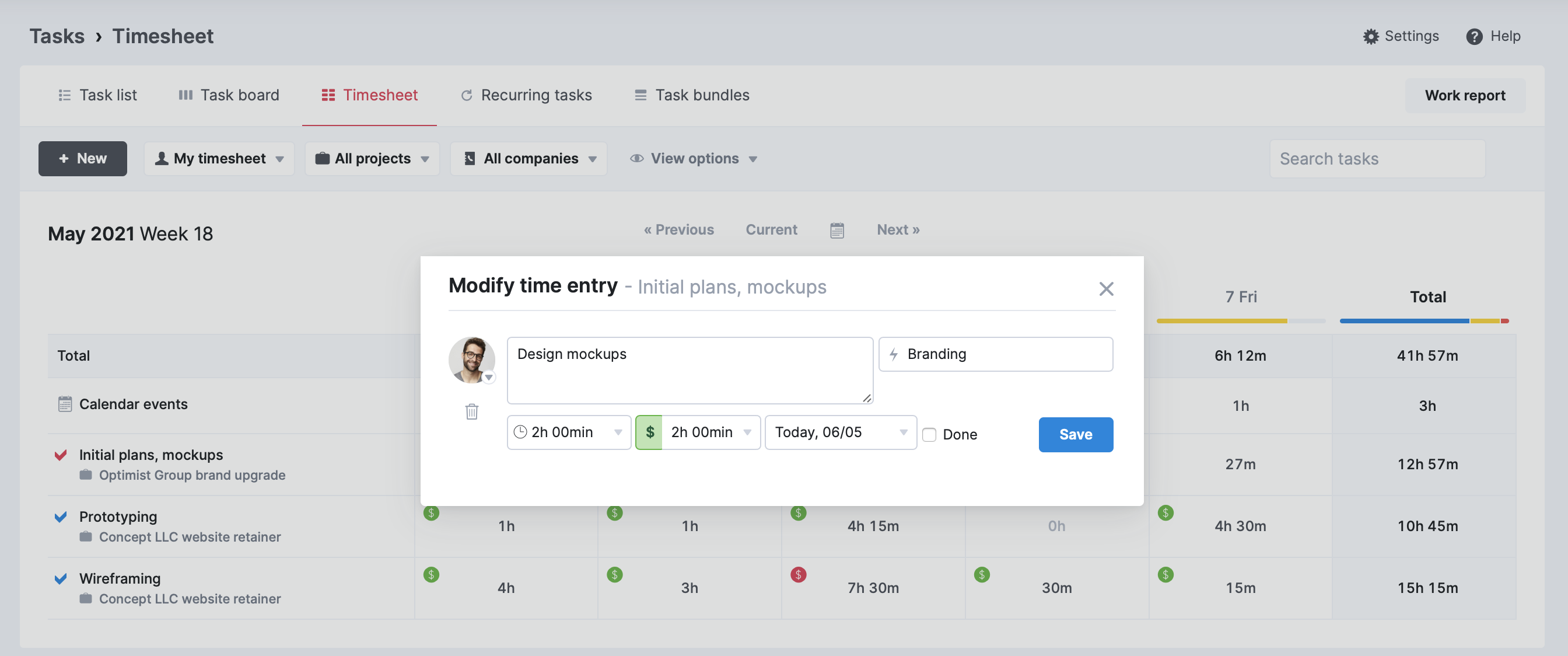 To log time under an existing task, enter the numbers in the corresponding slots and press Enter.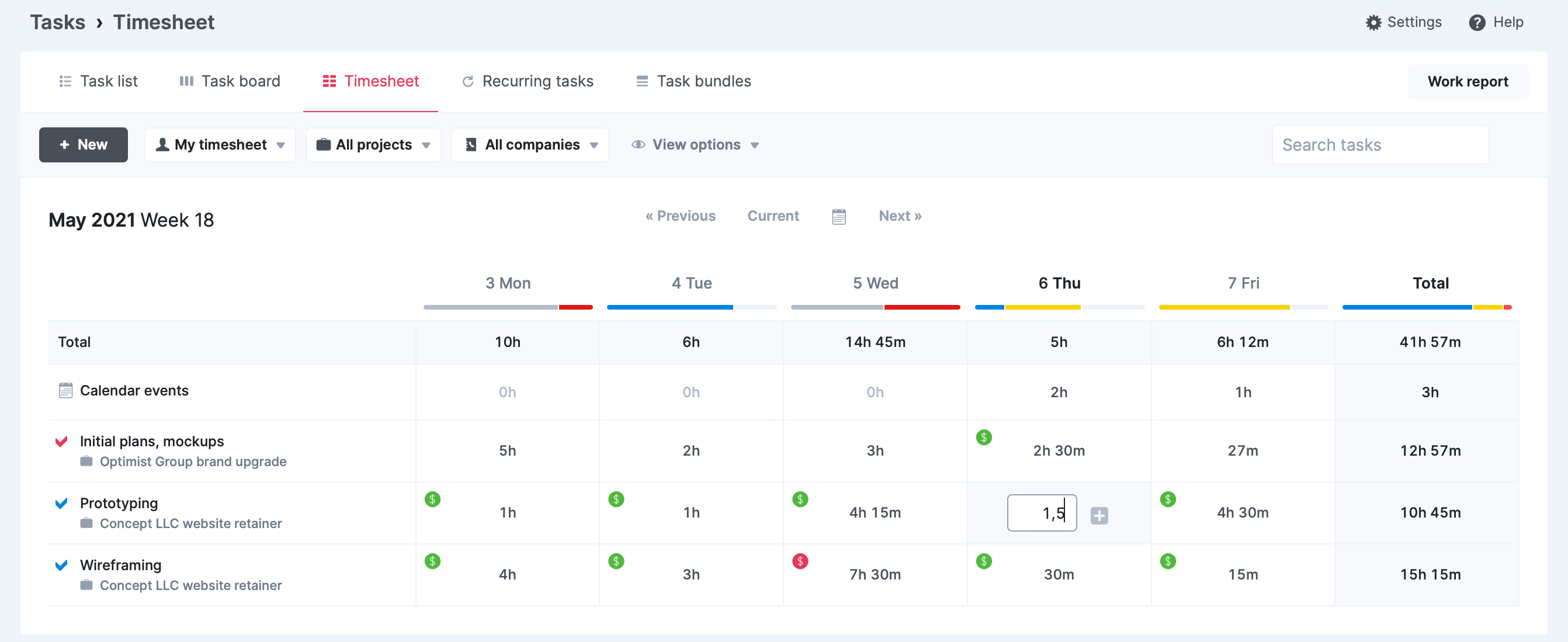 To add another time entry, click on the plus sign.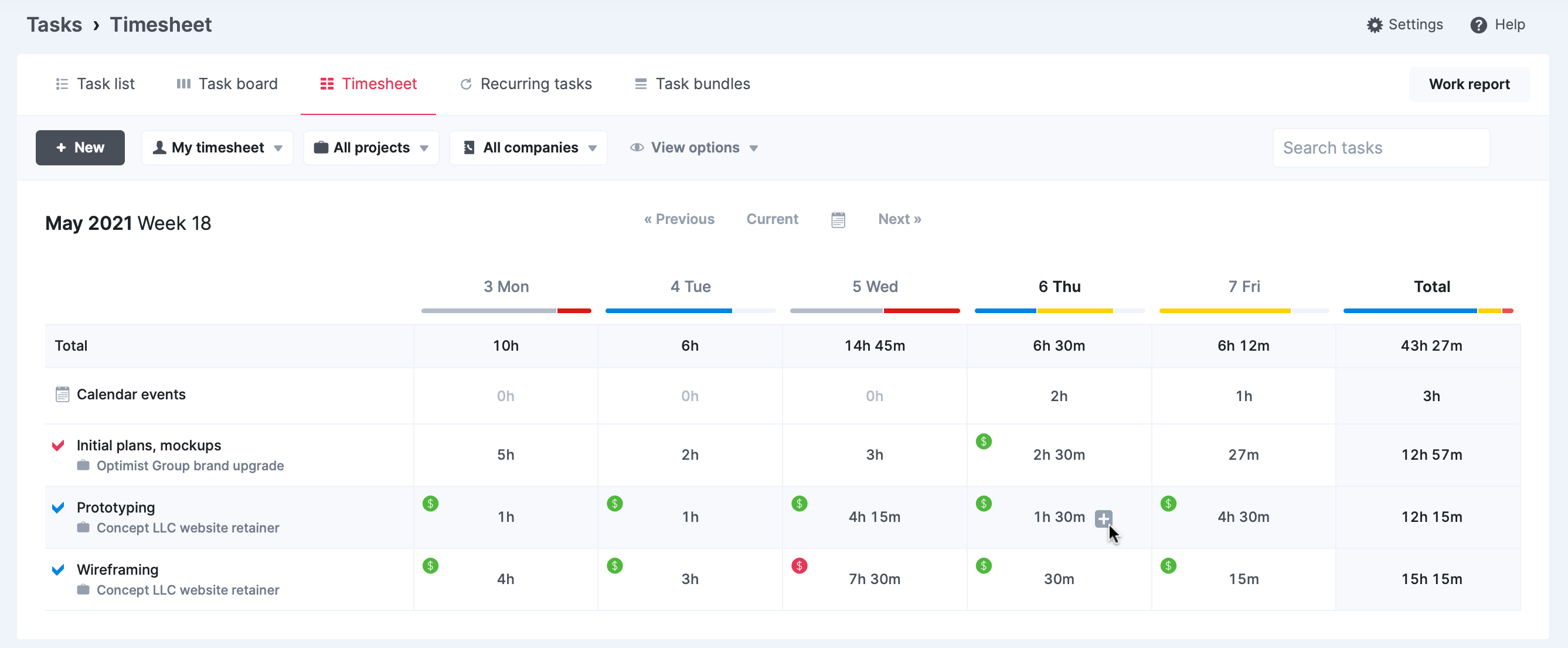 In case of an unplanned assignment, you can create a new task by clicking on the +New button, and log time under it right away.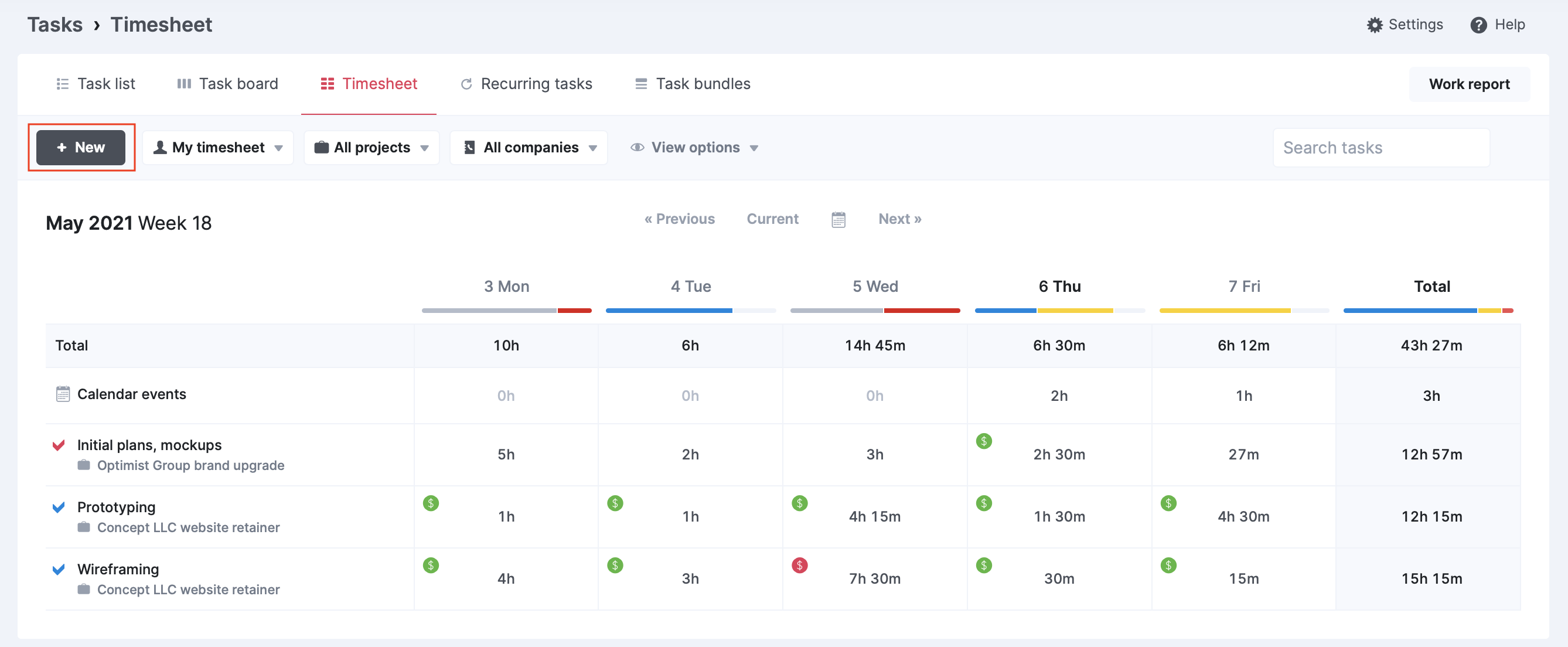 Note! If you are using billable time on your site, the timesheet table also shows if the logged time is bigger than the billable time. The billable time icon is green if the time entry is equal to or shorter than billable time. The icon is red if the logged time entry exceeds the planned billable time.
Timesheet view is fully integrated with other views in Scoro, and all data entered feeds into work reports.


Productivity tip!
Take advantage of various time input shortcuts in Scoro! These can be big timesavers if you often schedule or log chunks of time manually. The shortcut logic works the same way across all time-logging features, from the Timesheet to the Planner to the Time Tracker, etc.
3 = 3 hours
30m = 30 minutes
3h30m = 3 hours 30 minutes
3:30 = 3 hours 30 minutes
0:30 = 30 minutes
3,3 = 3 hours 18 minutes

See also: