To add a new person to your list of people, click on +New.


Fill out the contact information, tags, categories, mailing lists, select an account manager for easy filtering and reporting, and so on.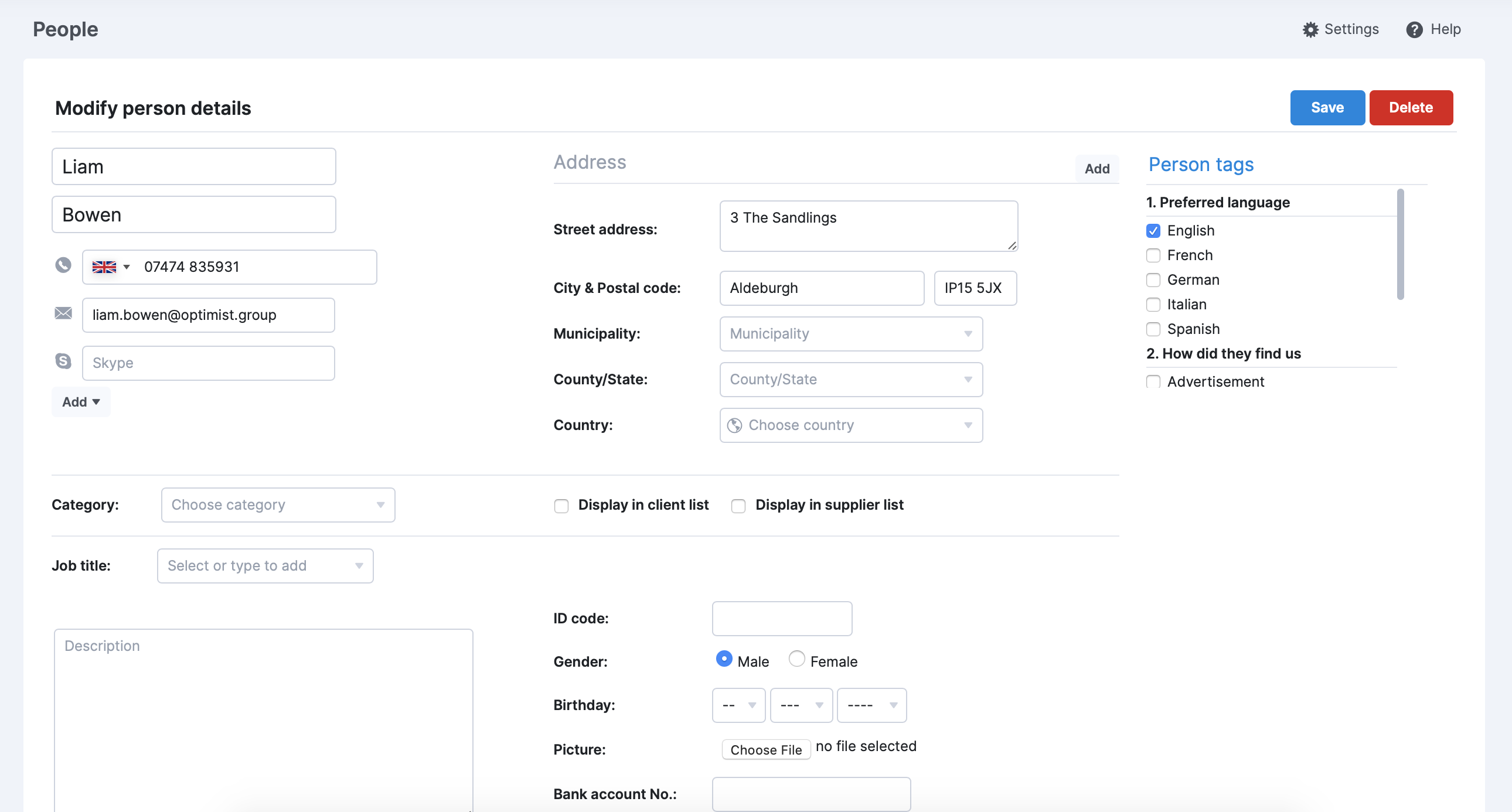 TIP! Add mandatory and unique fields (go to Settings > Site settings > Mandatory and unique fields), so whenever any of your team members adds a new person to Scoro, the mandatory fields, for example, phone and e-mail need to be filled out before being able to save the person. Unique fields, on the other hand, help to keep your database hygiene better and avoid duplicates.


When adding an e-mail address to the E-mail for invoices field, all invoices compiled for this contact are automatically sent to that address. If the field is not filled out, invoices are sent to the regular e-mail address.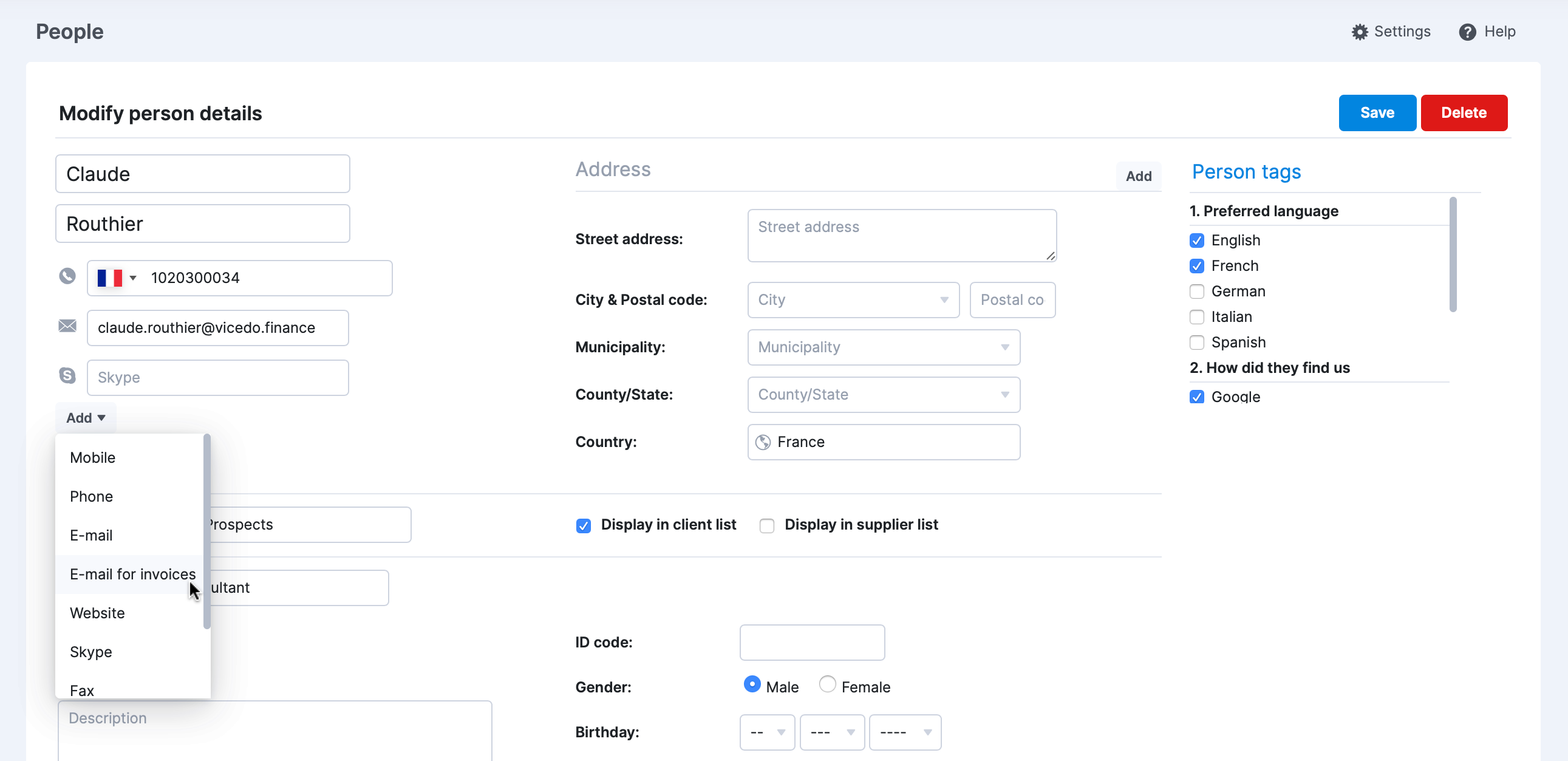 Assigning categories and tags enables you to find specific clients more quickly.


Each person has an account manager. Managers help to divide clients between, for example, the sales team.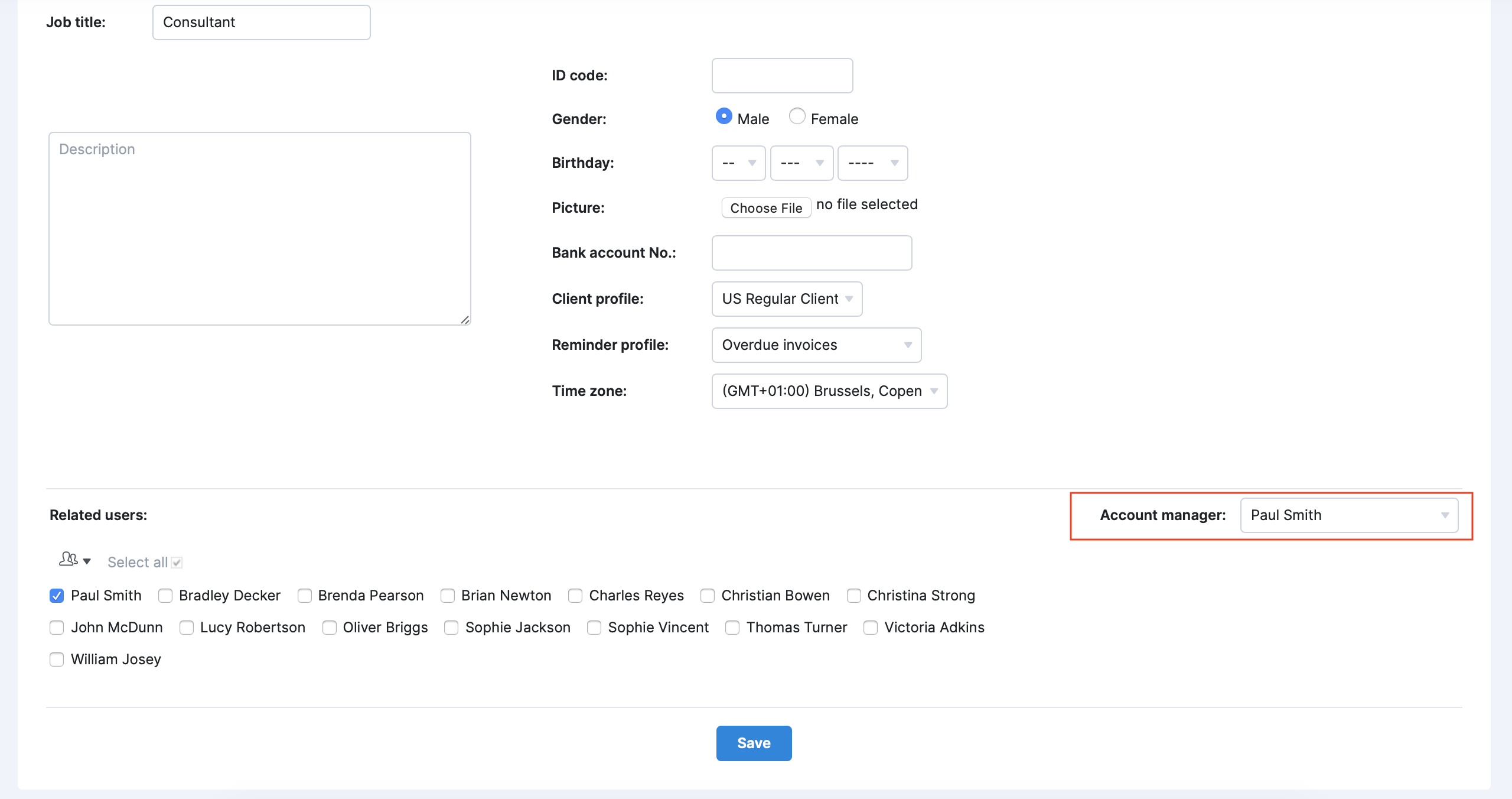 In addition to that, you can choose to have the person displayed in the client (to compile sales documents for them) or supplier list (in that case you can add this person as a supplier on sales and purchase documents).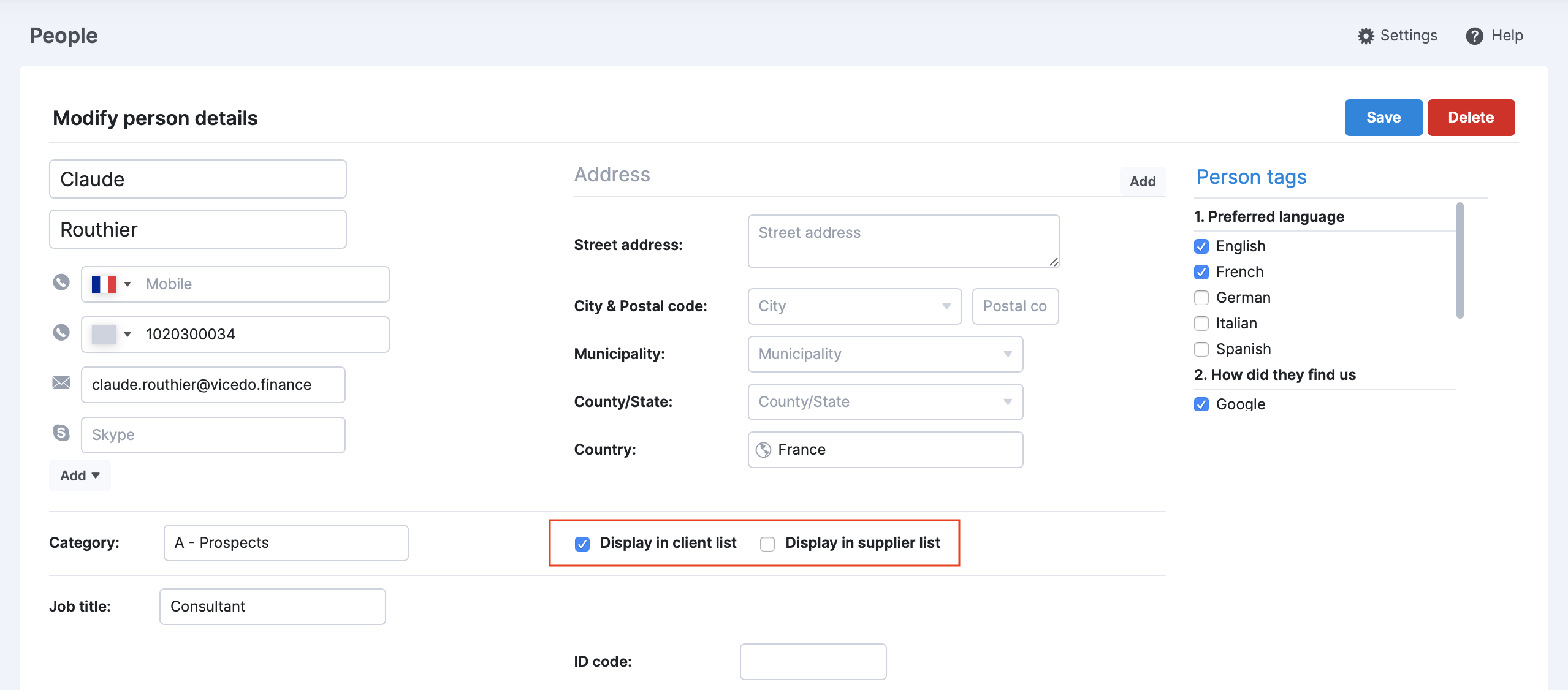 This also allows you to filter people by their type and get detailed reporting. If the person is not marked as a client or a supplier, they're displayed as a representative.

It is also possible to add a new person to your contact base when creating a new task, event, invoice, quote, or order. This means that if you need to create a quote related to a new contact you do not have to add the person with all of the contact details to the contact base beforehand. Just type the name of the person in the relevant field and click on the + button to open the view for adding a new person.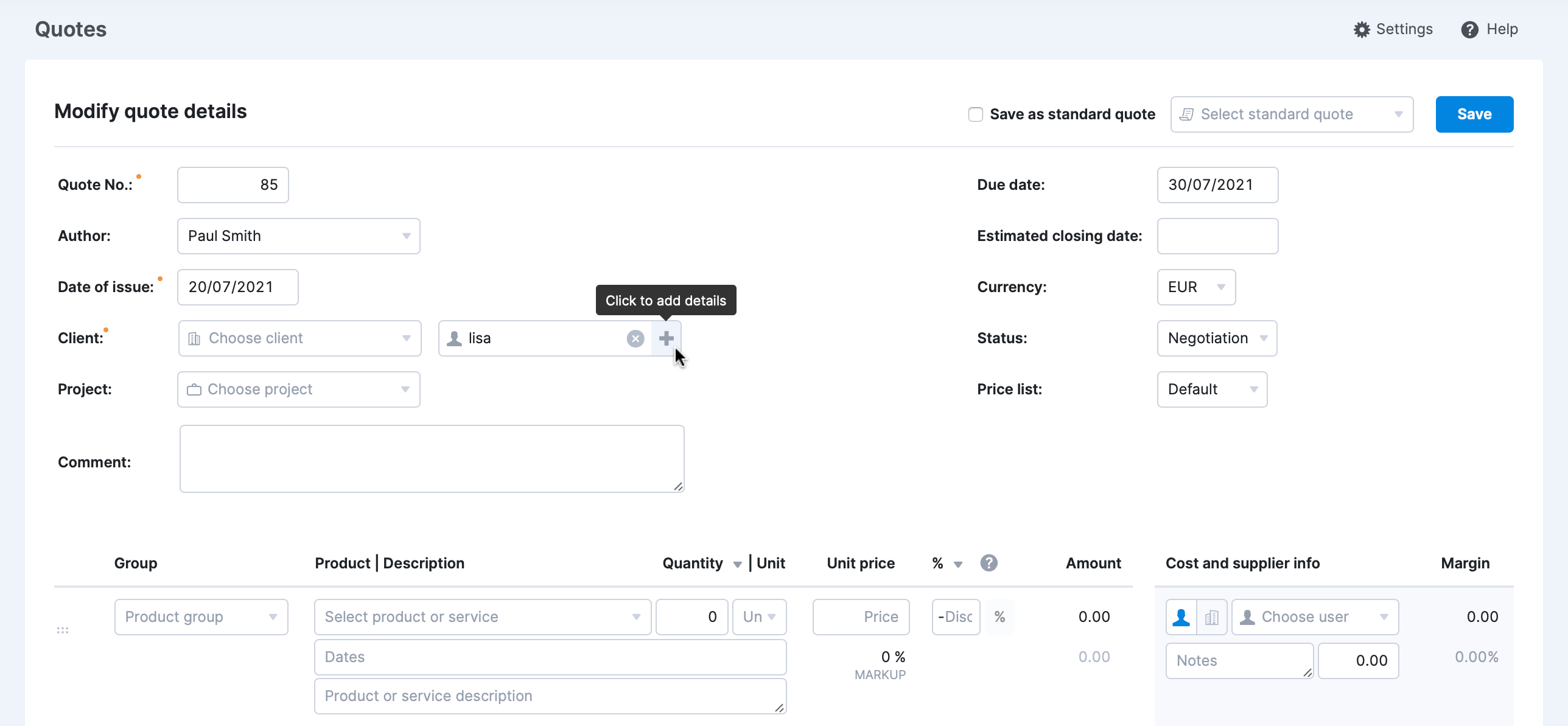 To modify the contact info, click on the Modify button in the contact view or on the person icon in the contact list.


To delete a contact, your user needs to have the appropriate permission. If permission is granted, the delete button is visible in the contact modify view.
Who are related users?
A contact has one account manager, whose list the contacts are displayed on. If the permission sets define that each user sees only his own contacts, you can still decide who else has access to your contacts by adding them as related users.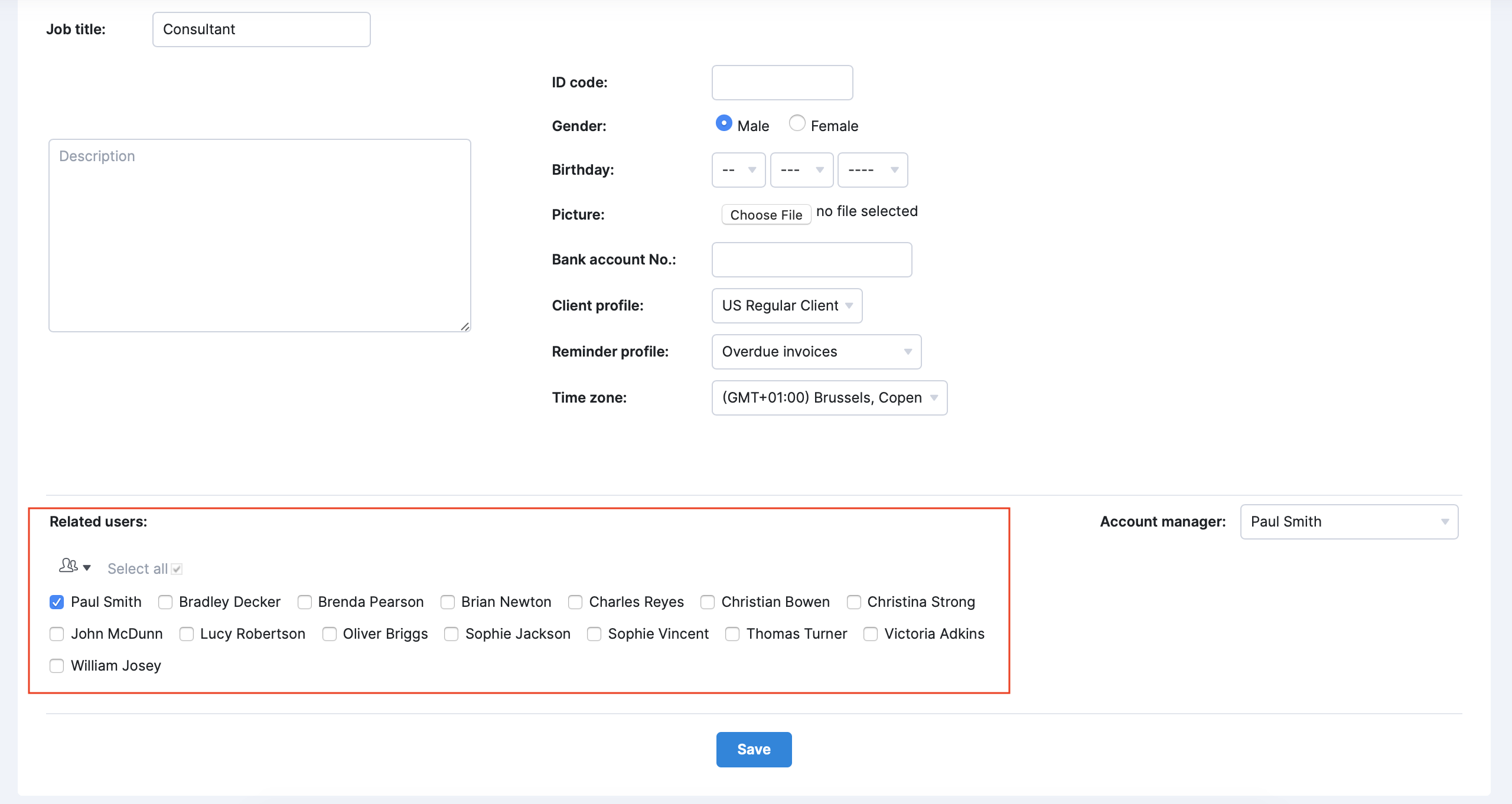 To view the contacts for which you are marked as a related user (in addition to the ones for which you are the account manager) in the people list, click on the User filter and tick the option Also as related user.