To add a new event, click on a time slot.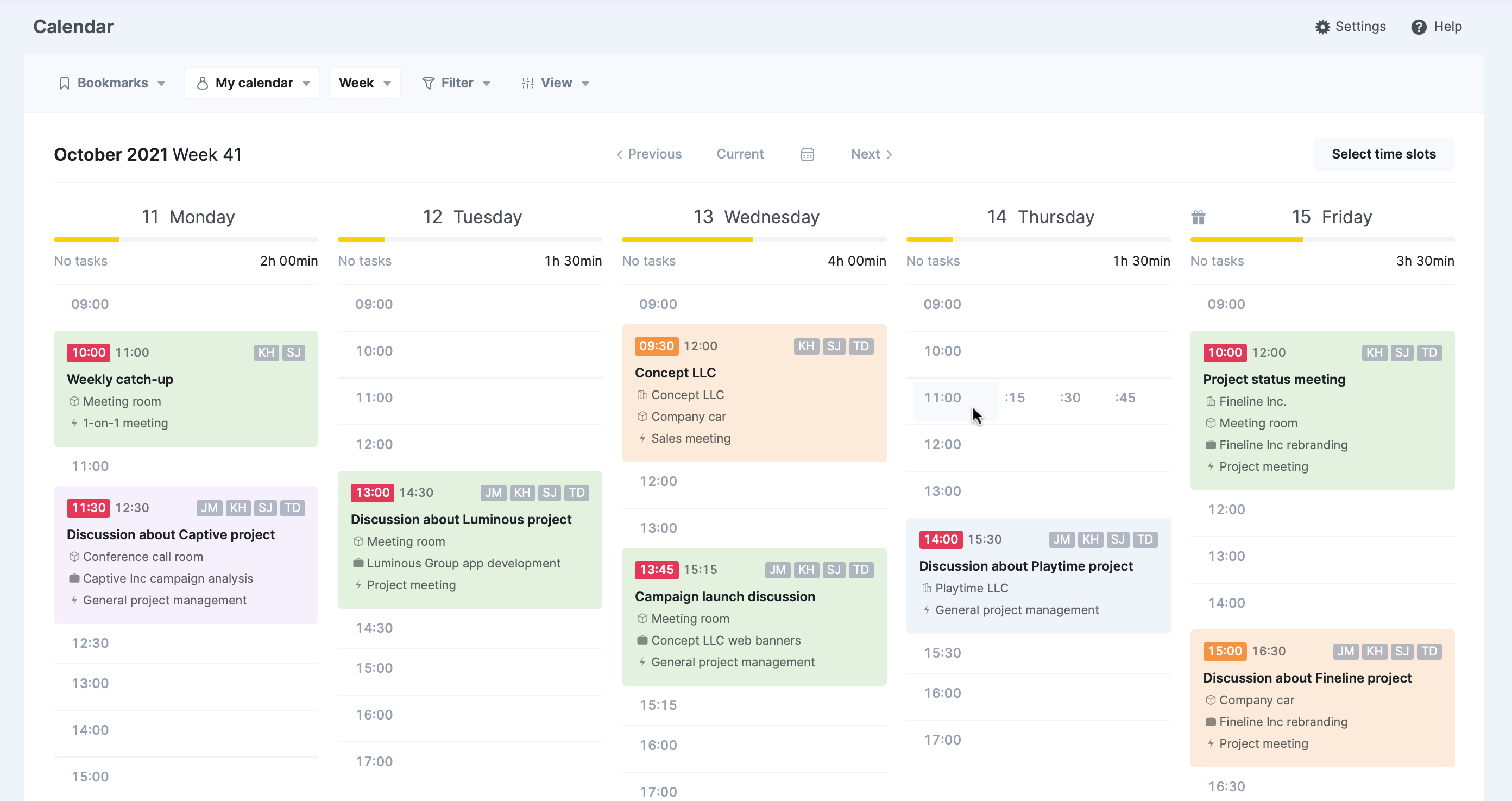 You can also select multiple time slots by clicking on Select time slots...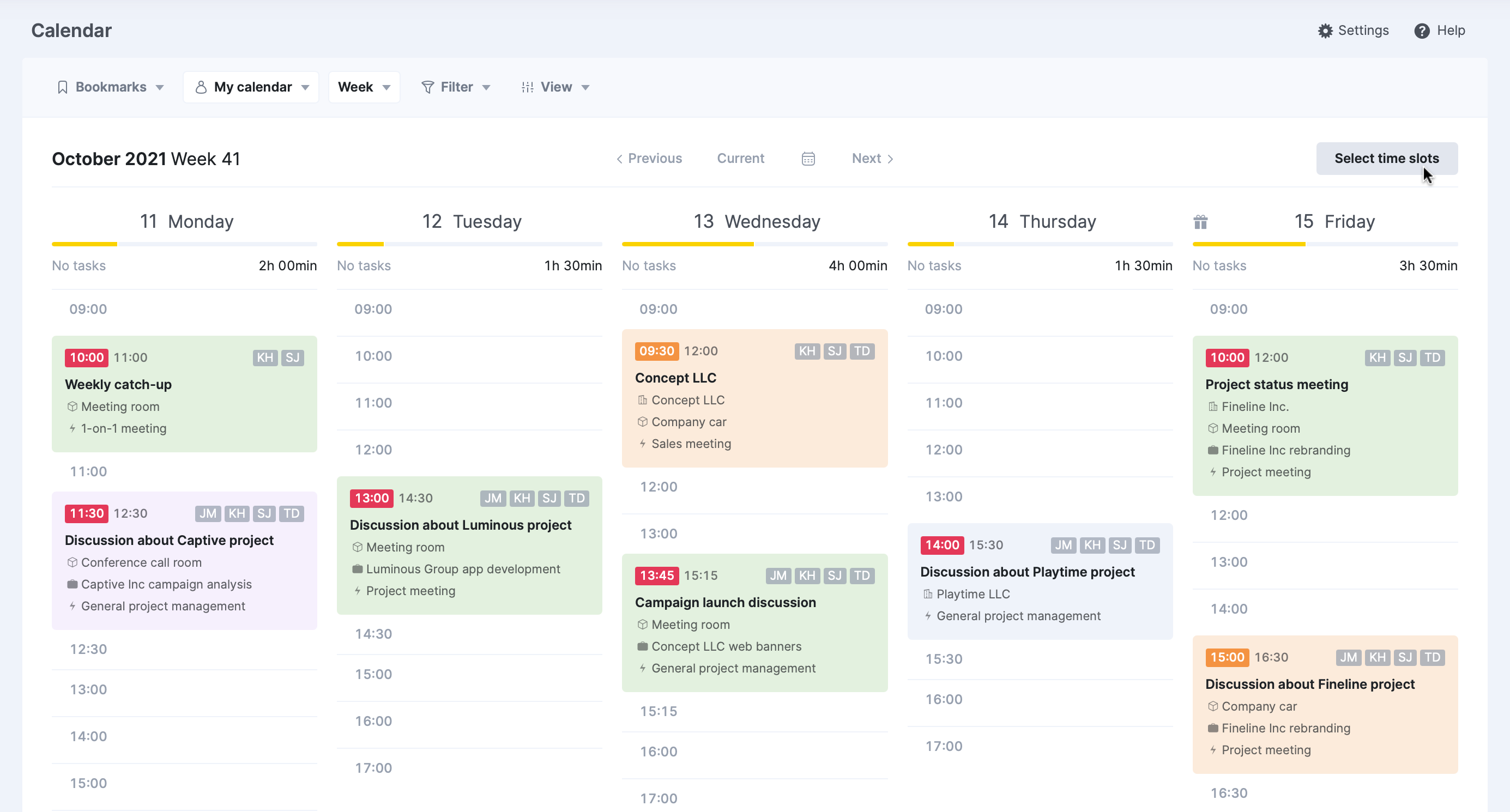 ...selecting suitable times and clicking Proceed.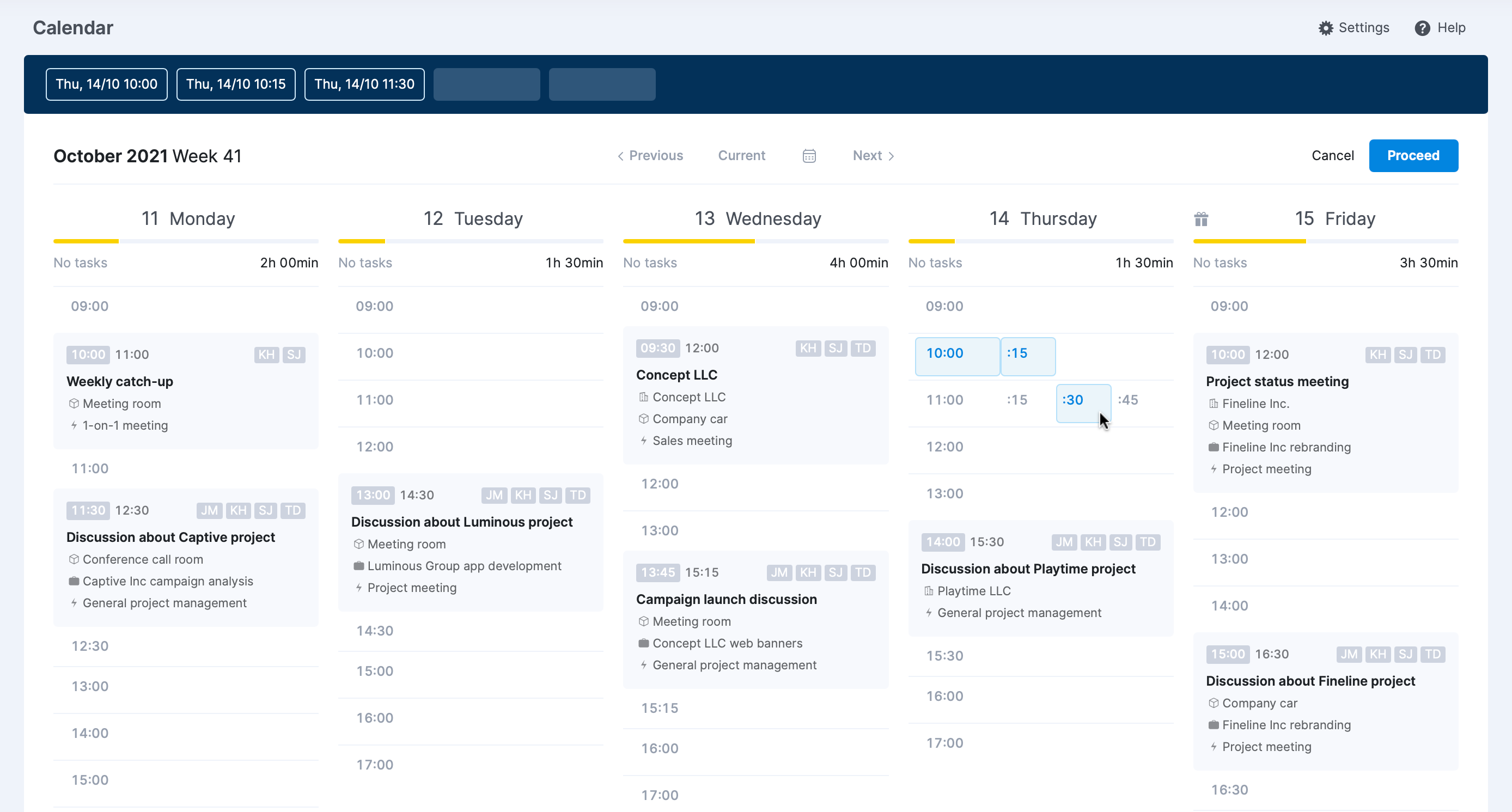 Either way, a window for adding an event pops up.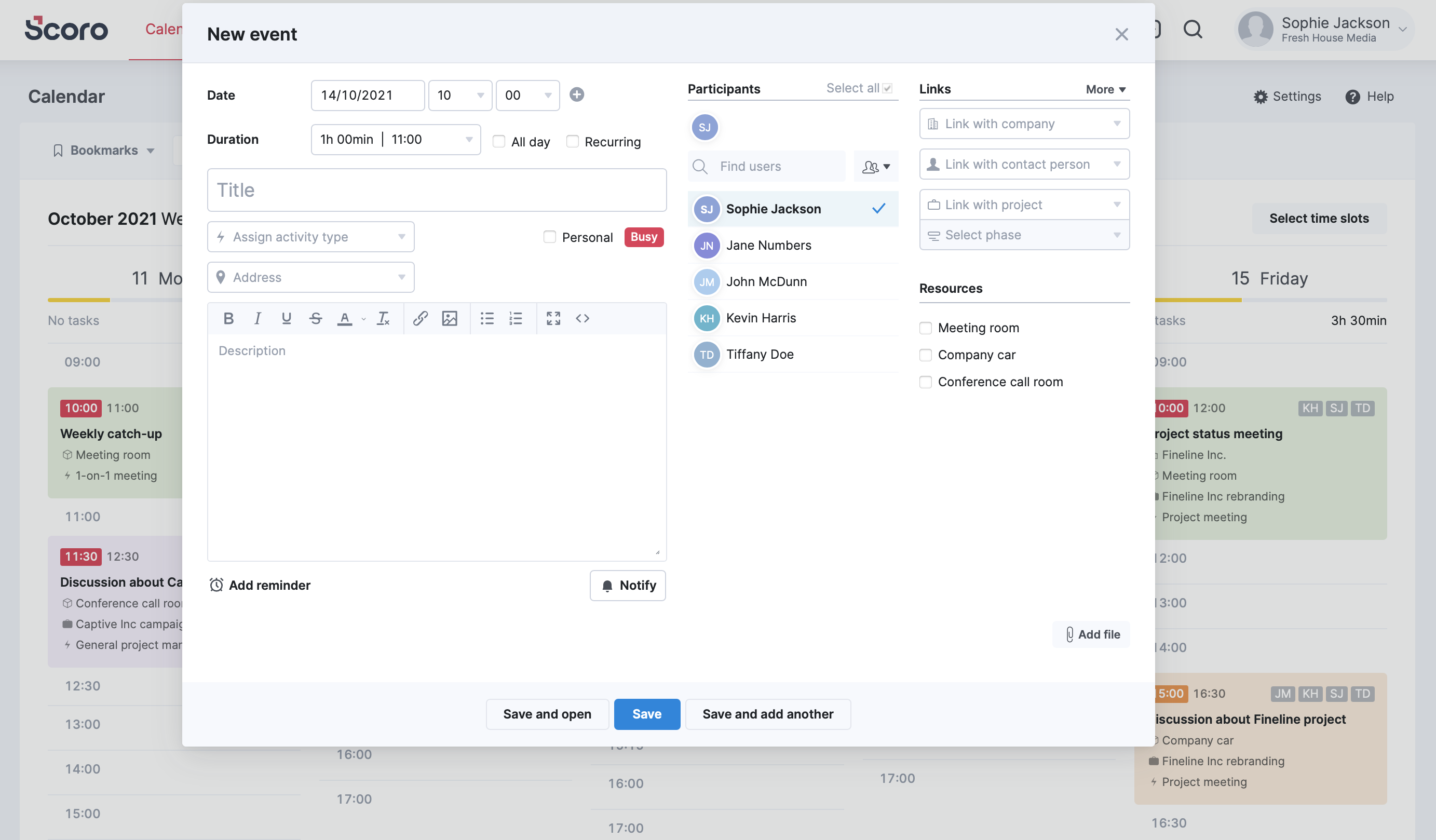 It is usually enough to fill out just a few boxes, although there are of course events that require more details and linked data.
If you are using activity types, and we strongly recommend that you do, you don't have to add a title. Activity types enable you to filter planned and already done activities in truly detailed reports.
The activity types can be managed under Settings > Work and projects > Activity types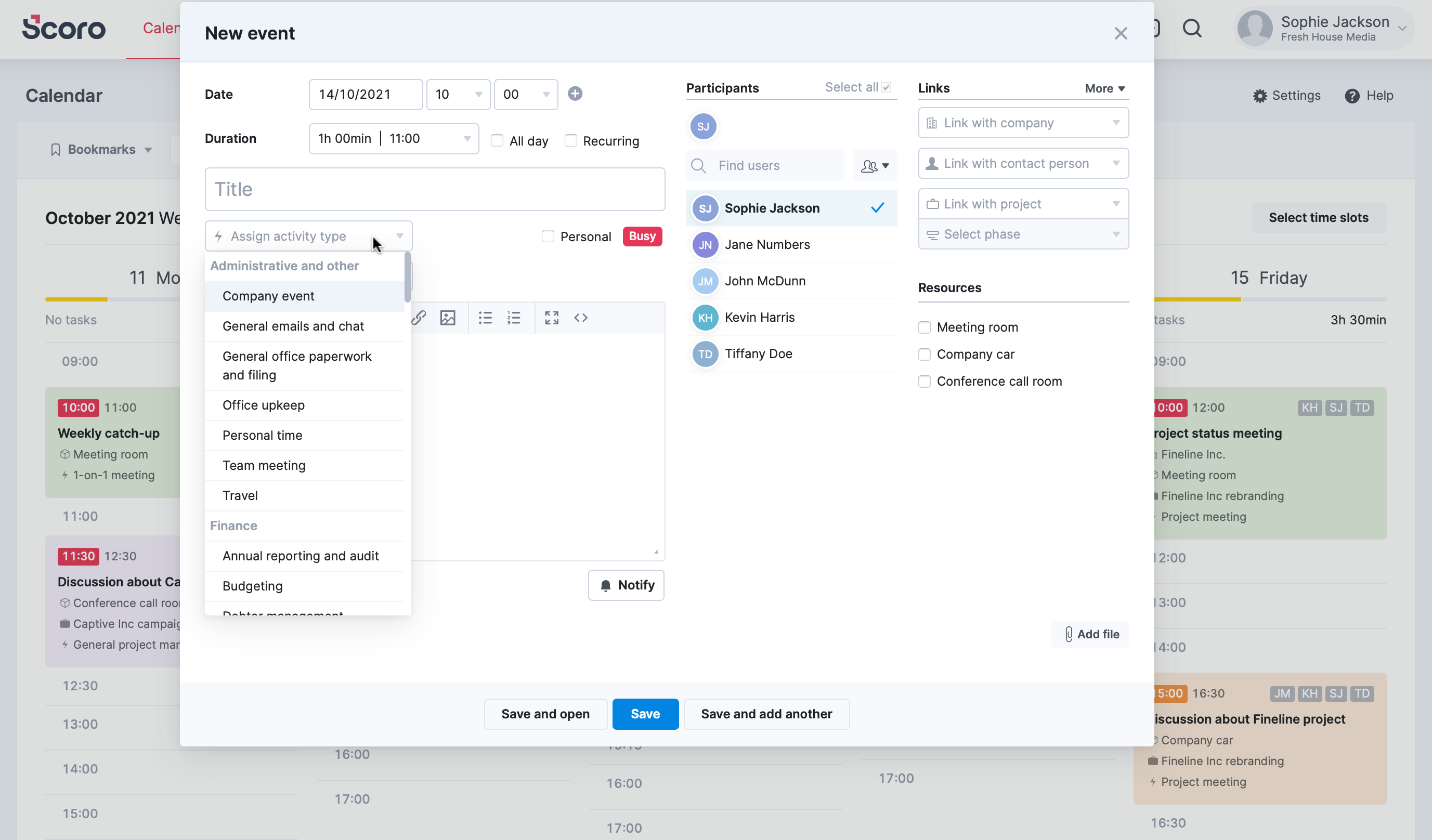 The event can be linked to a company, contact person, project, and documents. Again, you don't have to link everything all the time, but a company, contact, or project would be nice. For example, planned and done activities that are linked to a specific company, are very easy to get reporting on. The more links, the better.
If you link a quote to an event, you can access that quote with one click from the calendar. And you'll also see that event in the quote view.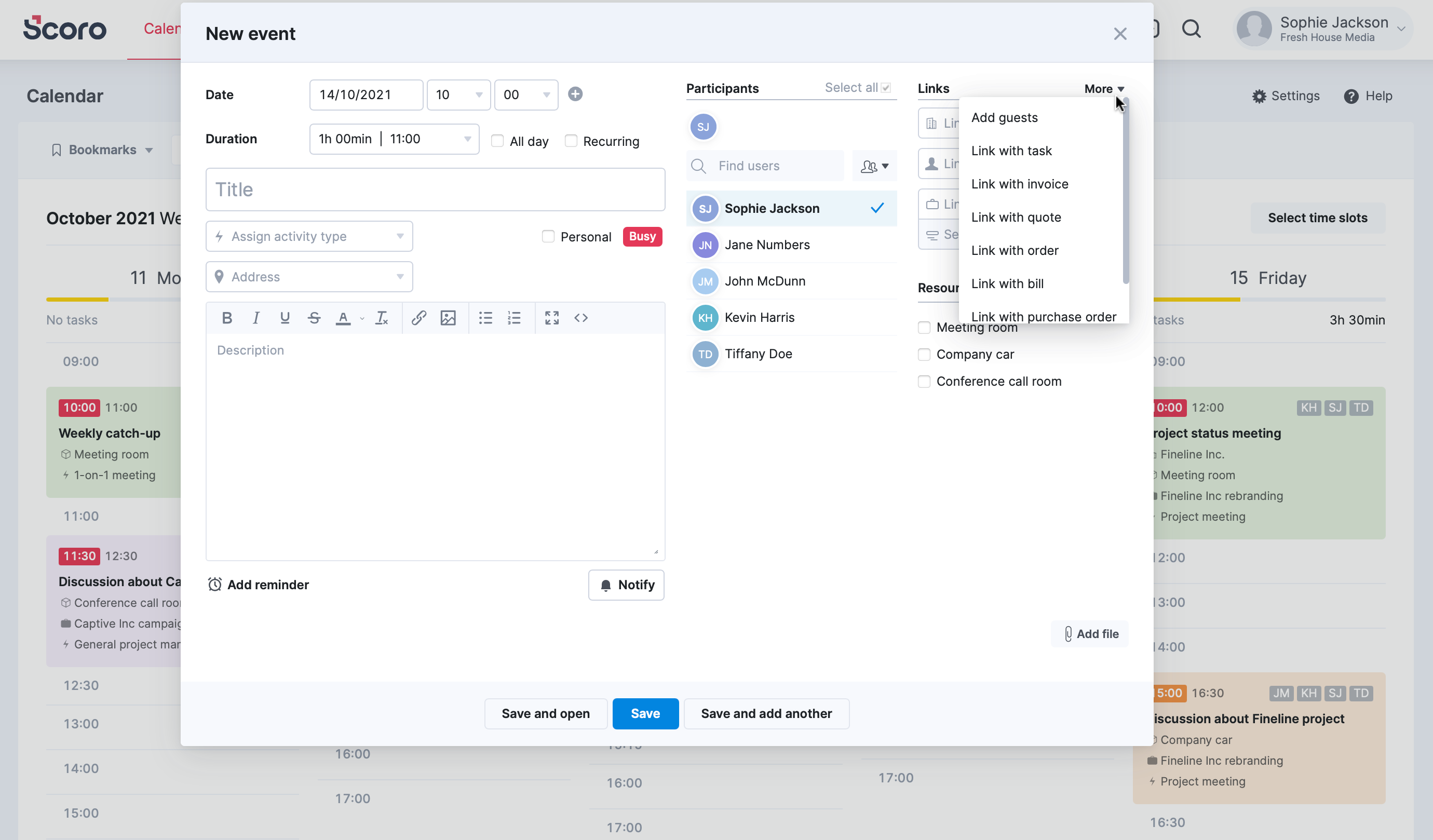 Here you can also link an event to a task, in which case the event is logged under a task as a time entry. This is a great way of logging time spent on client meetings related to a specific task, for example.
You can select whether the event is personal or not. Personal events are not included in work reports (but you can view them there if needed) and other team members, not even administrators, don't see the event details, only that the event is personal. Except, if another user creates the event -- then both of you can see it, even if it is marked as Personal.
Note! If the personal event is linked to a project that's accessible by other users, then these users will be able to see the event details.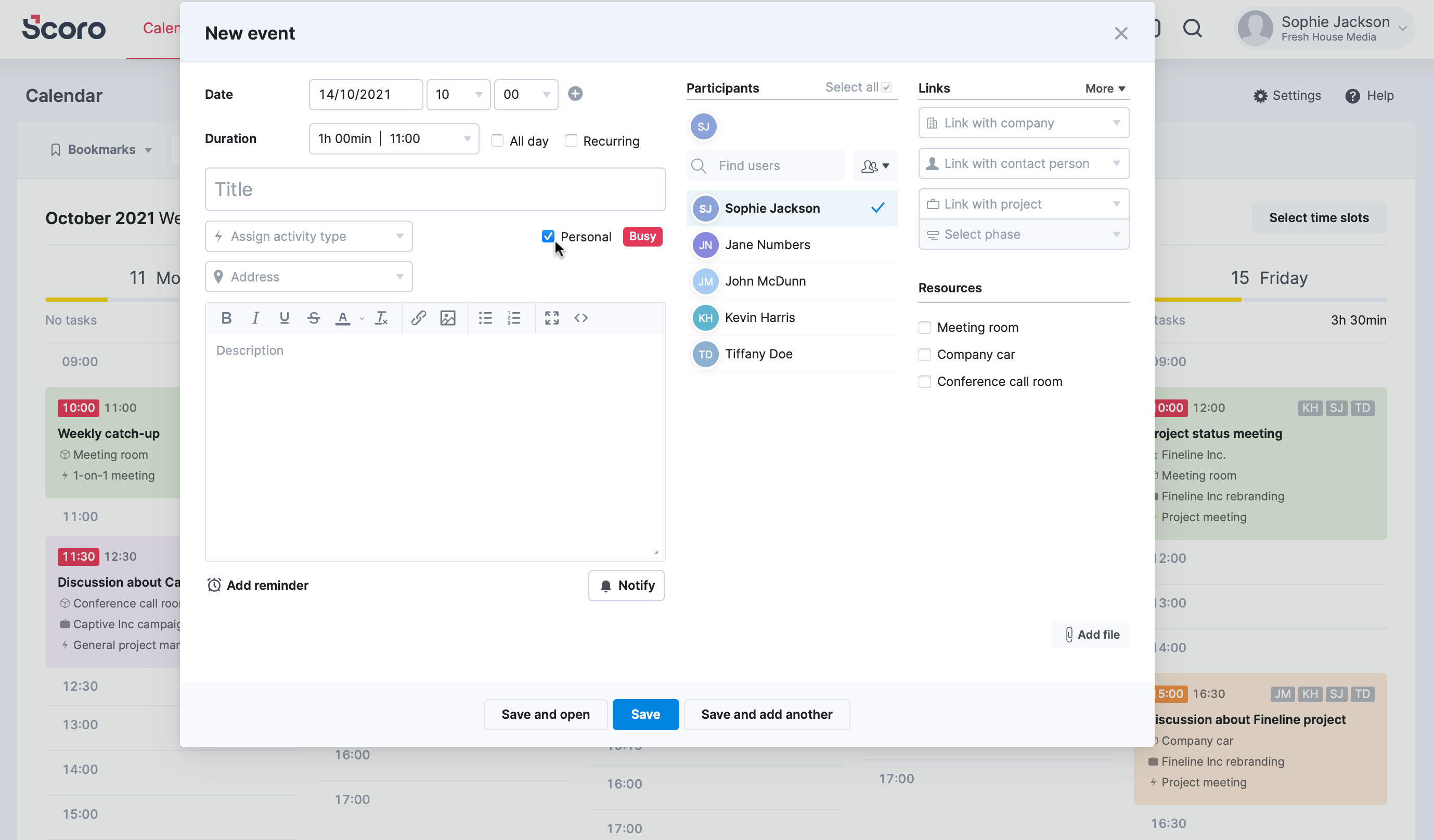 If you're using the Google or MS Exchange integration with Scoro, the events marked as private/personal in your calendar are also synced to Scoro as personal. You can also link your personal events to a personal project.
You can add your conference call or event link to a dedicated field. If you use a static personal link for most of your online meetings, go to Settings > My Settings > My calendar and tasks and save your personal meeting ID in the Default conference call link field. Scoro will then auto-fill the conference call field for you by default every time you create a new event.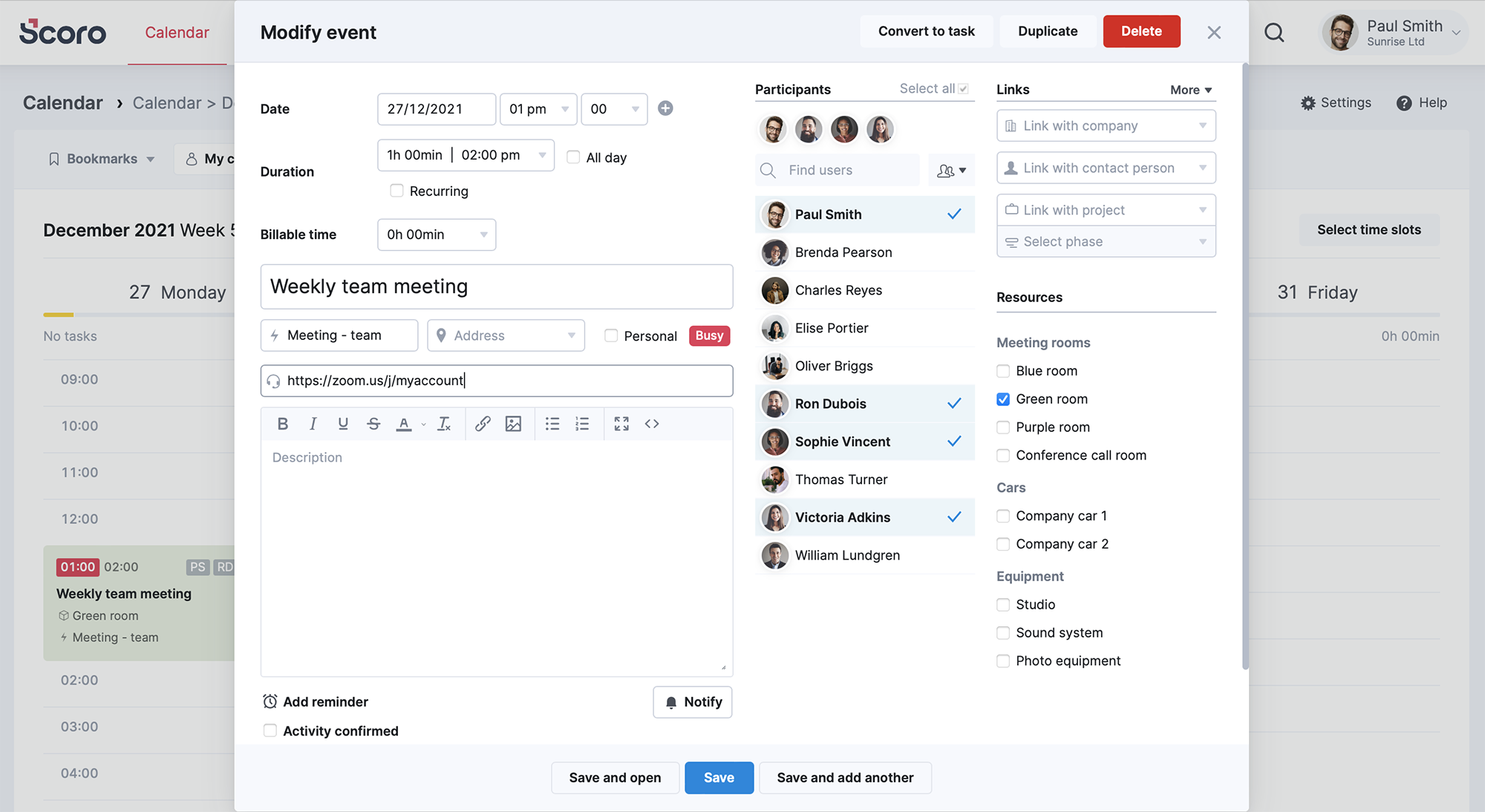 If you're using the Google Calendar integration with Scoro, then the Google Meet call link will be automatically added to this field with the event sync.
You can also add a status to your event. This way, your team knows when you're going out of the office, for instance. Just click on the status button.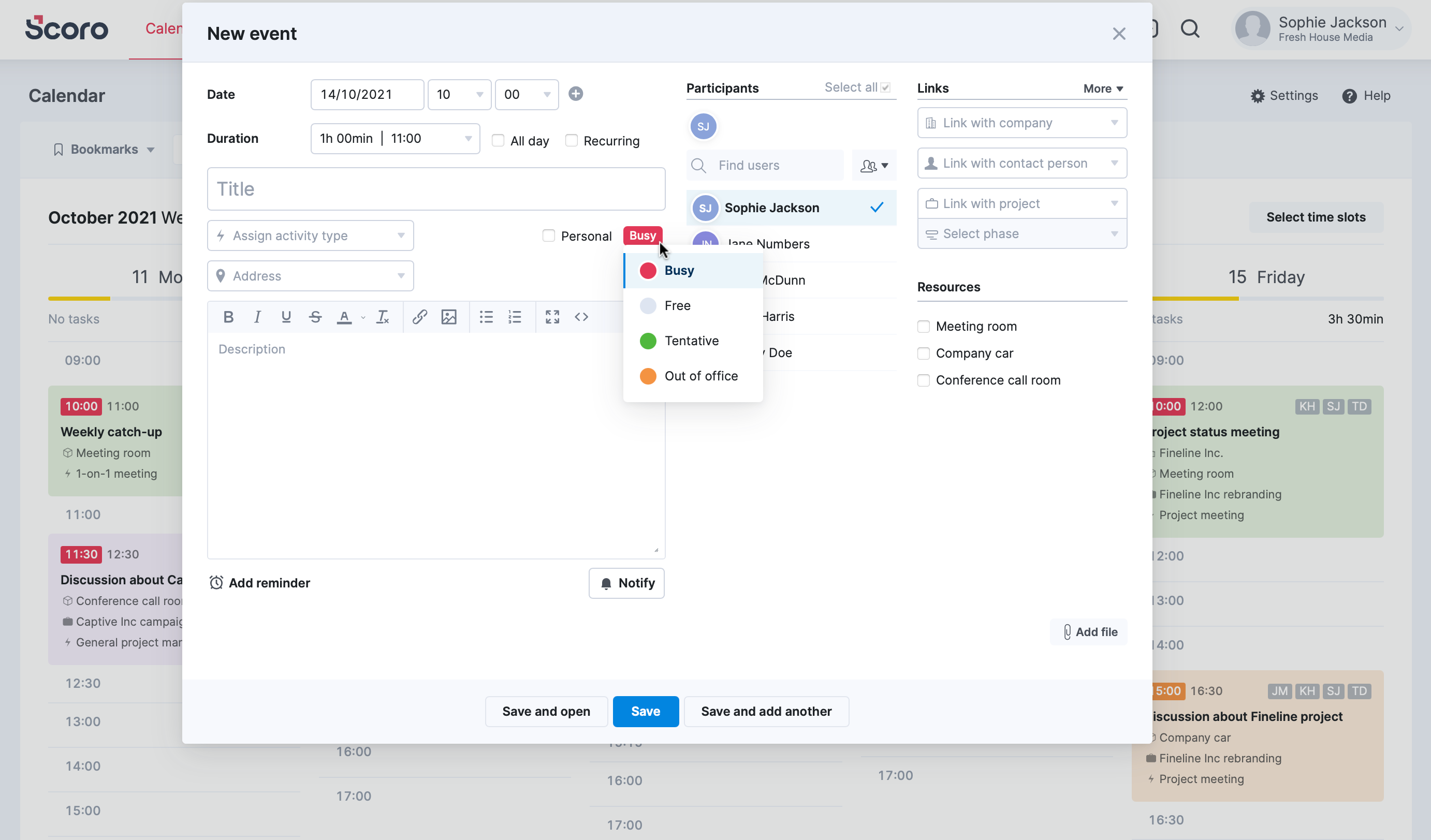 If the event is meant for more than one team member, add the participants by clicking on their names, and the event will be added to their calendars.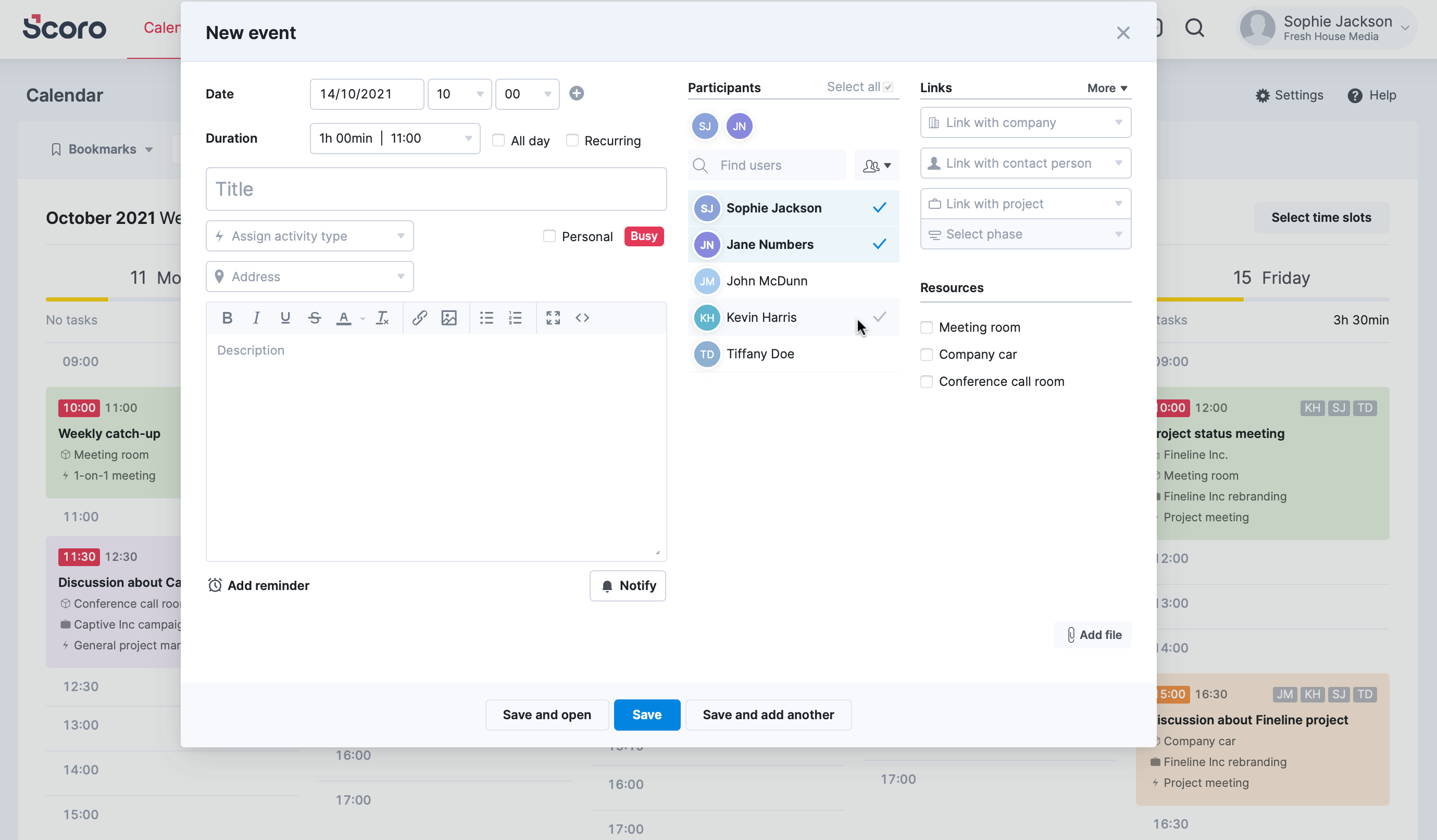 To select the entire team, for example, just click on the group icon next to the search and select a team or search for a person if you have a lot of team members.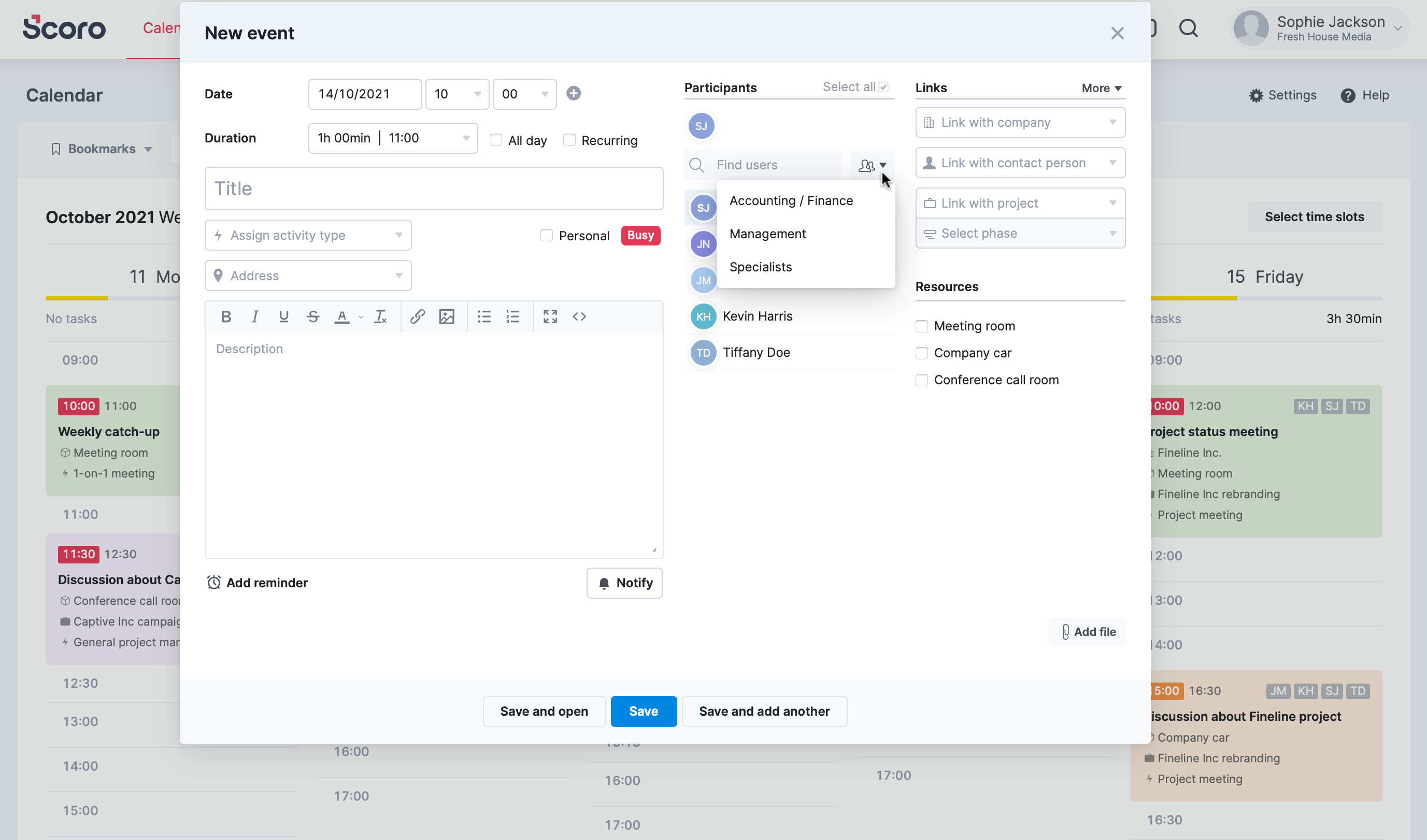 Or just add everyone if it's a company-wide event, for example.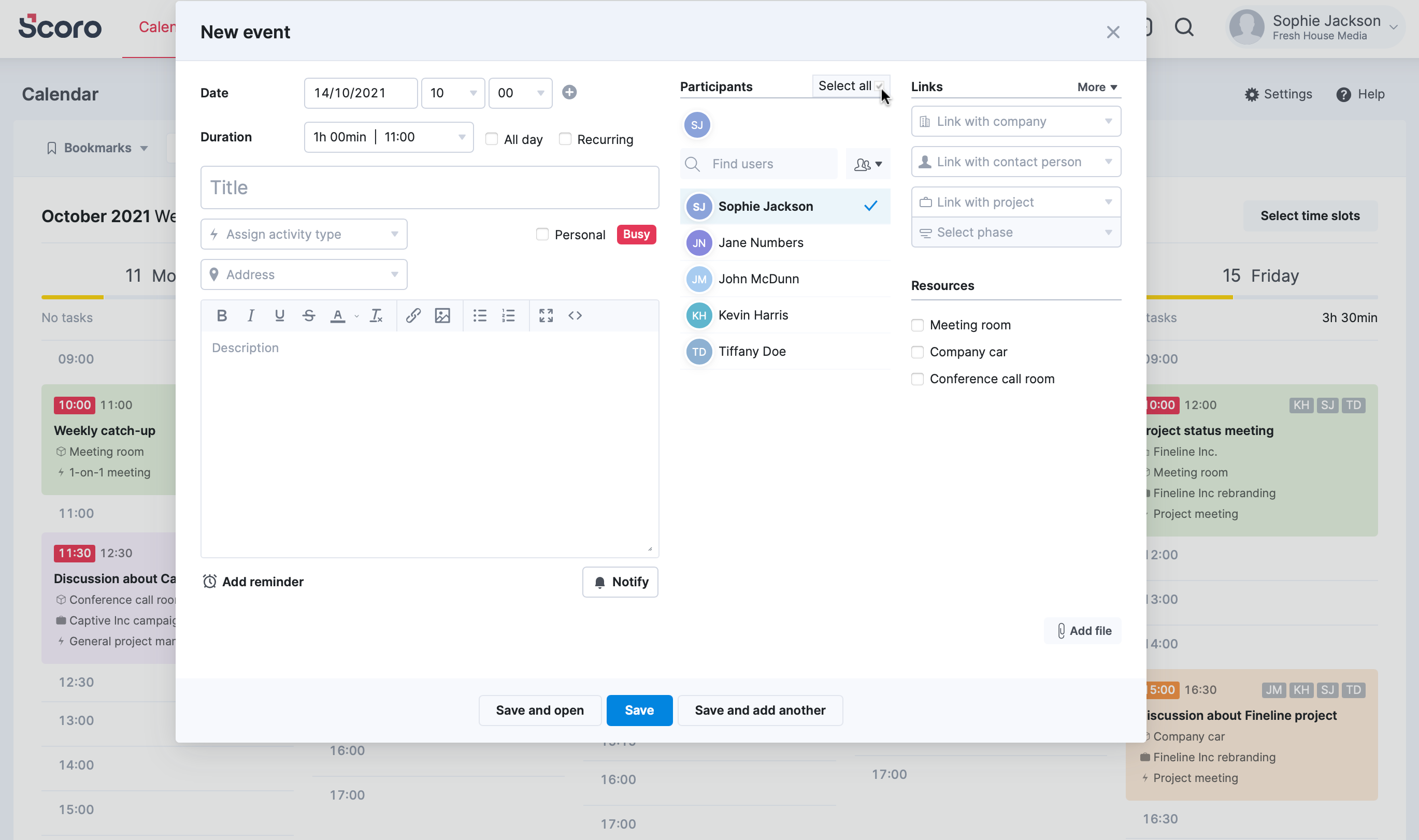 To remove a team member from an event, just click on their picture (or initials).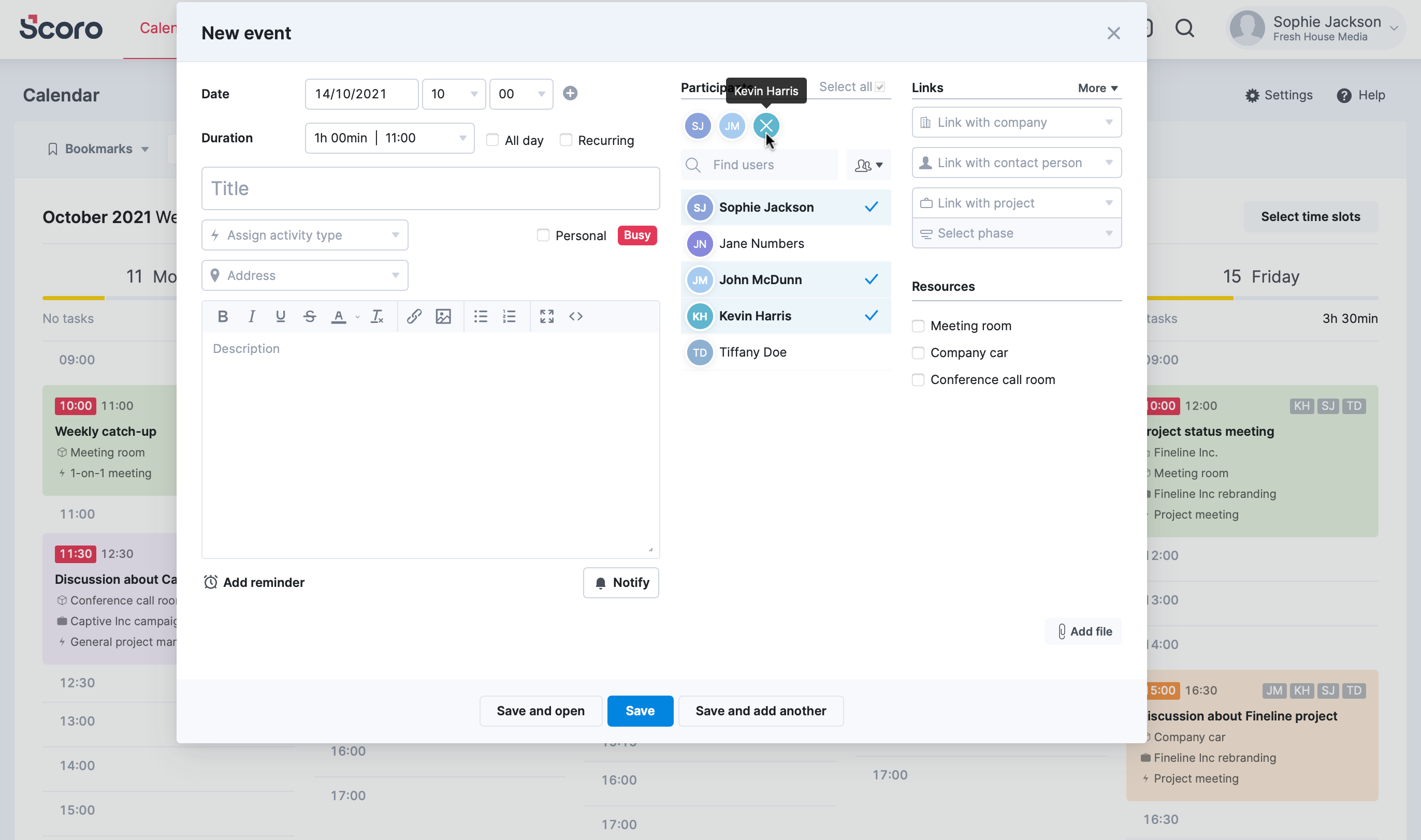 Note! Do not add others to an event just to notify them, doing so will also book their time. Use comments, notifications, and filters in the calendar view to stay informed.
Add the shared resources that are used during the event so that the whole team has an overview of which resources are booked. These could be meeting rooms, company cars, supplies, etc. The shared resources can be added or modified under Settings > Work and projects > Shared resources.
In case the event occurs regularly, add it as a recurring event, set the interval, and the events will appear in the calendar automatically.
You can sync recurring events with an active Google calendar sync. More details on recurring event management with Google calendar are here.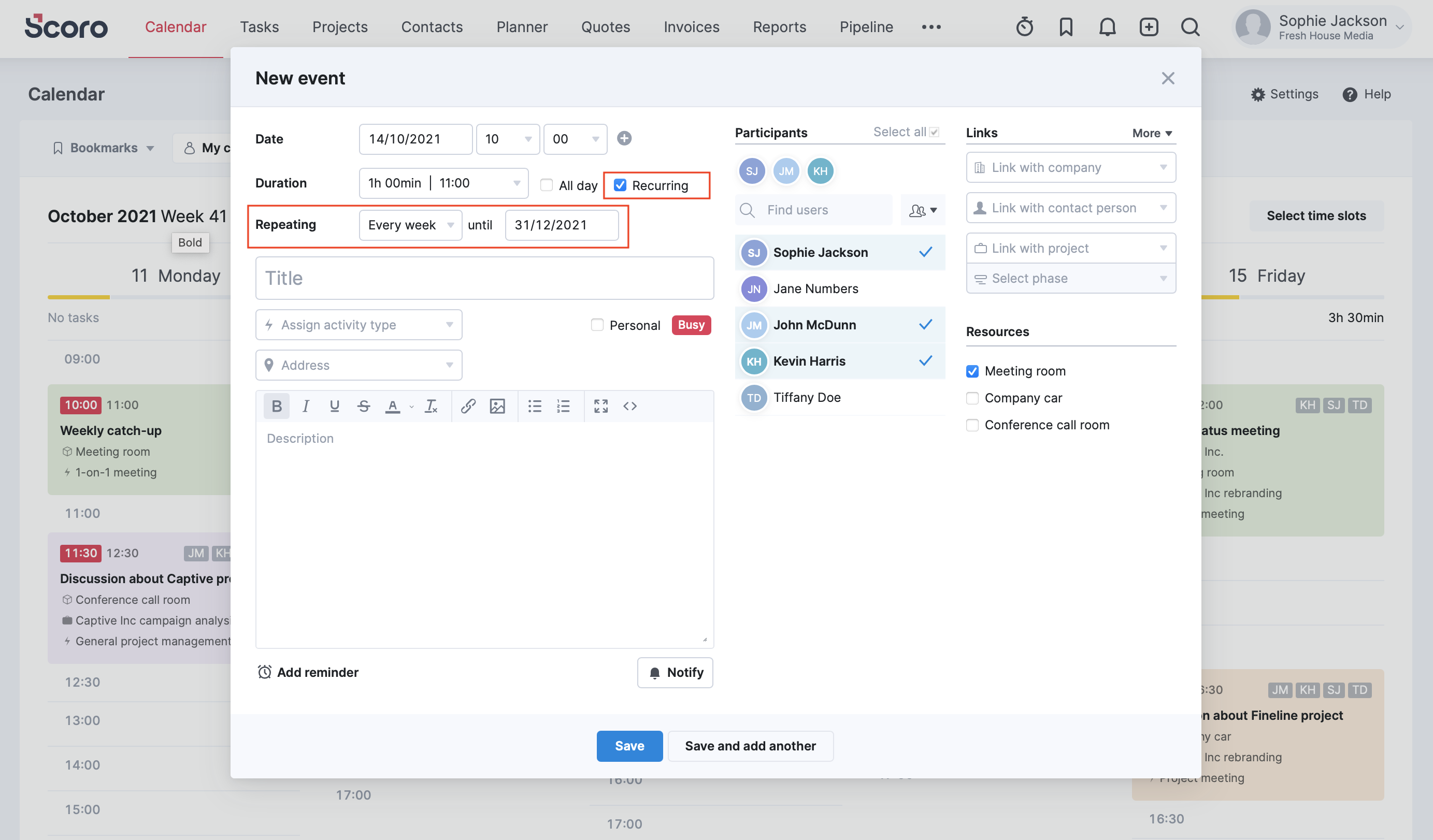 To notify participants in Scoro and via e-mail, click on the Notify button. Otherwise, they won't know you added a new event.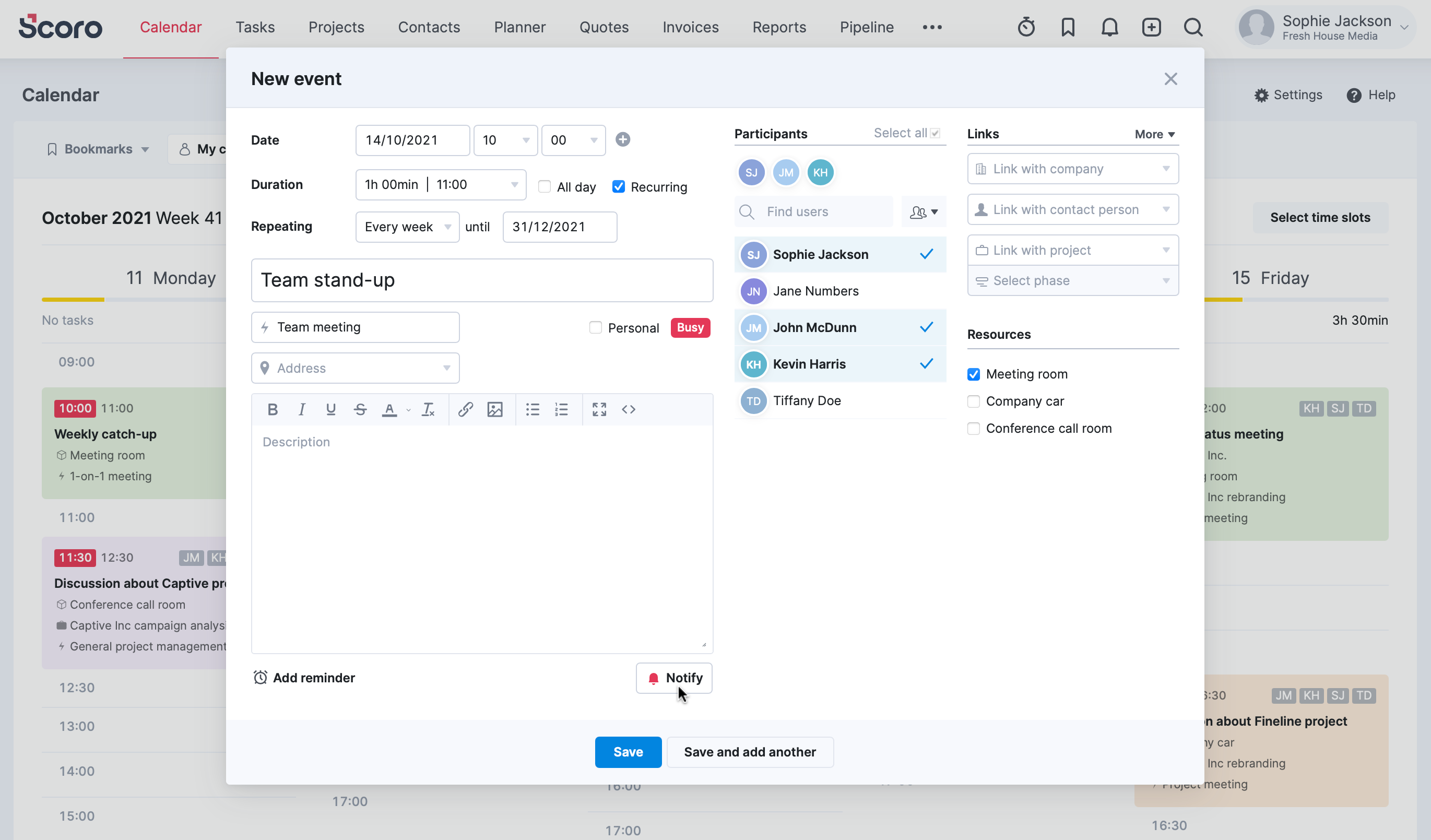 If needed, send the participants a reminder about the event via e-mail by clicking on the Add reminder button and selecting when they're notified.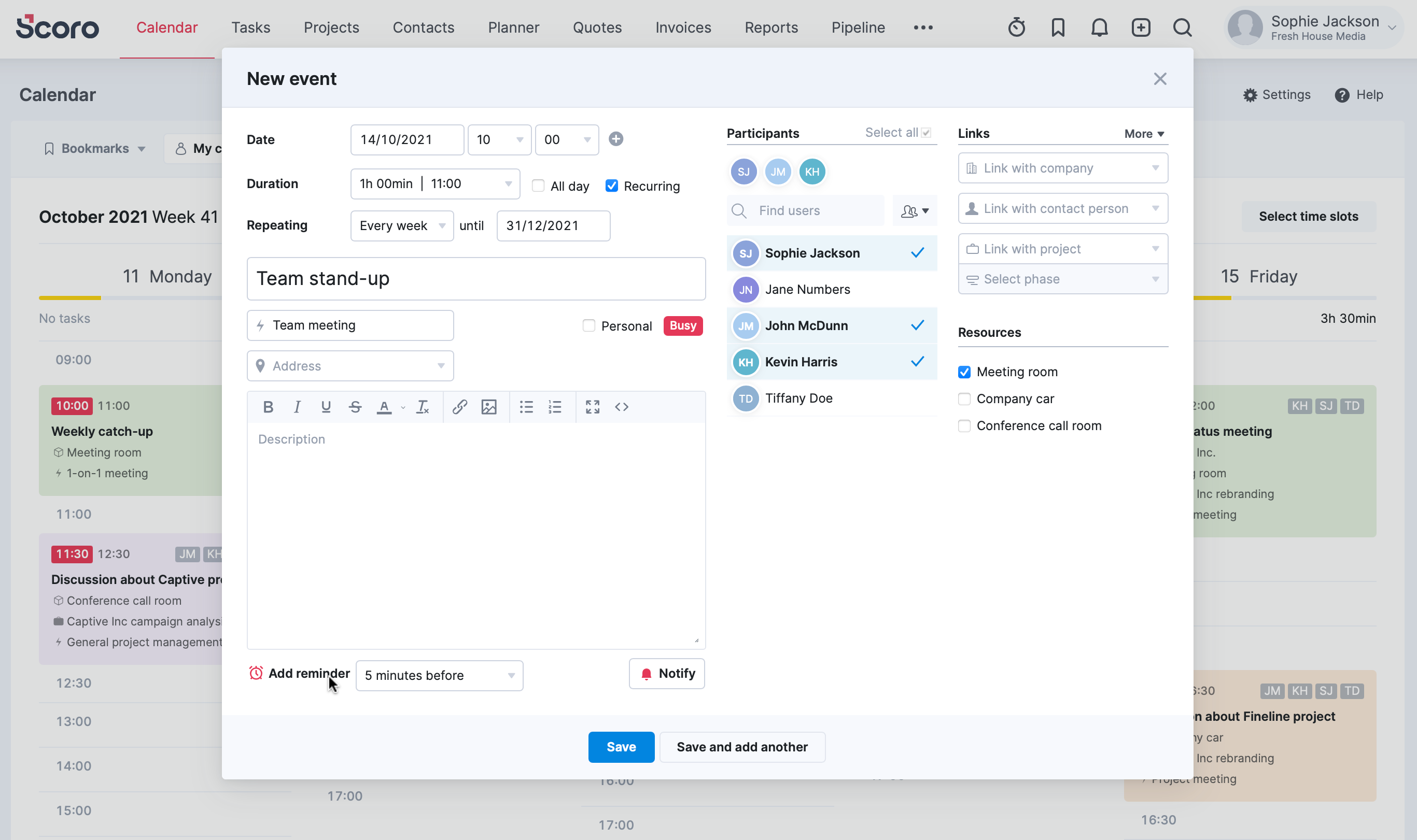 When you've filled out everything important, save the event.
There are three types of saving actions:
If you linked a contact person, you can save and send a calendar invite
Save simply saves the event
Save and add another makes it easy to add another similar event with details already filled out.