Before you start setting up your Xero integration, read how the Xero integration works with Scoro and what can be synced. Once you've covered these basics, follow the step-by-step guide below to set up your integration and learn how Scoro and Xero work together once they're connected.
Note! Xero integration is not included in every Scoro plan, so please check out the comparison table on our pricing and plans to see where it's available.
Connecting Xero to Scoro
To connect your Xero account with Scoro, go to Settings > Site settings > Integrations and switch on Xero Accounting.
Note! The connection between Xero and Scoro cannot be activated if all currencies used in Xero are not activated in Scoro.
Note! For historic data migration please contact our Support Team.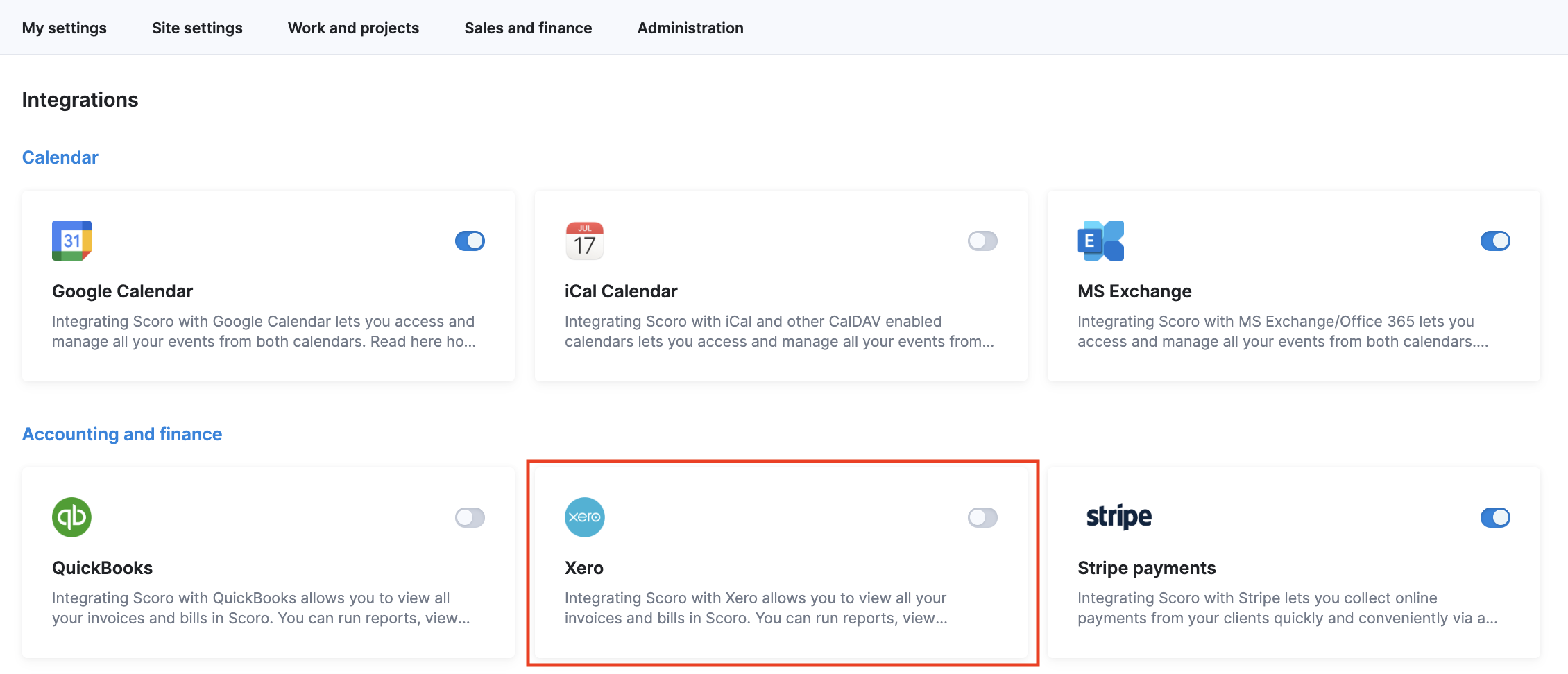 Click the button Connect to Xero.

If you are already logged in to Xero, select the organization and authorize the integration. If not, you will be prompted to log in to Xero first. In your Xero account, you will need to authorize Scoro to access the information in Xero. To do this, select the company you want to link from the drop-down menu, then click the blue Allow access button.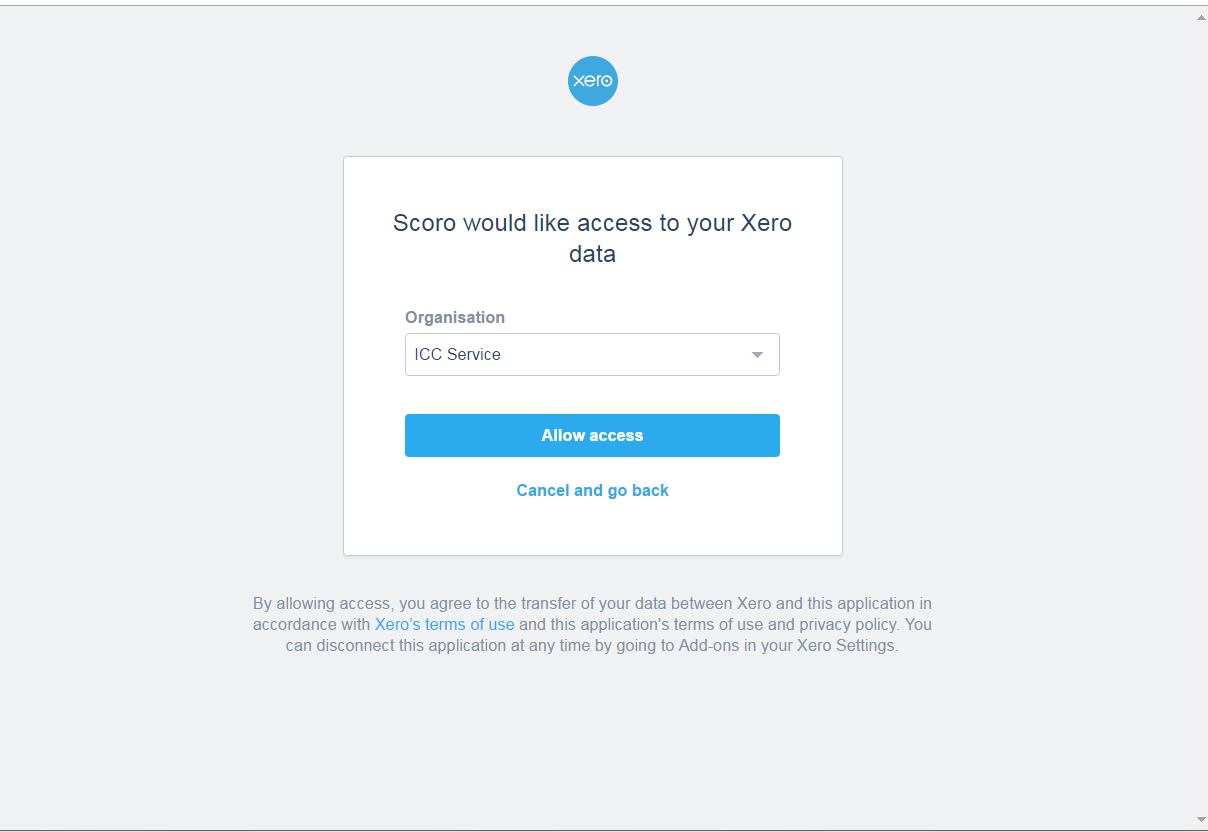 Configure the connection
After connecting Scoro to Xero, the next step is to configure the way the information is shared between the two systems.
Use the Enable/Disable checkbox in front of each category to define which data is included in the synchronization.
Products and services
Products can be synchronized in both directions but only one way at a time.
If you leave the sync off, Scoro will only sync the products and services included on the financial documents.

You can also use quick actions in the product Modify view to sync any specific products manually.
Contacts
Contacts can be synchronized in both directions but only one way at a time.
If the synchronization direction is From Scoro, all contacts from Scoro are synced to Xero.
If the synchronization direction is To Scoro, all contacts from Xero are imported to Scoro as companies.
Contacts are always synchronized between the two systems if they are linked to an invoice or an expense. Even if the category Contacts is disabled.
Invoices
Invoices can be synchronized in both directions but only one way at a time.
Syncing invoices from Scoro to Xero.

Invoices that are not marked as Sent in Scoro, are imported to Xero in status Draft. Otherwise, invoices are imported with status Awaiting Payment.

Syncing invoices from Xero to Scoro.

Only sales documents approved in Xero are synced.

Credit notes created from sales invoices are a part of the invoice synchronization.
Bills
Bills can be synchronized in both directions but only one way at a time.
Syncing bills from Scoro to Xero.

Bills created in Scoro are synchronized to Xero as bills with status Awaiting Payment.

Syncing bills from Xero to Scoro.

Only approved bills are synced to Scoro.
Receipts
Receipts can be synchronized only from Xero to Scoro.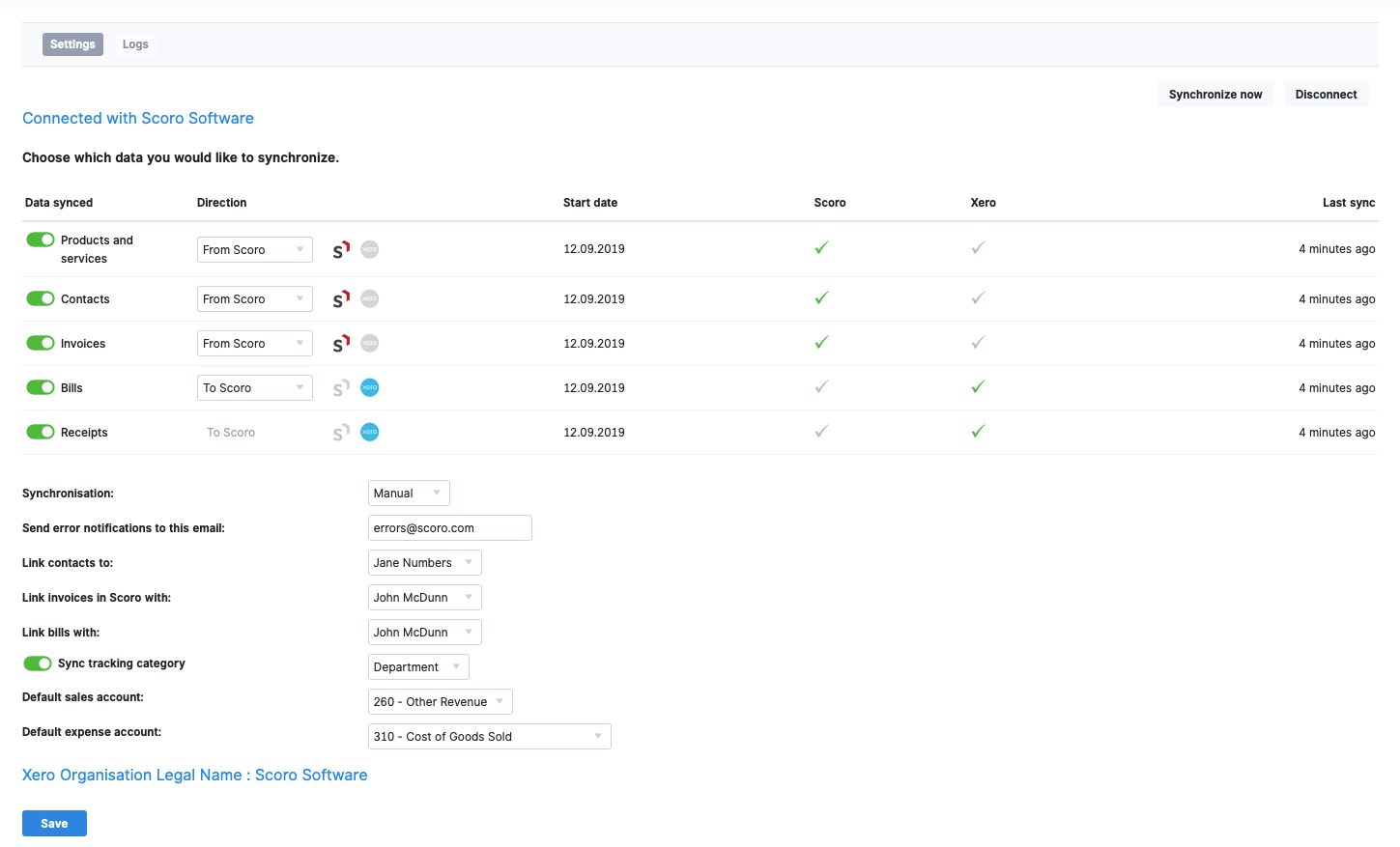 Type and date
Set the synchronization type: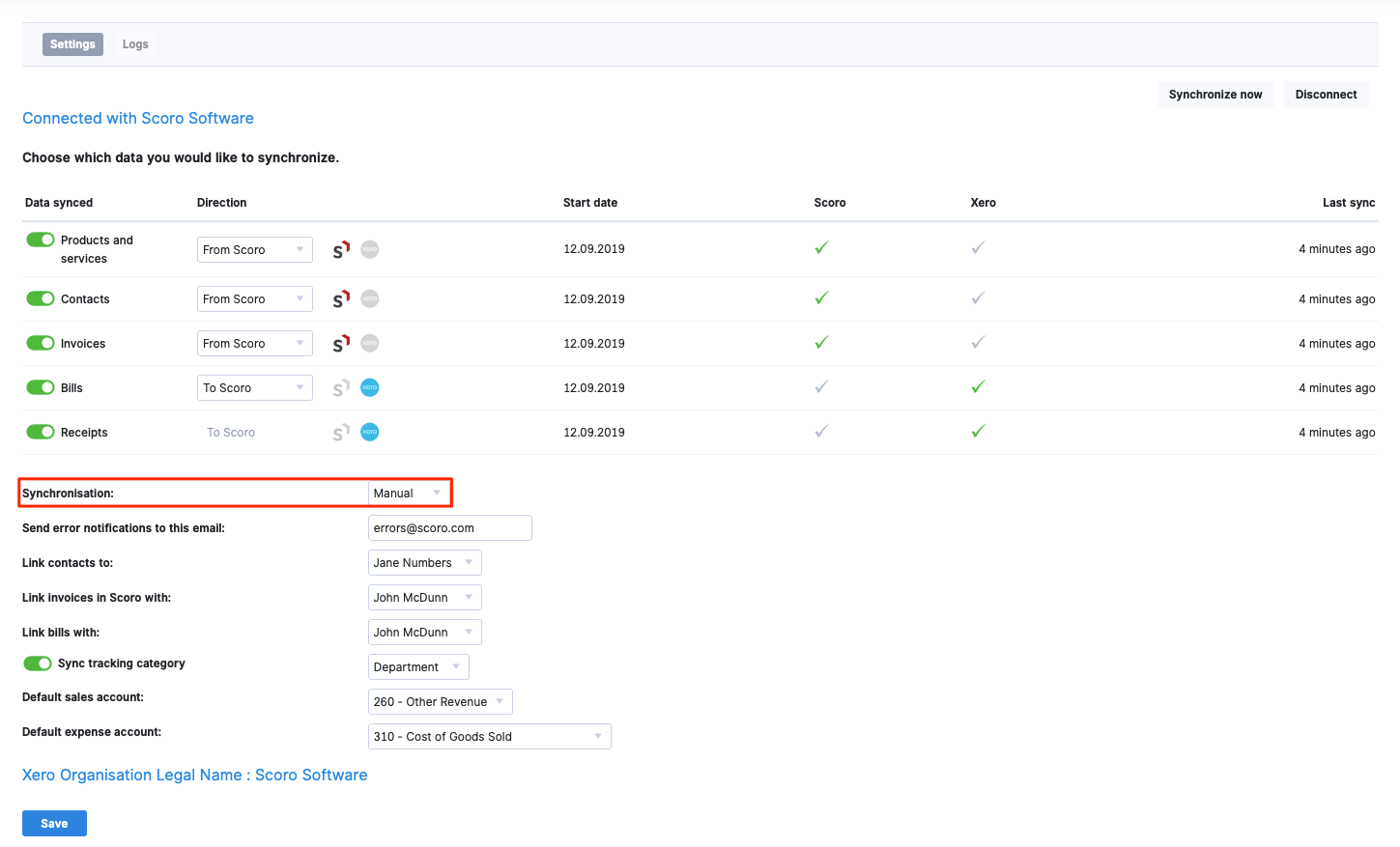 Automatic – Data is automatically synced in five-minute intervals.
Manual

– The sync needs to be activated manually. There are two ways for manual sync.

Sync all objects by clicking the "Synchronize now" button under the integration setting.
Send a single object over manually


It is also possible to move objects manually one by one using Xero actions (in the detailed view of each document). This functionality is available for:


Invoices – can be sent until payment is attached
Bills – can be sent until payment is attached
Contacts
Receipts (can be pulled from invoice or bill) – can be pulled until the sales document is fully received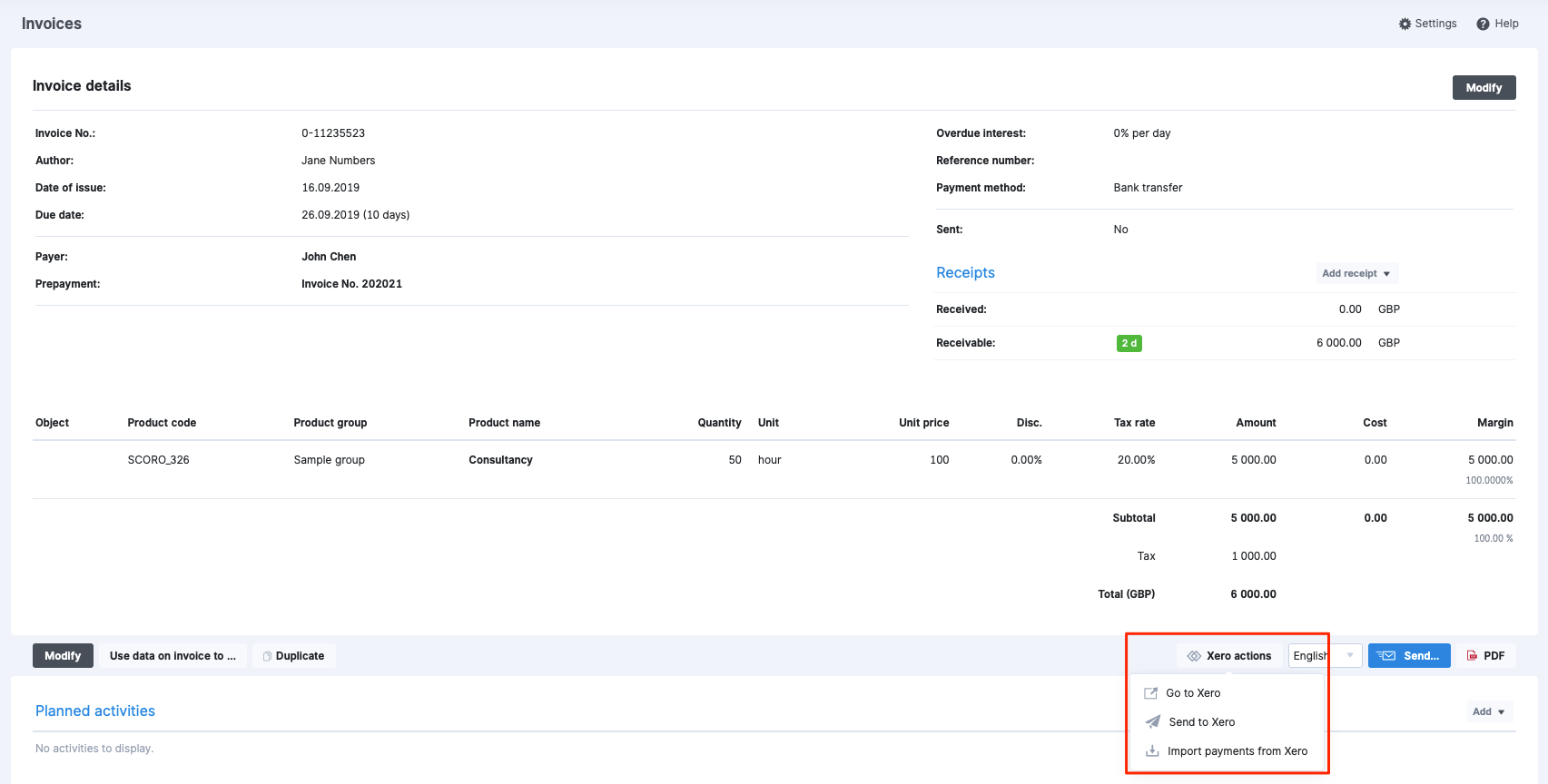 Next set a date for each active category. All objects created or modified after this date will be included in the sync. The start date cannot be earlier than the date Xero was first connected to Scoro. If you need to sync older data, please contact our support team for historical data sync. The date will be disabled after the initial sync.

Advanced filtering
Instead of transferring all invoices, bills, and contacts between Scoro and Xero, create bookmarks for specific items to be pushed from Scoro to the other system.
Note! There are two filters that are not suitable for bookmark based syncing between Scoro and Xero and will be overwritten when these filters are added.
Users - the filter selection will be ignored and 'All users' will be used

'Status' for invoices - will be ignored and "All receipt statuses" will be used
If you use an automatic sync, then the integration will sync only the bookmarked documents to Xero. And the rest of the documents, out of the bookmark, will not be synced.
If you use manual sync, then you must trigger the system to sync the bookmarked documents, either through the Synchronize now button from the settings panel:

Or from the document list view, by selecting all bookmarked documents and using the Xero action button:


Default Sales and Expense Account
Set the default Sales and Expense accounts for invoices and expenses. You will be able to set individual sales accounts for services and products on the product card that will overwrite the value set here.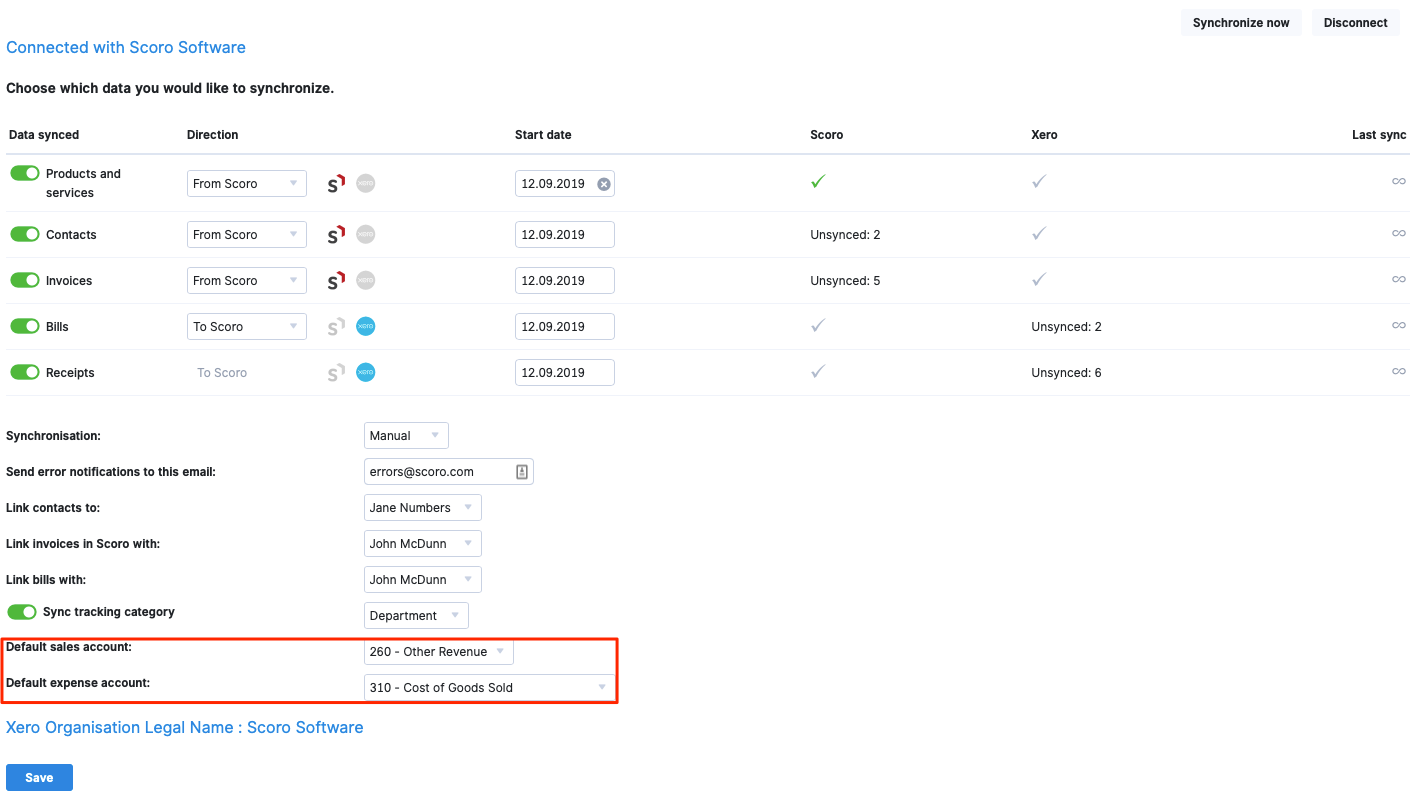 Click Save to complete the setup process.
Tracking Categories
Activating the synchronization of tracking categories disables the setup of current accounting objects. The selected tracking category options are pulled to Scoro as accounting objects.
Note! Only one tracking category can be selected, yet it can be changed later.
First synchronization
The Chart of Accounts (finance account in Scoro) and tax rates are pulled from Xero during the first sync. Editing or creating new accounts or tax rates in Scoro is disabled and is managed in Xero. It is recommended to run the first sync with all categories disabled to receive all the required data from Xero on the first try.