If you want to work smarter, not harder, it's essential to prioritize tasks and know which assignments require your attention. Scoro offers various methods to organize your to-do list and determine your priorities. Watch a quick video or read the article below to choose the one that suits your working style best.
Jump to...
Task list
Timesheet
Calendar
Task board
Dashboard
To be efficient in your work and meet expectations, it's crucial to know what to work on next - what assignment deserves your attention. There are different ways in Scoro how to organize your to-do list and priorities. Choose the one that meets your working style the best.
Task list
If you plan your days independently and your assignments are mostly task-based, we recommend using the task list. Here you can prioritize and filter your to-dos and plan your days easily.
For example, group your tasks by priority and sort them by due dates to tackle the most important and urgent assignments first.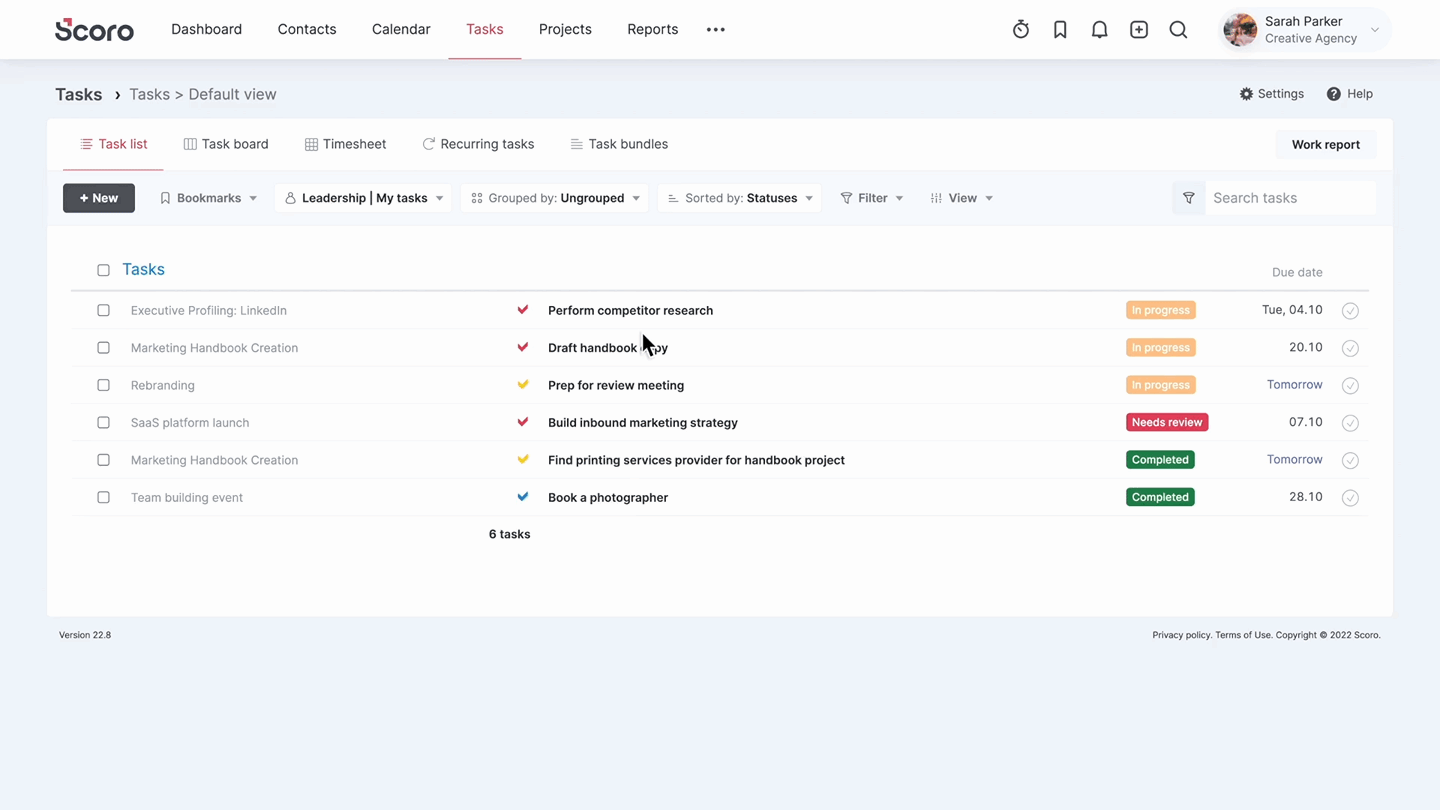 Whenever you use filters, grouping options, or additional data columns to customize any view, consider bookmarking the view to make it your default or add it to your favorites.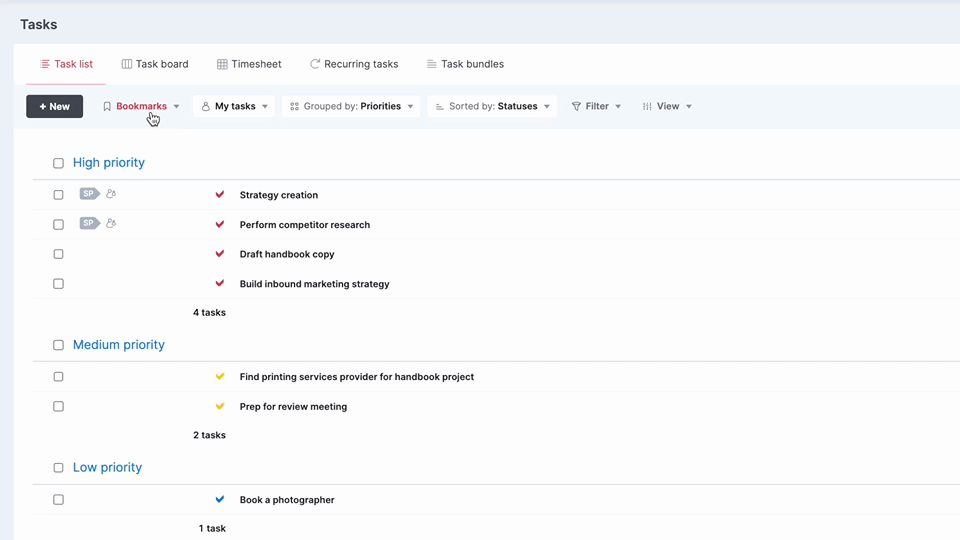 Your bookmarked views are huge time-savers, as you can access all favorites with a single click anywhere in Scoro.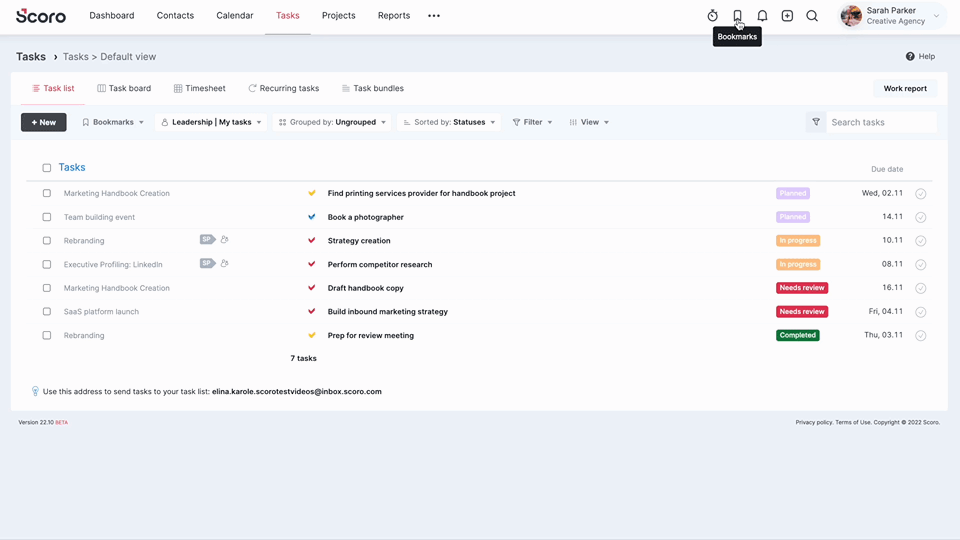 Timesheet
If your tasks are scheduled by someone else, the timesheet will be your go-to solution. It provides a clear view of the planned work and lets you grasp your workload for the upcoming week.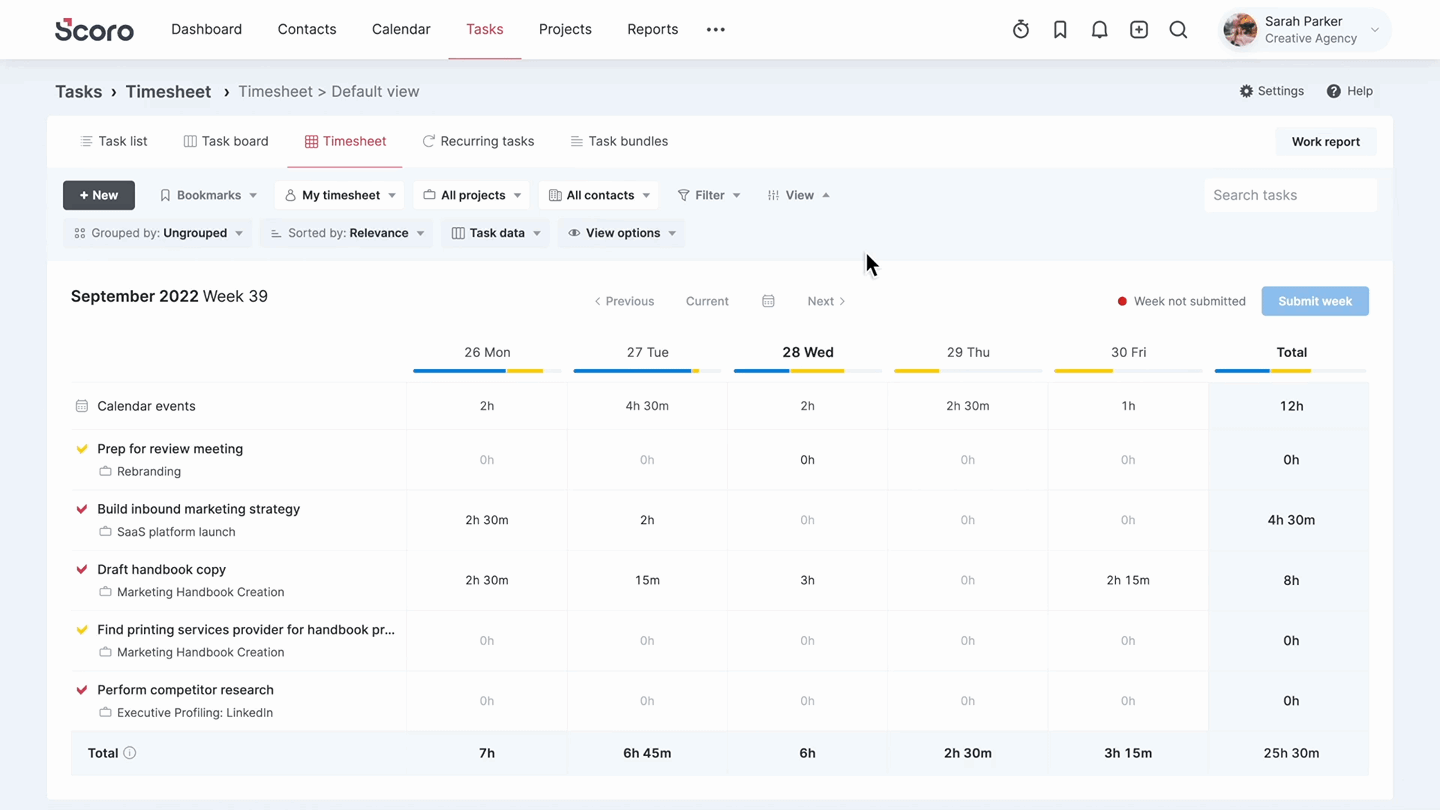 Calendar
If your days are filled with meetings, the calendar will serve you best. It provides an overview of your schedule. Besides events, you can also see the tasks you should be working on in the calendar. You can simply drag and drop the tasks in between meetings to reserve a dedicated time slot to work on them.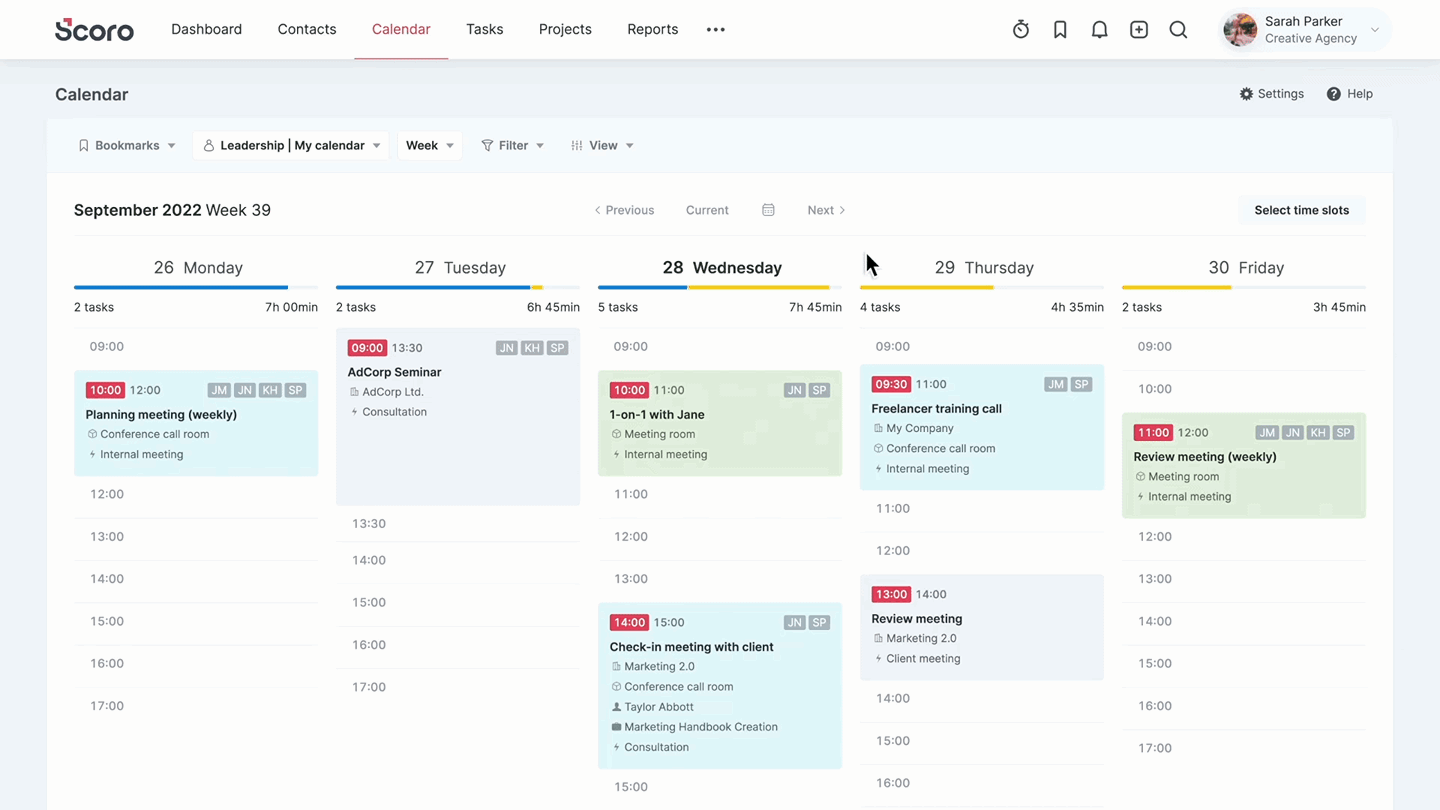 Task board
If your work is organized by the Kanban method and your tasks go through various stages before completion, make use of the task board. Here you can visualize the status of each assignment as it passes through your workflow. You can organize the priorities by dragging and dropping the cards within one status.
Whenever you are ready to take on a new assignment, simply take a top assignment from the "Planned" column and move it to "In progress" to inform also everyone else what you are working on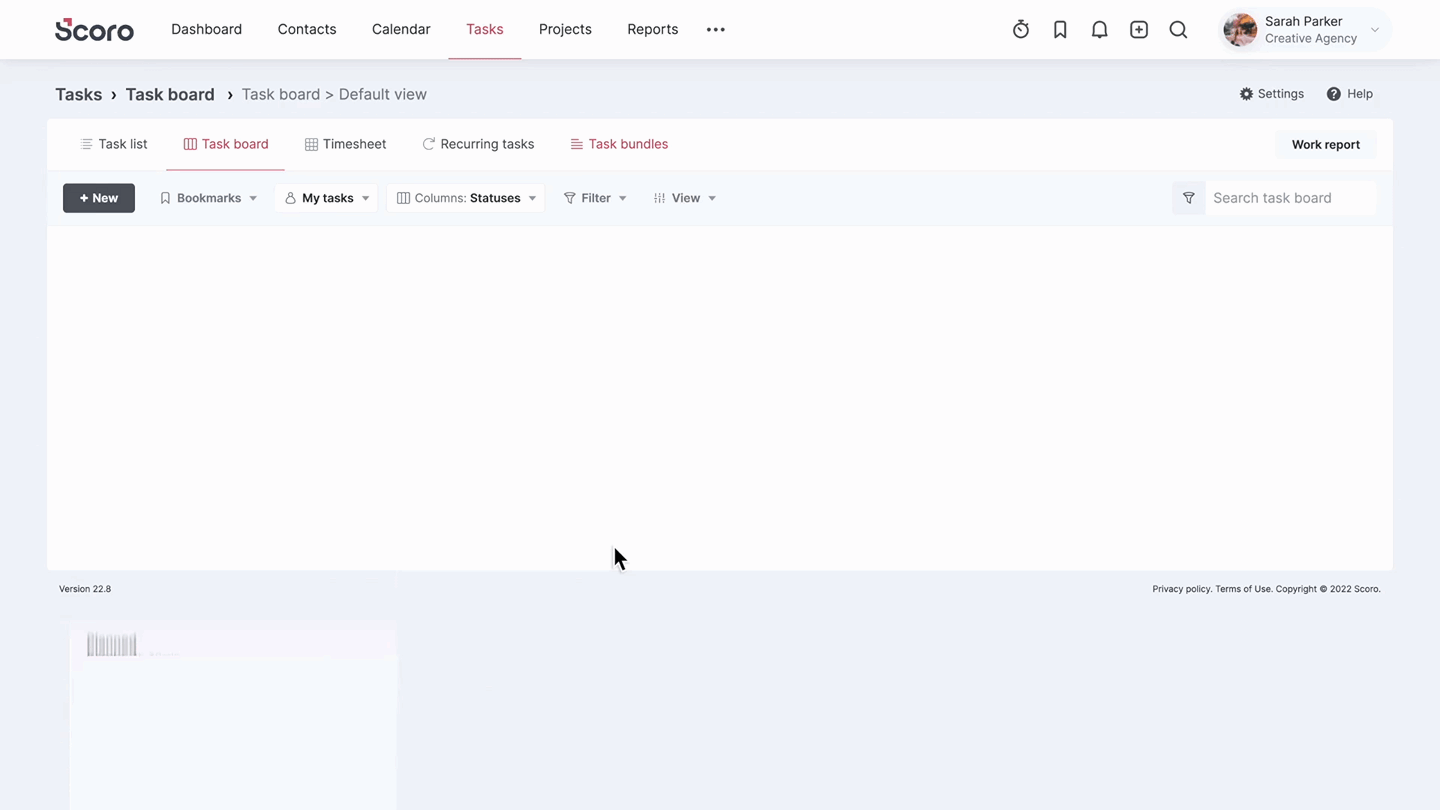 Dashboard
If you want a complete picture of your activities, priorities, and time usage in one place, bring it all together within your dashboard. This way, you'll have a single view where you can keep your eye on your meetings, tasks, the time you have logged or any other metrics that help you to stay on top of your assignments.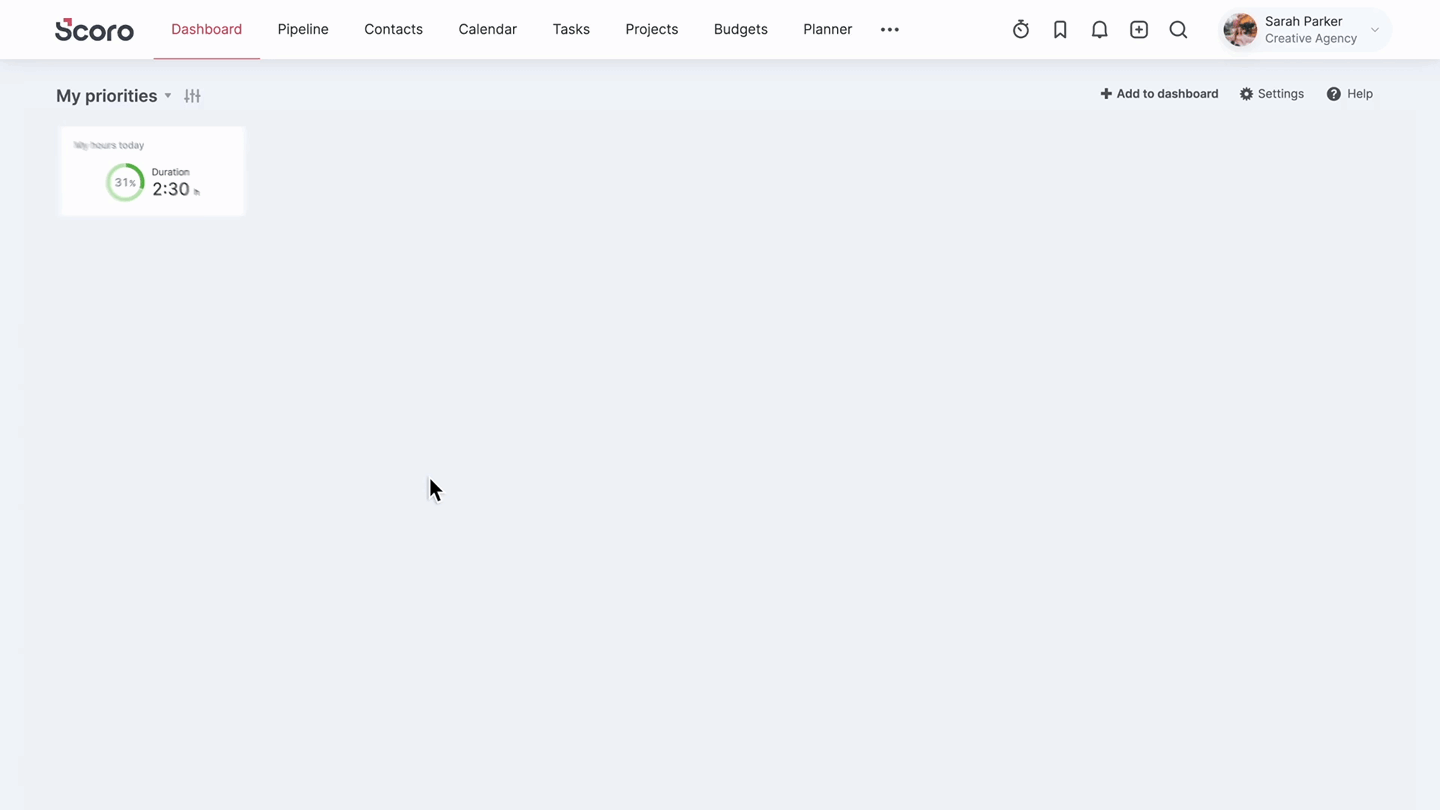 To sum up, there are several ways you can manage your work in Scoro. While you can use the individual views we covered in this article, you can also bring the key metrics together in the Dashboard view. When ready, move on to the next Getting started article to find the best way to log your time.