Activity types make it possible to get detailed reporting on what your team members are spending most of their time on. This helps to make corrections, where needed, help prioritize your team's activities, and make the most of your time. Events and tasks can also be filtered by activity types.
Go to Settings > Work and projects > Activity types to set up activity types for your team.
For example, HR might need activity types like Holiday/Vacation, Interview, New employee onboarding and so on.
If you have many activity types, it's wise to split them up into relevant groups. You can create a new group by clicking on Create group.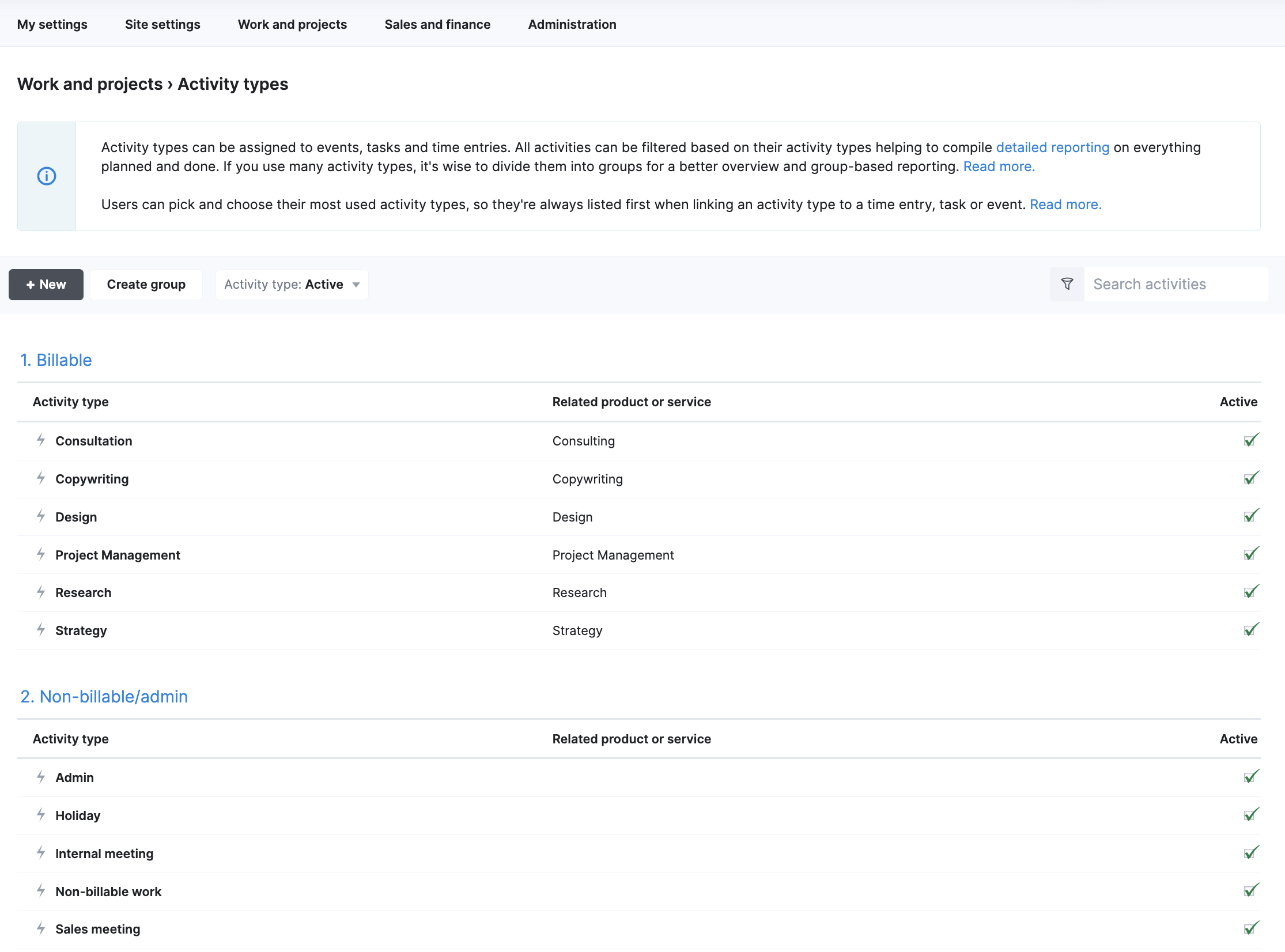 If you no longer use an activity type, you can mark it as inactive. Just remove the green tick from the checkbox. Inactive activity types won't show up in the list when adding a new task or a calendar event.
Each user can decide which activity types they'd like to see first in their dropdowns. This can be done under Settings > My calendar and tasks > My activity types.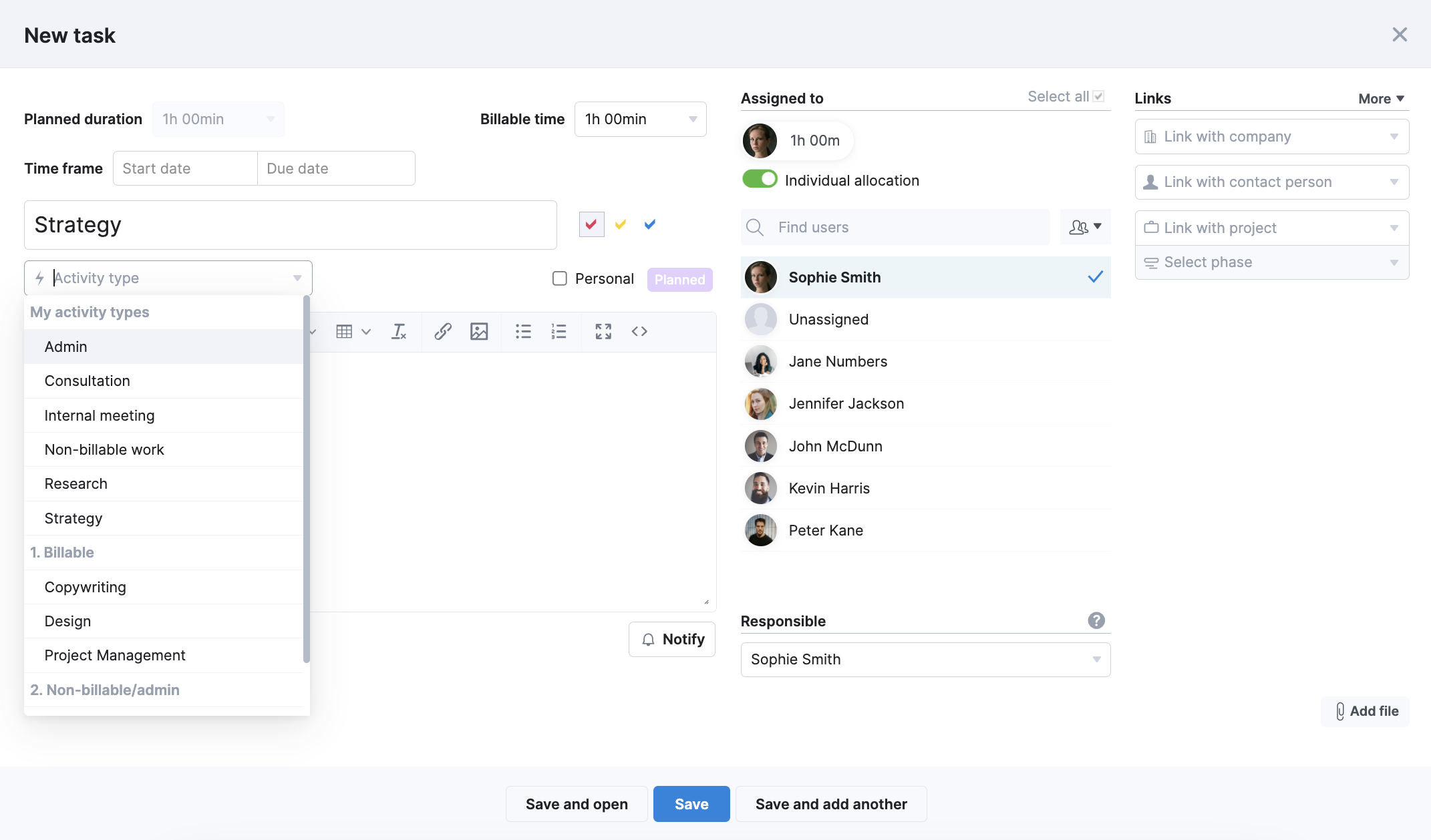 For example, you can filter the Detailed work report by activity types. Let's say you'd like to see all first meetings with new customers made last month or all follow-up meetings done with new customers. You can filter this report in multiple ways to get exactly the data you need. See the Detailed work report help article for more details.
If you're unsure of what kind of activity types you might need, here are a few examples to get you started (by groups):
Management
Strategy development
Planning and budgeting
Financial management
Hiring
Management meeting
Reporting
Internal development
Business development
Education and training
1-on-1 meeting
Finance
Budgeting
Monthly reporting
Annual reporting and Audit
Sales invoice management
Debtor management
Purchase invoice management
Expense reporting
Payroll management
Finance admin
HR
Employer branding
Hiring
New employee onboarding
Analyses (e.g employee satisfaction)
Education and training
Planning 1-on-1 meetings
Documentation
Health checks
HR Admin
Marketing
Research
Planning
Campaign/project management
Branding
Content creation
Marketing events
Ad management
E-mail marketing/newsletters
Social media management
SEO
Website management
PR and communication
Marketing admin
Sales
Planning
Preparing sales materials (e.g presentations etc)
Prospecting for new clients
Sales meeting
Inbound sales call
Outbound sales call
Preparing a quote/offer
Sales follow-up
Contract preparation
Internal sales meeting
Sales admin
Project management
General project management
Planning and budgeting
Project meeting
Project documentation
Project-related bills and invoice handling
Reporting
Product/service delivery
Research and analyses
Ideation
Art directing
Copywriting
Design
Production
Programming
Consulting/Coaching/Mentoring
Workshop/training
Administrative and other
General office paperwork and filing
Company event
Team meeting
General emails and chat
Travel
Office upkeep
Personal time
Activity types can be linked with their dedicated service if you are using time billing.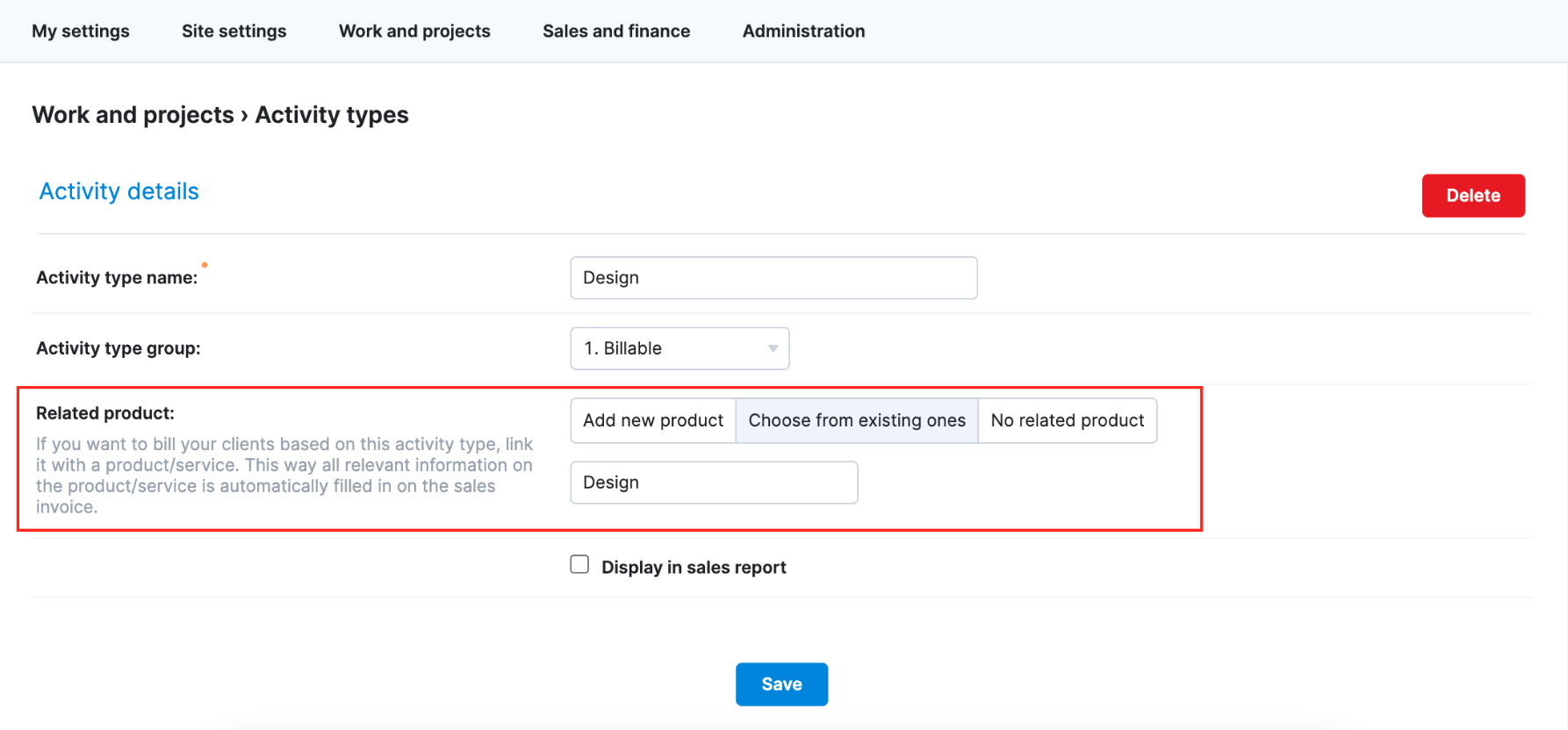 More details on time billing and linking activity types with services, we noted in article about
Time billing
.